One day at Christian Brothers High School in Memphis, Tenn., IT Service Desk Manager Raenesia Jones got a surprise in the firewall logs. While drinking a cup of coffee, a review of the network logs uncovered that the firewall at the private school for boys had been compromised. Not from outside – but from within.
Student Ben Hoffman had wanted to play an online game rather than pay attention in class. So much so that he figured out how to circumvent the firewall's block on specific outgoing traffic. Jones and her coworker were concerned – and impressed.
Hoffman wasn't taking courses in the school's coding- or engineering-focused tech track. In fact, he had little formal tech experience at all. What he had demonstrated, though, was a practical knack for understanding and figuring out networks. This made him a prime candidate for a new hands-on, in-school IT apprenticeship that Jones had begun developing, built around CompTIA IT Fundamentals (ITF+) objectives.
"It wasn't that we were looking for the strongest students academically," Jones said. "We were looking for students with stick-to-it-iveness. We were looking for students that had a desire to learn IT and could work well in a team."
Hoffman, along with 10 others including tech novices A.J. Waddell and James Enterline, became the team of in-school help desk apprentices known as the IT Brothers. Only two of them had already previously looked at the school's tech education offerings, but in a short period of time they've gone from promising beginners to CompTIA-certified techs with the know-how and dedication to take on the IT job market at graduation.
The Help Desk as a Learning Opportunity
Jones had been a computer enthusiast from her early childhood and has experienced a vibrant IT career, holding both government and corporate roles. She also spent time teaching in Memphis while working on a master's degree in education.
In 2016, she took on a largely technical role at Christian Brothers. But her desire for youth workforce development and instincts as a trained educator led her to find a way to boost the help desk's effectiveness and expose students to IT in the process.
"We've got an untapped resource here," Jones said. "These students are bright. They're sharp. We can bring them in as a way to learn more about how technology is used from the viewpoint of the student."
Jones knew that CompTIA IT certifications were the best resource for building out an IT curriculum, so she reached out to the CompTIA Academy Partnership program and built out coursework that pulls from both CompTIA ITF+ and CompTIA A+.
From there, she recruited participants whom she thought would make a good fit. She interviewed them to evaluate their strengths and handpicked 11 juniors and seniors who got to work – and to class.
Jumping Right into IT with Hands-On Experience
Waddell and Enterline had hardly scratched the surface of computing when Jones approached them about being a part of the IT Brothers project. Waddell had put together a few desktop computers for his friends but had pursued no formal course of study. Enterline had a sense that he wanted to take his education in a tech direction but was nervous about the demands. He equated computer science with math, and math was not his strong suit.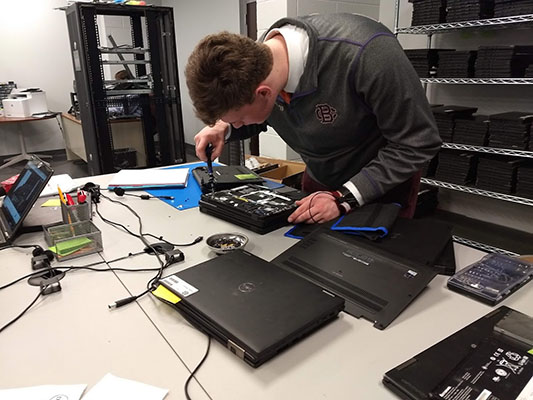 Jones saw something in them though: potential. As they interviewed, passed and got started, they both found the IT world to be different than they had expected, and more rewarding than they had imagined.
Jones wanted the IT Brothers to get started early – over the summer. In the ramp up to the program's first year, Waddell and Hoffman were already prepping laptops for the incoming freshman and, under the guidance of Jones, learning to troubleshoot computers and internet connections.
As the 2018 school year began, the 10-man team was ready to hit the ground running and to take on a full class of IT instruction, built around CompTIA certifications, alongside the hands-on training they'd gotten an early start on.
Seeing Themselves Working in IT
The IT Brothers meet daily, in a traditional classroom setting. Jones starts the class like any other classroom teacher at Christian Brothers High School, dolling out assignments, checking homework and assessing students' understanding of the information.
After class, the service desk opens – and the IT Brothers field the tickets and provide end-user support. Whether it's a projector that's not working, a computer that won't connect to the internet or any of the numerous other troubleshooting tasks at a school that's in session, the IT Brothers are there to handle it.
CompTIA certifications and hands-on experience worked in concert to turn the program's first participants from tech novices into IT pros. It's something that the whole school appreciates.
"They're known around campus as the guys who can get things working. Teachers and students often see them in class or in the hallway and share their problems, and the IT Brothers resolve them," Jones said. "They enjoy the work, and they are always happy to help. They're a tremendous asset to the school environment."
The arrangement is a boon for the school. More importantly, though, the method of learning CompTIA objectives and putting them into practice changed how the inaugural IT Brothers team sees their tech prospects and has already opened the door to some impressive accomplishments.
"They were just regular guys, coming to school trying to find their way, and this class introduced them to a whole new career," Jones said. "Now they see IT beyond coding, although coding is an awesome pathway. It's just one of many pathways in IT. They are now considering things like being a network engineer or working in cybersecurity. It opened a door for them to see other careers in computing besides coding."
IT Certifications Plus Experience Get Your Foot in the Door
The first class of IT Brothers – some whom may be poised for traditional college, others who may want to go right into the workforce – now have a ringing endorsement on their resumes: IT certifications. The inaugural pilot group earned CompTIA ITF+, and future IT Brothers will have the chance to earn CompTIA A+. Those who took part in the 2018-2019 school year are already seeing the value.
Hoffman is now a freshman in college, and with his hands-on IT experience and CompTIA certification he has been brought on to work in the school's IT department; a rare privilege at the institution. The one-time firewall evader is also getting his feet wet as an IT educator – he spent part of his summer helping younger kids understand how to take basic cybersecurity precautions as they compute.
Enterline now has proof that not being into math won't hold you back from IT success, and he's spending his first year as a summer IT Brother to get things prepped for the coming year.
"The class was an excellent choice for me because it led me to get really excited about my future," Enterline said. "I have learned so much when it comes to problem-solving, teamwork and critical thinking that I wish this class was offered sooner than later."
Waddell is also working as an IT Brother this summer and has, likewise, gotten the opportunity to join his college's IT program right off the bat.
"This class, the experience and the certifications I've earned have allowed me to approach the IT department of the University of Tennessee Knoxville and show them that I can be a contributing member of the IT department," Waddell said. "My CompTIA certifications and the time spent as an IT Brother is what made them believe in me, and I have Ms. Jones to thank for that."
The IT eye-opener that Jones' program has provided to Enterline, Waddell, Hoffman and the other participants will undoubtedly continue to make the school's systems more efficient and the students more career ready. And there's one more important cohort that IT Brothers really works for – students' parents.
"Being an IT staff member who later built a career technical education program from scratch has been a personal career highlight for me," Jones said. "Employers value IT certifications, and there is tremendous career growth within IT. To share my love for technology with the students at Christian Brothers High School, to have conversations with them about their future goals and present-day challenges is what drives me daily."
She added that parents of prospective students mention that their sons love technology but don't know what to do with it. Joining the IT Brothers allows them to not only contribute to the school and get some work experience, but also earn an IT certification, making them more marketable in the workforce.
"The experience and the certifications they earn remain with the students and help to build their career profile," Jones said.
Start learning IT with CompTIA ITF+. Download the exam objectives to see what's covered.
Matthew Stern is a freelance writer based in Chicago who covers information technology, retail and various other topics and industries.