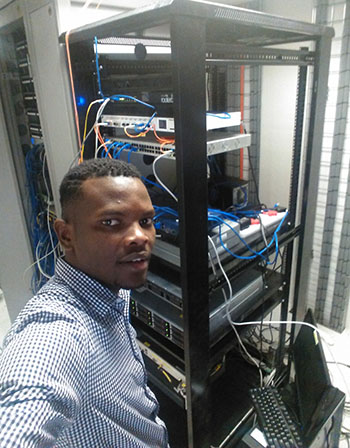 At International Consulting Training Worx (ICTWorx) in Sandton, South Africa, Clinton Melusi, spends a couple days every week setting up equipment for the many IT and general tech courses the company offers in house and troubleshooting any problems that might arise. The rest of the time, he's the one teaching the courses. That's because at ICTWorx, much of the tech staff also does the training. It's a model that ensures the trainers are always working with the technology. For Melusi doing both, or either, is a big leap from where he was only a little over a year ago.
​Time for a Career Change
Before he arrived at ICTWorx, Melusi was working at a different training facility – and in a far different, much less technical, role. Melusi was a general assistant. His days at work consisted of cleaning the premises and handing out advertising pamphlets to get people interested in the courses.
Melusi was surrounded by trainings, trainers and certifications, but his tech knowledge was severely limited. He had no previous experience using computers and, in fact, didn't even have one at home. He wanted ​to change careers, but he wasn't clear on what steps he could take to make it.
Meanwhile, Melusi had a friend working in town at a big, nice company. The friend gave him some advice about the right certifications to take to move forward – CompTIA was the place to start.
"He was the one who told me, if you take [the CompTIA A+] exam you can improve your life by doing that," Melusi said.
Melusi took the advice to heart. As he began pouring over CompTIA A+ study materials, one of his first orders of business was to secure a machine to work on, and as luck would have it, there was a broken laptop at work. Trying out his newfound basic computer repair skills, he was able to get it up and running. He used that machine to continue his training.
Shortly thereafter, he took the exam and earned his CompTIA A+. A former coworker who was now working at ICTWorx gave him a head's up on an open position, which required CompTIA A+. Since he now had it, he jumped at the opportunity.
Working, Training and Certifying
For a little over a year, this dual role of both handling the IT and training others has let Melusi help aspiring IT workers learn as he builds his own knowledge base. He's been teaching everything from general office software to the CompTIA certifications that he's gotten so much value out of. When it comes to training, he sees the need for good training and certification growing as the demand for quality IT talent increases in the region.
"There's a great need for technical support, and I think [certification training] is something that's going to get very popular," Melusi said.
Melusi takes the training responsibilities in his role as seriously as he does the tech work, so he plans on pursuing CompTIA Certified Technical Trainer (CTT+) and mastering the methods of teaching tech as he continues to build his IT skills as well.
But long term, he's got his eyes on a more technical role. A few weeks ago, he passed CompTIA Network+, and it's serving as the next step on the road to his dream career as a network engineer.
CompTIA Certs for Today … and the Future
In his relatively short time in the IT field, Melusi has learned a lot. Going from a complete computer novice to someone with a passion for network management, he's honing his strategy for moving up the IT job ladder. And the next steps involve more certifications.
Melusi is considering getting CompTIA Linux+ as well as CompTIA Cybersecurity Analyst (CySA+) to get proficient in managing some of the more difficult concepts and tools of the trade.
Once he's built the skills, it's just a matter of finding the right job opening. With the global recognition of CompTIA certifications, Melusi could easily find himself moving abroad if the opportunity availed itself.
But whether he stays in South Africa or heads elsewhere for advancement, CompTIA certifications will keep playing a part in his learning – and in letting him prove his skills.
Moving from complete tech novice to IT pro in under a year, he's demonstrated just how valuable certifications can be for a career changer. And he advises others, whether they've got some basic tech knowledge or they're starting out from where he did, that CompTIA certifications are the way to get a foot in the door of the IT industry.
"If you have CompTIA A+ or CompTIA Network+, it tells the employer that you're really serious about what you're doing," Melusi said. "You've taken another step to get certified. It gives them that confidence to say, 'Come and work with us.'"
Looking to get into IT? Take our quiz, Is IT Right for you?
Matthew Stern is a freelance writer based in Chicago who covers information technology, retail and various other topics and industries.