As an optician at Lansing Ophthalmology in Grand Ledge, Michigan, solving problems is Arlo Ely's specialty. In his official capacity as an American Board of Opticianry-certified professional, he makes sure that patients get eyewear that works for them, even if those patients don't quite know what they want. But as his recently-awarded CompTIA A+ certification indicates, glasses and contact lenses aren't the only forms of technology he troubleshoots.

Ely often finds himself applying his knack for diagnosing and fixing problems on the tech-end, jumping in to resolve those general IT issues that can cause any number of derailments in a fast-paced, wired workplace where patient care is paramount.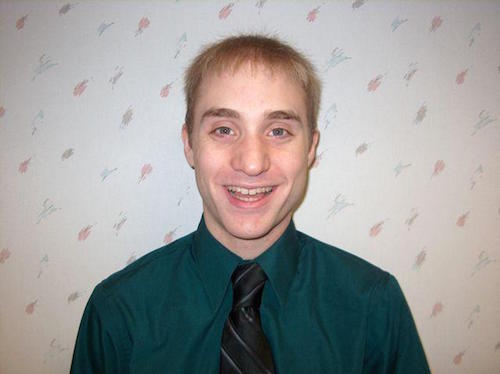 Ely has worked in the field of optics for 11 years, and has watched the field grow and change a great deal, as new and exciting technological solutions to help patients have been implemented. But as he has accumulated knowledge and proficiency as an optician, he has begun to see IT as the direction in which he wants to take his career. He's looking to go pro with his IT skills, which have brought him back to an interest in computers that began in his early youth.
In 1988, Ely's family purchased a PC for his mother's accounting work and he immediately began to explore how the machine operated. Ely taught himself the fundamentals of the BASIC programming language using programming tutorials he found on the back of the educational kids' magazine 3-2-1 Contact and playing around with programs that came with his family's subscription to the long-running floppy disk-based publication Big Blue Disk.
Continuing on through high school and college, he took a few computer science classes, but facing a job market where IT wasn't quite as ubiquitous as it now is, he opted to put his tech leanings on hold. He took classes in numerous fields, searching around until landing on opticianry as a career. Over the past decade, though, as he has watched online networks become more and more central to managing health care data, he once again desires to spend his days solving computer problems.
As the optician at Lansing Ophthalmology who pinch-hits on tech-related inquiries, Ely is no stranger to the company's IT department. So when he began thinking about moving his career in that direction, he spoke to IT professionals directly about potential opportunities. They drove home the importance of pursuing as many certifications as possible.
Eli said his IT contacts told him, "Go get your certification and keep getting certifications. Once you get your certifications come back and talk to me."
Now that he's been awarded his CompTIA A+ certification, Ely intends to pursue CompTIA Network+, CompTIA Security+ and others. And Ely is not just any certificant; he's also the student winner of CompTIA's A+ One Million promotion, which netted him a $250 gift card to Amazon.com.
He hopes to work as full-time IT staff at Lansing Ophthalmology, bringing to the IT department both the skill demonstrated by his certifications and his years of accumulated hands-on knowledge of health care data management programs. In addition to this nearer goal, Ely also has a long-term dream job in mind that, like IT work itself, harkens back to his childhood.
"If you had asked me what I wanted to do as far as a career path back in grade school through probably most of high school it would be a police officer," said Ely. "However I didn't want to get shot at, so that ruled that out pretty quick."
But Ely sees forensic IT—such as recovering lost or intentionally-destroyed data needed to prosecute criminal cases—as a potential and largely bullet-free way to someday combine his love of finding technological solutions with his lifetime enthusiasm for police work.

Whether he's helping a patient diagnose why her glasses don't fit quite right or figuring out why a medical document isn't routing to the correct printer, Ely has an authentic excitement for gathering information, assessing problems and piecing together solutions.
He described this mindset when explaining his earliest days learning BASIC, though it could easily apply to any of his other problem-solving pursuits.
"It was logical," Ely said of BASIC. "I put something in, it gave back information—it was great!"

Get the in-demand skills you need with CompTIA certifications and training solutions. Download the exam objectives to get started.
Matthew Stern is a freelance writer based in Chicago.