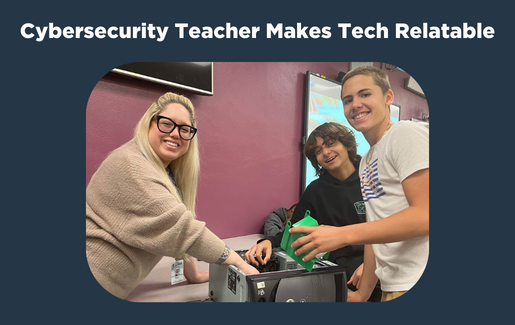 In fall 2022, standing in front of a classroom of first-year students at Barbara Goleman Senior High School in Miami, Florida, Monica Uraga, lead teacher of the cybersecurity magnet program, was bringing a new perspective on computing technology to a group of students. To get her first cohort of students started, she presented some of the facts and tech vernacular they would need to get comfortable with. Then to make things more fun, she introduced a relatable metaphor – a technique she finds is key to helping people from all backgrounds understand technology.
Uraga compared the basic concepts of data processing and storage to how the human mind takes in, thinks about and remembers information. Her students left the classroom that day with a newfound appreciation for how a computer functions that should stick with them through the class and beyond.
"They were just blown away, because no one had ever explained it to them like that," Uraga said.
Her students can look forward to a lot more of those creative teaching moments in the coming years. The classes Uraga teaches are on track to earn a CompTIA certification each year, moving up the ladder from CompTIA IT Fundamentals (ITF+) as freshman up through CompTIA Security+ as seniors. When they get out of school, they will not only have job-ready abilities, but also industry-standard endorsements of their skills already on their resumes.
Uraga is thrilled to facilitate students earning CompTIA certifications as soon as they can. While setting up students for career readiness holds its own sort of satisfaction, she has long enjoyed helping others understand technology no matter their background or level of expertise. It all comes from a very personal place for her; a desire to learn and teach are in her nature, and computing was one of her earliest passions.
A Genius in the Making
As a kid in the late-1990s, Uraga would spend her days gaming away on her Super Nintendo or booting up Windows games from blue 3.5-inch floppy disks on her father's PC. When she would go to work with her mother, the office had some older PCs Uraga was free to play on. She taught herself to launch executables from the MS-DOS prompt and spent all afternoon playing Snake.
By the time she reached high school, technology was bigger part of daily life. Applications like AOL Instant Messenger were becoming part of mainstream social life. When she entered the workforce, Apple dominated the tech landscape. Bringing along her early, basic tech know-how, in 2007, she began as a Genius at the local Apple Store.
Uraga started out handling the customer service basics until one day she had a chance for a more technical challenge. The repair technicians were all out sick. A customer was waiting at the Genius bar. It was an emergency. Uraga could either send the customer away unhappy or handle it herself. She chose the latter.
Referencing the repair guide, Uraga fixed the computer. At that moment, she knew she wanted to go deeper into technology, and she was in the right place to do it. Within seven months, she was working alongside the technicians. But building her own tech skills was only one enjoyable part of the job. She also wanted to share the knowledge.
A Tech Trainer with a Perfect Record
In 2013, after successfully training some new hires while visiting Cupertino, Uraga officially became an in-house Apple Store teacher, bringing her unique view of tech training to the Genius Bar.
"I knew how to teach and train and make the learning relatable because that's how I learned [technology]," Uraga said. "I didn't learn it from a book, I learned it from relating it to the experiences around me. I thought that was powerful."
Over a period of a few years, Uraga was able to get 400 Apple Store employees the certifications they needed for in-company advancement. Those 400 employees came from all different backgrounds, ages, and levels of expertise, and with each she found the right way to relay, and help them relate to, the information. Her trainees had a 100% pass rate.
In 2019, Uraga decided to pursue something new. She spent a year at Interval International, supporting a global team of Mac users and building out helpdesk best practices for the whole team. By 2020, she sought to go beyond single-vendor expertise and master the broader world of enterprise technology.
Back to School (in More Ways Than One)
In 2020, Uraga began pursuing a master's degree at Florida International University, focusing on global cybersecurity policy, while taking on a role as a cybersecurity apprenticeship coordinator. For that, Uraga needed to get certified on the standards for enterprise computing across industries.
With an already high level of tech expertise, she quickly earned CompTIA A+, CompTIA Network+ and CompTIA Security+ and began training apprentices on the certifications in short order.
One day, Uraga was giving a presentation on CompTIA certifications. When she finished, a representative of Barbara Goleman Senior High School followed her down the hallway. The school had an innovative program teaching certifications to students. He was impressed by Uraga's command of the material and knew that the school needed her on board. Shortly thereafter, she was beginning her new full-time position.
Helping Every Student Succeed
As Uraga prepares her students to earn their CompTIA certifications, she continues to use those training skills she honed earlier in her career, making tough tech concepts relatable for people regardless of their learning style. Uraga knows how important it is for students to pass those exams. She herself, a tech enthusiast who did not start out studying it formally, has seen just how much people can learn – and benefit – from certifications.
"I think there is really good value in having CompTIA certifications," Uraga said. "They're the most requested certs when you look through job ads and having the experience plus showing that you know what you're doing through the exam, that sets a standard for what people are looking for when they're hiring, and it sets a level playing field for those that are taking the exam."
Learn the skills you need with CompTIA CertMaster Learn. Sign up today for a free trial today!

Matthew Stern is a freelance writer based in Chicago who covers information technology, retail and various other topics and industries.