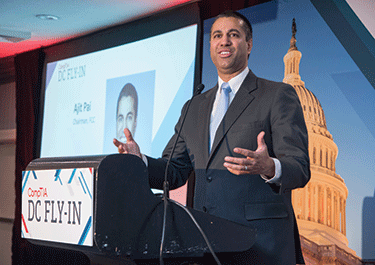 Susan Kostbar, director, member relations, vendor and distributor, CompTIA, shares her impressions of the association's recent DC Fly-In.
Last week I had the pleasure of participating in CompTIA's DC Fly-In. Part of the event included hosting CompTIA member tech companies to meet with their state officials in an effort to garner support for the CHANCE in Tech Act, introduced in July 2017. This act will enable intermediaries to seek funding for apprenticeship programs in IT. With job openings across the U.S. topping one million, it is with great urgency that apprenticeship programs get instituted and funded to upskill the American IT workforce.
I accompanied fellow CompTIA co-worker Geoff Lane to host tech members from Tennessee to visit with their Tennessee officials. So, armed with CompTIA Cyberstates data showing the states with the most job openings and hot IT jobs, CompTIA 2018 Industry Outlook research, plus info on the CHANCE in Tech Act, we walked from the conference at the Liaison Capital Hill hotel by foot towards the Capital Building for meetings at both the Senate and House of Representative buildings to collectively voice our concerns and garner support for the bill.
As we worked our way through security of the Dirksen House Office Building for our first meeting, I was overwhelmed thinking about the history that had taken place throughout the hallways and offices of these Senate buildings. In fact, as we were heading to meet with the staff of Senator Bob Corker (R-TN), there was a buzz in the air given that at this very moment, an immigration bill was being debated on the floor of the House.
Getting back to our mission, I must say that each and every meeting we attended, whether with senators, congressman, congresswomen or their staffs, everyone was well aware that there is a serious tech skill shortage, plus a need for expanded broadband, in Tennessee. With that said, they were attentive to the stories brought to them by their Tennessee constituents from education, local businesses, technology associations and bankers, all who have issues in seeking tech talent to grow Tennessee.
Although each scheduled meeting lasted approximately 20 minutes, it was important to be on time and to quickly articulate our purpose and our ask of these Tennessee state officials. Having worked a marathon day of lobbying with our Tennessee tech members for the CHANCE in Tech Act, it certainly gives you a keen appreciation of not only the challenges in tech these constituents are facing, but of the governmental process needed in order to secure the passing of the bill and the related funding to accelerate training of tech skills in America.
Walking back to Union Station from the U. S. Capital gave me a few minutes to reflect on the day. It was truly an amazing experience and after 10 scheduled meetings and 13,300 steps on my Fitbit, I was ready to enter the Union Station Metro station and head to Reagan National airport to catch my flight home. What a day! In an odd way, I couldn't help but feel that I, too, may have become part of history making in those hallways. Hopefully, one day soon, with these collective efforts the CHANCE in Tech Act will be passed!