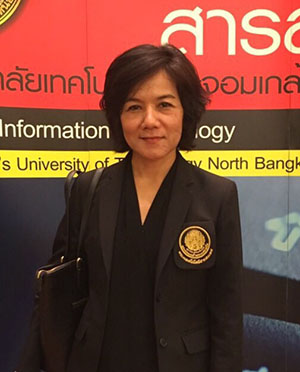 Dr. Maleerat Sodanil, head of information technology and lecturer at King Mongkut's University of Technology, has researched some of the most cutting-edge topics in today's technological landscape, and many of the courses she teaches, like computer programming, build her students' knowledge and ability in highly technical areas of the field. But one focuses on what might be considered soft skills — and they're proven to be some of the most important skills a professional working in Thailand's IT sector can have.
"IT staff know about programming, but they don't always know how to manage projects," Sodanil said. "They not only need the tech knowledge, but they also need project management skills."
Master's students in the school's software engineering department are required to take Sodanil's software project management course, and in the coming semester, thanks to a partnership with CompTIA, the course will include CompTIA Project+ curriculum. Successfully passing the CompTIA Project+ exam will, for Sodanil's students, not only stand in place of the oral exam required for some degrees, but will count as 50 percent credit on the required comprehensive exam. The IT department is also adding the class, as an elective course for now, but with an eye toward making it mandatory in the near future.
There's an important reason that the school is focusing on project management for its tech students. Sodanil's belief in the value of project management for her students is shared throughout the industry, and backed up by data.
Project Management: Critical for Students and Industries
Each year, King Mongkut's University surveys major enterprises throughout the government and private sector to determine the most necessary skills in the IT workplace. The most recent surveys consistently place project management in the top 10.
The students who attend King Mongkut's University and pursue advanced IT degrees are generally taking courses while working in the field — many within Thailand's government sector. So while the incentives Sodanil offers to get her students interested in writing the exam are attractive, getting a CompTIA Project+ certification can also immediately benefit their careers.
"My students who passed Project+ moved into better job roles after getting the certification."
Confirming that their skills are up to spec with Project+ can mean a promotion or offer a direct path to a better position. While this is the first semester that Sodanil has written Project+ into her software project management course, she has piloted workshops in which she trained and tested students on Project+ . She has received feedback that testifies to the value of the certification.
"My students who passed Project+ moved into better job roles after getting the certification," Sodanil said.
The advanced project management skills Project+ holders demonstrate isn't the only reason CompTIA certified professionals shine in the eyes of Thailand's government employers. The certification meets ISO 21.500 standards for project management accreditation, which means that those who hold the certification are prepared to manage projects that meet the regulatory demands of government and private-sector auditors.
CompTIA Certification: A Big Role in Thailand's IT Future
This semester, Sodanil hopes that at least 80 percent of her students in software project management will pass the CompTIA Project+ exam. And as she works to make the course more prominent in the IT department, the school is taking numerous steps to implement other CompTIA certifications. King Mongkut's University will, in the future, offer other certifications in individual courses and even intends to use CompTIA IT Fundamentals certification as an entry exam for its software development master's program.
These moves come against a backdrop of an exciting time for the Thai economy, in which there will be a need for the standard-setting, skill-validating certifications CompTIA provides — both for job seekers and the industries that hire them.
Thailand's government has big plans for how the country will develop as a part of the global economy in the coming years, with an initiative it is calling Thailand 4.0. A more effective, more innovative IT presence plays a role in this vision of a future, and having top-tier IT professionals who are not only skilled in tech, but who also know how to manage its implementation and use, will be critical to making it a reality. These are the kinds of skilled IT professionals that CompTIA certifications can promise.
As they learn the Project+ curriculum and earn the certification, the students in Sodanil's course are already starting to build this bright, new IT future for Thailand — and they're enjoying it.
"Students like the subject," Sodanil said. "They understand that it's beneficial for them to learn Project+."
Read more about our globally recognized project management certification.
Matthew Stern is a freelance writer based in Chicago who covers information technology, retail and various other topics and industries.