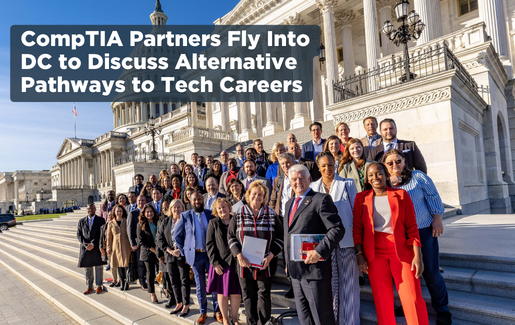 When it comes to advocating for alternative pathways to tech careers, CompTIA partners aren't just talking the talk – they are walking the walk. On November 13-14, 2023, at the first CompTIA Tech Workforce Educational Fly-in, 90 CompTIA partners and staff gathered in Washington, DC to discuss critical technology workforce issues and educate policymakers on the unique pathways people can take to enter the tech workforce.
"Tech talent is in high demand with one million open positions in the United States," said Nancy Hammervik, chief solutions officer of CompTIA Workforce Solutions. "These jobs can open doors and unlock potential for all, including underserved and diverse populations, to earn sustainable wages and launch strong career paths."
The goal of the Fly-in was to educate policymakers and their staff on the critical need for trained technology talent, that technology jobs are skills-based and accessible to all, and that funding and support are needed to drive competency-based training solutions for tech careers.
"We brought this group of stakeholders to meet with legislators to share priorities, concerns, experiences and to raise awareness of the importance of helping their constituents by supporting and funding programs for tech career pathways and workforce needs," Hammervik said.
Discussing the Issues At Hand
Before embarking on Hill visits, attendees spent the first day in Washington, DC discussing the issues at hand. Tim Herbert, chief research officer at CompTIA, Alaysia Black Hackett, chief diversity officer at the Department of Labor and Delia Troy, director of industry expansion at Opportunity @ Work, briefed attendees on how alternative pathways to tech careers, including high school CTE programs, vocational schools, community colleges, tech training, certification centers and apprenticeships, are viable options to a tech career.
Herbert set the stage for the workforce environment with data on the state of tech jobs, sharing that the tech workforce is expected to grow twice as fast relative to the national rate. Data scientists and analysts, as well as cybersecurity analysts and engineers, are expected to be among the fastest-growing jobs.
Other key facts:
Digitally intensive jobs are growing twice as fast as other middle-skill jobs.
There is currently a supply-demand gap of 315,000 trained cybersecurity workers.
The confidence gap remains a barrier for many. About 20 million job seekers are potentially self-screening out of consideration for a tech role.
Most businesses are expected to increase training investment and time, though there are some concerns regarding training fatigue.
CompTIA certifications increase the likelihood of sticking with a tech career pathway by 60%.
In a keynote address, Hackett provided a comprehensive overview of the DOL's registered apprenticeship program as a career pathway that benefits both the apprentice and the employer. In fact, 96% of employers report an improved company culture due to their programs. Apprenticeships are a powerful tool to build the American workforce. Hackett shared that while there are more than 25,000 active apprenticeship programs in the U.S., expanding registered apprenticeship programs that train for tech jobs is more critical than ever due to cybersecurity needs throughout the U.S.

Troy shared the story of those Skilled Through Alternative Routes (STARs) and discussed that 70 million workers in the U.S. do not have college degrees, while 68% of jobs require one. She pointed out that nearly half of all STARs have a skills profile that could earn them 50% higher wages and encouraged the attendees to develop a STARs strategy, telling them that if they don't, they only have half a talent strategy.
Sharing Success Stories
Of course, it's personal stories that strike a chord with most people – including policymakers. Amy Kardel, senior vice president of strategic workforce relations at CompTIA, moderated a panel of four individuals representing IT professionals, workforce training and education boards, employers and academia. The group shared their personal experiences and success stories of people who leveraged alternative pathways to build lucrative careers in technology.
The panel featured:
Dr. Kamaljeet Sanghera, executive director of the Institute for Digital Innovation at George Mason University
Eleni Papadakis, Workforce Training and Education Coordinating Board at Washington State
Kayley Perkins, MHRM, CSM solutions leader/talent management solutions at Apex Systems
James McGraw, desktop support technician at Apex Systems (CompTIA program alum)
Papadakis said that finding talent has been a challenge for employers who aren't valuing skills versus degrees. In Washington State, they offer customized upskilling programs and a Mentors in Tech initiative, which they are looking to expand. Dr. Sanghera shared that students are coming to the university with skills and certificates and that some employers are paying the tuition.
Perkins encouraged attendees to partner with STEM organizations to broaden their talent pool and said she would work with workforce boards going forward. She also discussed the Apex Skills Bridge program through which workers are paid by the military but are working in companies to transition to the private sector. McGraw inspired the audience with the story of his journey from being an Amazon driver to taking CompTIA classes, obtaining certifications and subsequently working in IT on Capitol Hill before taking an IT role with a premier healthcare institution.
Educating Policymakers
On November 14, CompTIA members met on Capitol Hill with 50+ policymakers and staff members to discuss the work that CompTIA and its partners are doing to advance the tech workforce and drive forward the value these efforts are providing the American workforce.
Some key points included:
A traditional four-year degree is not the only pathway into a high-value tech career.
It's critical to establish partnerships between employers and educational institutions to create skills frameworks that define credentials at scale.
It's crucial that Congress prioritize the investments necessary to advance the development of an upskilled and reskilled workforce.
The CompTIA Tech Workforce Educational Fly-in was – and continues to be – valuable for networking between CompTIA and core partners. By discussing shared policy goals and engaging in interesting conversations on workforce development, attendees had the unique opportunity to learn from one another and find common interests in core priorities.
Taking Next Steps
While the Fly-in provided a fantastic opportunity to engage with power players in our nation's capital on behalf of the tech industry, our work is far from over. We encourage individuals in the tech workforce ecosystem to stay engaged by following us on LinkedIn and referring industry peers and colleagues building training solutions to CompTIA for insight and support. We want to hear about your organization's initiatives and successes, too. If you missed this year's event but want to participate in next year's Fly-in – keep your eyes and ears open and get involved.