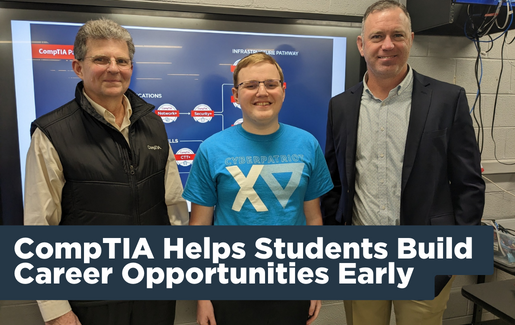 Vlad Serov, a senior at Bearden High School in Knox County, Tennessee, spends as much time in the school's 1,800 square-foot Cyber Lab amid the 30 workstations, routers and switches, wires and cables as his schedule permits. As Serov awaits responses from his college applications, he is continuing to build his advanced tech skills, readying himself for both higher education and the job market. When he gets there, he will already have a big advantage.
That's because as a student in Bearden High School's cybersecurity program, Serov has earned not just one, but five CompTIA certifications.
By pointing him toward certification, the cybersecurity program has allowed Serov to confirm his foundational enterprise-level tech skills in the eyes of any recruiter or hiring manager glancing at his resume long after he graduates. For Dr. Tim Cathcart, who organized and launched the cybersecurity program and heads the extracurricular cyber club, Serov's achievements represent both a standout success and just the tip of the iceberg.
In just five years, Cathcart has built a program that can both help a star student like Serov shine, and promises to let all types of learners succeed by giving them the opportunity to earn industry-recognized professional certifications as a part of their high school experience.
A Critical Need for Cybersecurity Education
In 2018, while interviewing for a job teaching math at Bearden, Cathcart was offered an additional opportunity. The state of Tennessee, the Knox County School District and the school were realizing that offering hands-on cybersecurity education was critical to setting up students for career success and college readiness. No such program, however, had gotten off the ground in the district. Cathcart was the perfect candidate to start one at Bearden.
"It was like, 'make it happen,'" Cathcart said. "So, I did."
With Cathcart's official arrival the program launched, beginning humbly in a small classroom with one computer system. Eighteen students enrolled in the single Cybersecurity 1 course offered that year.
Classes began. Bearden's principal, seeing the program in action, was all-in on supporting it—trusting that those dangling wires and cables Cathcart and his cohort were running would add up to student success. The district tech supervisor began championing the program too, enthusiastically offering support and equipment. The momentum built. Outside organizations took an interest. Cathcart had the students writing grant proposals and those grants were getting funded. Even as the COVID pandemic struck, rattling the educational system, and increasing technological needs, students, staff and outside organizations continued giving moral and financial support to the program. Cathcart believes building such supportive networks is key to any program's success.
"We collectively recognize that [graduating students] need good jobs," Cathcart said. "Jobs that pay well, jobs that have a strong future, jobs that are really hard to outsource. Cybersecurity is right in there."
CompTIA certifications are integral to preparing students for these jobs, signaling to potential colleges, internships and employers that any certified candidate—no matter their age—has a working mastery of the skills required to handle a given job role.
Shortly after Bearden began folding CompTIA certifications into the cybersecurity curriculum, Serov arrived to give proof to that concept.
Setting Up a Star Student to Shine
Serov, a computer whiz from his earliest childhood, was already getting proficient in JavaScript and Python when, the summer before his junior year of high school, he moved to Knoxville. Preparing to start the year at Bearden, he visited the school's club fair. He made a beeline for the cyber club table. There sat Cathcart, happy to meet him and welcome him aboard.
The school year began. While Serov had not signed up for any technology classes, it only made sense to get such an engaged student on the CompTIA certification pathway. Cathcart gave Serov a voucher for the entry-level CompTIA IT Fundamentals (ITF+) exam. Serov tested and passed. The next semester, Serov took his first cybersecurity course—getting serious, while having a lot of fun.
In the Bearden Cyber Lab closet sits a hodgepodge of broken old computing technology. Serov had full reign to explore the closet's contents. Between Cathcart's class instruction, tinkering with broken hardware in his free time and in work-study, and utilizing CompTIA's online TestOut exam training solution, Serov was well prepared for another certification exam by the semester's end. Each Bearden cybersecurity course culminates with the chance to take an official CompTIA exam, which allowed Serov to pick up CompTIA A+ and the tougher CompTIA Security+ his junior year.
This school year Serov has taken things even further, earning both CompTIA Network+ and CompTIA Linux+. His combined certification successes have led to him being covered by the local press and even courted by potential employers. Serov has a lot of options. Whether he eventually pursues a career in cybersecurity or in programming, wherever he decides to intern or work, he is already way ahead of the curve.
With CompTIA certifications on the syllabus and Cathcart's guidance, many students are sure to follow.
Providing Professional Credibility for All Types of Students
Bearden's cybersecurity program now has two Cybersecurity 1 classes, one Cybersecurity 2 and one Cybersecurity 3, with a total of 40 students enrolled in the program. This semester, Cathcart's Cybersecurity 2 class is focused on CompTIA Security+. The May 12 testing date is posted on the wall. On that day, about 13 students will test. Ideally, many will pass. Those who do will earn a professional differentiator at an age when many have not even seriously thought about career options.
"You go to apply for college, you go to apply for a job, you've got something someone else doesn't," Cathcart said. "Having these sorts of certifications show you've got more interest, you're more serious, you're more dedicated than someone that doesn't have any of that at all."
Some may not pass, though, and that is fine. As high school seniors, they may have different academic priorities, or have understandable trouble with a difficult professional exam. Such students can still benefit greatly just from taking a CompTIA exam. A student just having taken a certification exam in high school demonstrates a level of seriousness to prospective colleges and employers. And even those students who pursue other career avenues entirely after school, having built their foundational knowledge at an early age, can always later return to cybersecurity—and CompTIA certifications.
Pointing Students Down the CompTIA Pathway
With a robust course sequence, CompTIA exams as class capstones, the CompTIA Instructor Network to share critical information and resources, and the priceless support of the administration and the community, Bearden's cybersecurity program is ready for the future. Cathcart sees an ecosystem of success already growing around the program. As it progresses, local businesses and schools will know they can find quality cybersecurity talent at Bearden, and students will increasingly see evidence of the doors the program opens.
"We'll have this series of pioneers showing, 'look, I did it—yes I had to work hard, but I put the effort in, I did it and you can do it too,'" Cathcart said. "As other students see that, I think that's helpful. We have to continue to tell students; 'you want a good job, you want to come out of high school with a lot of options, you want to make a lot of good money into the future—then this is a pathway for you."
As the first of these pioneers, Serov is already well on his way.
"I think [CompTIA certifications] are great," Serov said. "I think they're going to help me out in the future a lot."
Learn more about CompTIA's Academic Partner Program.
Matthew Stern is a freelance writer who covers information technology, retail and various other topics and industries.