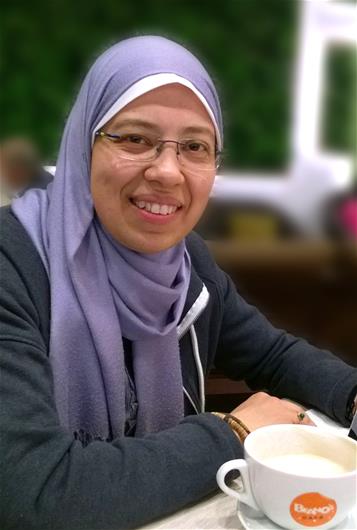 Update: CompTIA Certified Technical Trainer (CTT+) has been retired as of 2023.

Within minutes of starting a five-day HVAC software training course at SitesPower Training Institute in Dubai, one of Iman Mohamed's trainees asked a big question. He was skeptical. He wanted to learn the plumbing portion of the training but didn't feel the need to learn about mechanical engineering. Rather than attending the entire course, he wanted to know exactly when Mohamed would be covering plumbing – so he could skip the rest.
But she did not easily acquiesce to his request.
CTT+ In Action
Using strategies she first mastered during her CompTIA CTT+ certification, Mohamed read the man's demeanor. She asked him about his job and career goals. In a split second, she assessed his needs and outlook and thought through how she could communicate the importance of taking the full training. She asked him, "What if you want to advance? What if you want to move into a different career? Isn't it worth an extra day or two of training to set yourself up for success in the long run?"
The man agreed to take the full course and was not disappointed.
"By the end of the course he told me, 'Thank you, for pushing me to attend the course. I enjoyed all the information, even what I had no background in. You gave it to me in a very simple, easy way,'" Mohamed said.
Scenes like this are not unusual for Mohamed, who teaches 5 to 10 courses each week, ranging from HVAC to graphic design to architecture to engineering. She meets people of all different nationalities, ages and levels of technological literacy. Whatever their background, her goal is the same – to engage them in the material so they learn the information. This requires as much knowledge about what motivates individuals as it does about any one software package. In the past 13 years, Mohamed has grown incredibly skilled at making split-second decisions about how best to train. She credits CompTIA Certified Technical Trainer certification with helping her appreciate, understand and apply that.
CompTIA [CTT+] impacted all of my training sessions. … Each time I deliver a course, really, the CompTIA book is my reference. I still return to the book today.
Her Path to a Career in Training
In 1999, Mohamed had just graduated with an architecture degree and was working her way up in a firm in Alexandria, Egypt. Having mastered the technical tools of the trade like Autodesk, AutoCAD and Adobe Photoshop, she was soon asked to train new candidates on the software with which she was so familiar.
During one training session, a junior architect paid Mohamed a compliment. She said Mohamed communicated the information in a way that was unique. She was so impressed that she asked Mohamed if she had ever thought of doing it full time.
"I started searching for an opportunity to be a trainer," Mohamed said. "It became a passion, not just a job."
Mohamed took her impressive graphic design and architecture skills into a role where she could not only practice them, but also share them, through training.
A New Perspective
In 2003, Mohamed began her training career at New Horizons in Alexandria. Within two years, she was promoted to senior instructor. And in 2006, when New Horizons offered employees the opportunity to earn certifications, she picked up CompTIA CTT+ as part of her Adobe trainer certification. What she learned deeply affected the way she viewed herself in the classroom.
"CompTIA [CTT+] impacted all of my training sessions. It covers everything about the different ways of delivering information," Mohamed said. "Everything related not only to the knowledge, but also the psychological, human part … It even covered details of the space I deliver courses in. Each time I deliver a course, really, the CompTIA book is my reference. I still return to the book today."
UAE and Beyond with CompTIA
After more than a decade at New Horizons, in 2015 Mohamed took the next step in her career and relocated to SitesPower in Dubai and quickly advanced. She continues to train full time while pursuing her master's degree in architecture. And as she encounters different types of trainees, she seeks new ways to better meet their needs and teach an even bigger, broader, more diverse audience.
Mohamed looks forward to someday again making a move – to meet, learn about and train new people. And she wants to give back to the profession, too, perhaps as a subject matter expert (SME) on the CompTIA CTT+ exam, using all that she learns and observes in her classroom to inform the industry standard certification.
But wherever she goes next, one thing is certain – those who experience a training from Iman Mohamed will leave knowing their stuff.
"Clients ask about courses with me," Mohamed said. "They ask for me by name. 'We need Iman,' they say. CompTIA is the reason for that success."

Want to take your training to the next level? Join the CompTIA Instructor Network.
Matthew Stern is a freelance writer based in Chicago and covers information technology, retail and various other topics and industries.