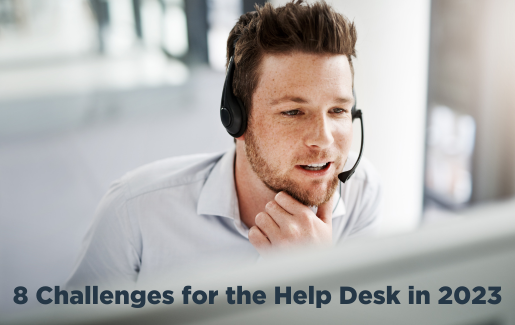 The help desk is the first stop for technical issues—the front line, the first responders of the technology world. Anytime technology issues arise, tickets are submitted and help desk heroes spring into action. Without a good help desk, issues can inhibit productivity and create general frustration among your users, which we all know isn't a good situation.
In fact, according to Hubspot's Annual State of Service report, 91% of survey respondents say their help desk system increases productivity. Ideally, you want to make your help desk as efficient and productive as possible, because then your users are more productive – and everyone wins.
Of course, it's not easy to maintain efficiency. There are obstacles along the way, with new ones popping up every year. Here are eight help desk challenges to get ahead of in 2023.
Related Blog: 10 Qualities Every Help Desk Technician Should Have
1. Cybersecurity Threats
Cyber threats are more pervasive than ever and many breaches result from simple phishing attacks or other user-targeted scams. The help desk is often the first line of defense against these types of social engineering schemes, and they are often tasked with identifying cyber threats and managing the initial stages of a breach. A knowledgeable help desk technician will be able to spot a threat and communicate the problem to the right people before things escalate.
2. User Adoption of Process and Procedure
The help desk may develop the most efficient processes and procedures, but ultimately, they are only as good as your adoption rate. If no one is using your wonderfully thought-out processes, then you will still be dealing with the same influx of tickets and attending to the same complaints over and over. The help desk will benefit from proactivity in 2023 with a thoughtful adoption plan. A good help desk will develop these beneficial processes, but also educate users so the new protocols are adopted across the organization.
3. Support of Decentralized Teams and Devices
Decentralization of teams is booming. Teams are now commonly spread across the United States and even the globe. In other words, the Zoom meeting is alive and well and not going anywhere in 2023. For the help desk, that means more challenges in supporting end users, all of whom may have myriad devices, internet providers and security concerns. Securing end points is no longer a simple story that involves connecting everything to the network in your home office. The help desk will need to be able to support users with connections, device issues and access control in a decentralized work environment. Your help desk should feel comfortable adapting to new issues and communicating with users in a remote environment.
4. User Communication
When you're a technical person, it can be easy to fall into the lingo of technical speak. As one of the hottest trending professional skills, communication is essential for help desk. Think about it, you'll likely be interacting with people who don't have the same proficiency with technology. It will be key for the help desk to be able to clearly communicate what is needed in a way that end users can understand and apply.
5. Shadow IT
Shadow IT accounts for between 30-40% of IT costs in large enterprises. Shadow IT involves those pesky apps or tools that users are using without the knowledge or oversight of IT. Shadow IT can create huge security risks, causing 69% of executives to cite it as a top security concern in 2022. When breaches occur or problems arise due to the use of shadow IT, the help desk will be the first outreach point. Help desk staff will need the knowledge necessary to identify and manage issues coming from shadow IT applications.
6. Tracking Issues Across Multiple IT Teams
Technology is so much more ingrained in business processes now that many companies are operating with various internal and external technology teams. With multiple vendors, providers and even implementation partners and consultants contributing to an organization's technology stack, it can be difficult to track issues across those teams to find the best resolution. In 2023, the help desk will really need to optimize and update processes to help track tickets and technology issues across teams, managing communications and documenting all technology tools and resources.
7. Ticket Resolution Times
This is one that always remains at the top of the list of priorities. It's no great secret that longer times for ticket resolution reduces efficiency. According to Live Agent, "the average company resolves 485 tickets per day, 3,349 per week and 14,794 per month." With so many tickets coming through, it's essential to keep resolution times as low as possible. This year, the help desk is going to be tasked with continuing to whittle down average resolution time by enabling more self-serve options and automating as many tasks as possible. In fact, it's been reported that 69% of consumers prefer to independently resolve customer service problems. A knowledgeable help desk should also be able to develop knowledge base materials with a focus on encouraging self-resolution before ticket submission.
8. Customer Satisfaction
Ultimately, the help desk is tasked with making things easier for users, but you want customers to feel happy with the resolution and empowered by the experience. Netomi reports that "more than 65% of people have higher expectations for customer service today than they did three to five years ago." In 2023, the help desk is going to need to keep customer satisfaction as a primary focus when attending to user issues.
Stay up to date with CompTIA and tech skills by subscribing to CompTIA's IT Career News. As a thank-you, we'll give you 10% off your next purchase.