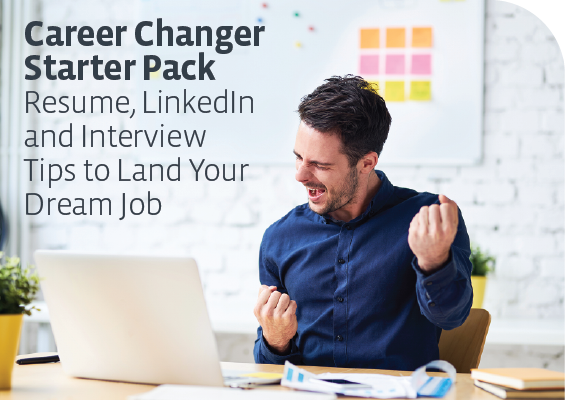 Looking for a new job is often intimidating, but it does not have to be. Starting a new path requires resume updates, LinkedIn revisions and company research. Here are some strategies to help you navigate your job search.
3 Things to Consider When Writing Your Resume
Your resume should tell a story of continuous learning. No matter what background you come from, you have developed transferable skills that will help you succeed in IT.
Think about what the hiring manager is looking for.

According to TIME, a recruiter spends an average of six seconds skimming a resume, so you want to make it easy for them to see that you're the right candidate. The job description will indicate which attributes the hiring manger is looking for, and you can use those same keywords in your resume. Once you understand what the position requires, your resume should emphasize relevant experience. Thinking about what the recruiter is looking for will make your resume stand out in a good way.

Use specifics when applicable.

If you know how much revenue a project generated, how many calls per day you answered or how many people you managed on a team, include the numbers in your resume description. Applicants who quantify their experiences paint a better picture of their responsibilities for the reader.

Embrace the unique.

Many people shy away from including non-traditional experience on their resume when it really sets them apart. There is no one path to success, and organizations are always looking for fresh perspectives. Highlighting an uncommon experience or accomplishment can get you from the maybe pile to the yes pile.
For more resume tips, check out How to Write a Resume When You Change Your Career.
3 Things to Consider When Using LinkedIn
Most people know first impressions are important, but many don't realize a messy online presence can affect their job search.
Let recruiters know you're looking with the Open Candidates option.

LinkedIn profiles are a great way to establish your personal brand and expand your network during a career change. You can let recruiters know when you're looking for a new position using the Open Candidates feature without your current company knowing. Read more about Open Candidates.

Keep the head shot, headline and summary professional.

When you're updating your profile, be sure to include a professional head shot along with a descriptive headline and a compelling summary. Consider this combination your online elevator pitch. You want to convey professionalism, personality and experience.

Log on regularly and engage.

There are two benefits to sharing content on LinkedIn: Building your personal brand and checking the site regularly. By liking LinkedIn articles, your network will see what topics you are passionate about. No matter how polished your LinkedIn profile is, the site only has value if you check it. Countless users miss job opportunities simply because they fail to log in frequently.
If you want more LinkedIn help, read Top 10 Ways to Make LinkedIn a Key Tool in Your Career Portfolio.
3 Things to Consider When Interviewing
Interviews are less stressful when you are prepared. Instead of dreading interviews, think of them as casual conversations about how you will succeed in the position.
Have specific stories tailored to the job.

Review the job description and pick out three key skills the interviewer will be interested in. Write down three specific stories that demonstrate each skill. These stories are ideal for the "Tell me about a time…" questions. Practice telling your stories in two minutes or less to avoid rambling. Be sure to emphasize what you learned from each experience.

Write down questions.

You will talk about many topics during the interview which might spur questions. But that doesn't mean you shouldn't prepare two or three thoughtful questions of your own. Researching the organization will help you discover topics you want to learn more about. Although you want to interviewer to know you researched beforehand, avoid asking unnecessarily specific questions that the interviewer might not know the answer to.

Examples of good questions to ask at the end of an interview are listed below:

What is the most challenging aspect of the position?
What do you like best about working here?
What are some long-term organizational or department goals?
Is there anything about my resume that concerns you that I can address?
What growth opportunities does this position offer?

Send a Thank You.

A thank you email or card makes you stand out to an interviewer. Be sure to let them know you appreciate their consideration and are available for any follow ups. Include specifics from your conversation to make the note personal.

If you are interested in more interviewing tips, take a look at 10 Steps to Acing Your Next Job Interview.
These strategies will help your resume rise to the top of the pile. Once you've decided to change careers, the sky is the limit.
CompTIA is teaming up with Zip Recruiter to help connect you with jobs. Submit your information to receive customized job alerts via email.