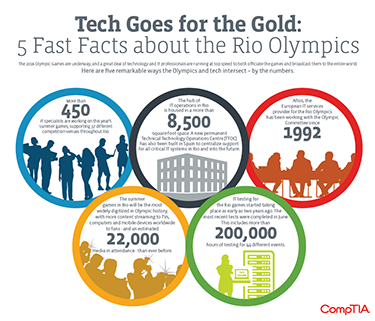 The Olympics in Rio officially kick off today, but the planning began well in advance – several years in advance, in fact – to help turn the games into a fully connected global experience. And while the process on the ground in Rio has already been plagued by concerns over the Zika virus and athlete housing, the Technology Operations Centre (TOC), the hub of all IT operations before, during and after the games, has been on the job since opening its doors last November.
As the command and control center for all of the technology associated with 144 Olympic competitions and other special events (including the Paralympics in September), the TOC is responsible for monitoring and controlling the IT systems that support all facets of the games. This includes delivering up-to-the-minute results that allows spectators and the world's press to keep on top of more than 10,000 competing athletes.
Here we present seven ways IT is boosting the Games' global presence in 2016:
1. Worldwide Streaming Access
For the Rio games, the International Olympic Committee (IOC) partnered with Atos, a European IT services company that has helped move the role of tech forward in terms of organization, delivery and experience. In fact, the Games this summer will be the most digitally enhanced ever in Olympic history as people tune in on multiple digital devices worldwide to see if Michael Phelps will swim his way to gold again or if track favorite Allyson Felix will deliver. Atos has been working with the IOC since 1992. But this year, more than 450 IT professionals are represented on the Rio 2016 Organizing Committee.
"We have been impressed by the Organizing Committee's information technology preparations," said Jean-Benoit Gauthier, information and technology director for the IOC. "These games will represent significant progress in the IT systems used at the games." Atos's role in this summer's event is expected to enhance the experience of athletes, media and spectators in Rio, as well as at future Olympic games, Gauthier said.
2. The Games In the Cloud
One of the ways these goals are being achieved this summer and into the future is by using a cloud network that will deliver critical services with enhanced operating flexibilities. Using Canopy, a private cloud service, Atos worked with delivery partner EMC to roll out the system. And while Rio is actually the first to use the cloud system, it's expected that PyeongChang 2018 and Tokyo 2020 will both run entirely from the cloud.
Marta Sanfeliu, COO of major events at Atos, wrote in a recent blog entry that even though most of the IT work behind the games from 1992 to 1998 offered little change in terms of the infrastructure, the trend toward digital mobility has changed the playing field – literally. "Games IT doesn't need to operate at full capacity all the time," wrote Sanfeliu. "From PyeongChang 2018 onwards, cloud infrastructure means we can scale our computing power up and down. We are showing that the agility of cloud operations can be a real mindset changer."
As the clock ticks toward opening ceremonies, IT pros at the more than 8,500-square-foot operations center will ensure that results are distributed in less than half a second; a record for any sport in Olympic history. The digital world has come to expect real-time data delivery, which meant Atos has had to create a system with new tools.
3. Integrated Coverage
Atos created the Olympic Video Player to give viewers of the live events real-time results, statistics, biographies and social media connectivity all in one integrated screen. The customized view will also showcase content in a new way – viewers will ultimately have a choice over what to watch, how and when.
"Since London 2012," wrote Kulveer Ranger, vice president of public affairs and strategic communications at Atos in the UK, in a blog post recently, "viewing habits have shifted considerably, with traditional TV viewing continuing to decline. Today, people are increasingly connected and want a second screen – for instance, by watching Bolt attempt to regain his title on their smartphones or Santa Richards-Ross trying to add a final gold medal to her collection – while simultaneously reacting to the results on social media."
4. Clocking the Games
Atos has also created a complete Games Management System, which has also been made available on the cloud network. The system supports the planning and operations of the games and houses accreditation for more than 300,000 categories, sports entries and qualifications, workforce management and a portal to help recruit and support more than 50,000 volunteers in Rio. For example, if someone wants to look up table tennis star Lily Zhang's best singles scores or even where a volunteer should be positioned during the cycling competition, this is where one would do it.
Atos also partnered with international brands this summer like Omega (timepieces, scoring and on-venue results), Panasonic (AV equipment) and Samsung (wireless communications).
"Atos IT systems will allow for the instantaneous reporting and beaming of 6,000 hours of Olympic game coverage to the world through both more traditional television means and digitally to billions of laptops, tablets and smartphones," said Michele Hyron, chief integrator for Rio 2016. As viewing habits expand to digital devices on the go, the need for an expanded platform became obvious. That's why Atos has built a new system that will enhance data delivering for professionals and fans alike.
5. Olympic Apps
Atos introduced a new Information Diffusion System to deliver real-time results to the media and everyone with access from the Olympic and Paralympic Games. This new system includes a Commentator Information System (CIS) that delivers real-time competition results and athlete information, and myInfo+, a tool that provides data to the media, athletes, judges, coaches and sponsors.

Want to find out who is judging basketball this year? The data is easy to access with complete schedules and bios. The internet application also allows live results to be streamed for the first time for both the Olympics and Paralypics with information on schedules, medal rankings, transportation news and sports records. The tool can also be used to help customize homepages. If a media organization in one country wants to focus on that country's results and engagement in, for example, swimming, throughout the games, it can.
Ranger said that more than ever, the idea of "multi-platform" watching has become an important part of the overall IT structure at the games. This is defined by how people not only watch the games but also share their reactions to the events as they happen, be it using video or even social media. "Broadcasting events straight to people's pockets and enabling them to multi-platform – watch, like, comment and discuss on multiple screens – marks a big step change in how the Olympics are experienced and supported," he wrote.
Of course, one of the biggest challenges to a project of this massive scope is finding a smart and secure way to connect so many groups and platforms, like the Main Press Center and International Broadcasting Center with remote studios and broadcasters who will be covering the games onsite and around the world.
6. Real Time Touchscreen Tech
Using a Commentator Information System (CIS), which will be managed centrally from the TOC, Atos is providing the media with touchscreen technology that gives results in real time.
"These will truly be global games," said Elly Resende, Technology Director at Rio 2016, "not just because of all the countries representation, but because of the work of Atos' contribution to bringing these games to the world." As such, there has been expansion on the ground.
7. Remote Support From Spain
Rio 2016 will be the first ever Summer Games where the TOC in the host city will be supported remotely by a new permanent Technical Technology Operations Centre (TTOC) in Spain. The role of the TTOC in Rio and in the future is to centralize support for all critical IT systems. A team of 150 business technologists will provide support from Spain by using SaaS and a cloud network that are both expected to improve ongoing delivery of data and reduce cost for years to come.
"In the past, each local Organizing Committee had to build data centers for just one games," wrote Sanfeliu. "Our shift from a build-each-time model to build-just-once means we will use fewer servers, occupy less physical space and operate with a much smaller carbon footprint."
As of early June, every IT component of the new system had already been tested – including any and all tech related to communications, media, sports and security. The rehearsal was designed to test overall readiness in time for the kickoff. The company said that the preliminary tests are the final step in the roll-out of the complete IT system, which itself represents more than 200,000 hours of testing on 44 different events from archery and badminton to beach volleyball and boxing.
The majority of the tests took place starting as early as August 2014 and continued well into this summer. The goal is to protect data from any unforeseen problems, like network disconnection, power failure, weather issues or even security attacks. The latest assessments took a close look at how the system responded to each circumstance and ultimately tweaked the response to any situation that could present itself during the Games.
"The final technical rehearsal is just one of many key milestones in Atos's Olympic Games journey," said Patrick Adiba, group chief commercial officer and CEO of major events at Atos. "Testing both the technology systems and our teams' readiness is crucial to deliver flawlessly the largest sports IT contract in the world."

Click here to check out our informative infographic on the games, Tech Goes For Gold: 5 Fast Facts about the Rio Olympics.
Natalie Hope McDonald is a writer and editor based in Philadelphia.