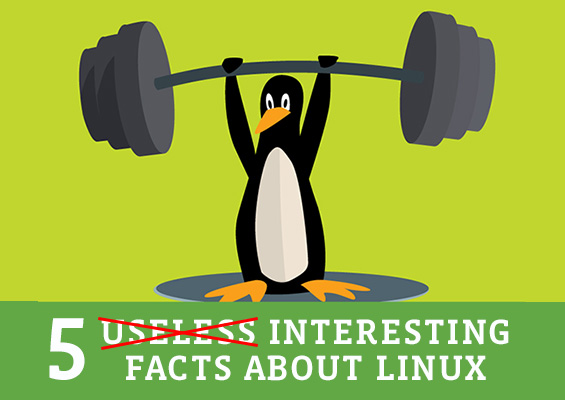 Linux powers bullet trains, supercomputers, submarines, Hollywood films and even the New York Stock Exchange. Staff from major tech companies like Intel, IBM, HP and Google as well as startups help to improve upon the Linux code. Whether you call them useless or interesting, here are five fun facts about the open-source software.
Linux has two birthdays! On August 25, 1991, Linus Torvalds announced to the world via Usenet that he was creating a free operating system. On October 5, 1991, the first Linux kernel was released. To honor Torvalds' innovation, a grassroots effort known as Linux Day has emerged. Linux Day is celebrated on the Saturday closest to August 25, so in 2017, it falls on August 26.
Although early Linux developers considered sharks, foxes, eagles and hawks, it was Torvalds who suggested the penguin, and it stuck. Rather than a strong, masculine penguin, he wanted a cute, cuddly one. The penguin's name, Tux, comes not from its "penguin suit," but from the phrase "(T)orvalds (U)ni(x)."
Developers add random words into the code, and the LinuxCounter keeps track of the more entertaining ones. Version 4.12.7 includes the word "crap" 186 times and the word "good" 4,613 times.
Although many call it an operating system, technically the term Linux refers to the kernel that sits at the core of the operating system. The first kernel occupied only 65 KB and had about 10,000 lines of Torvalds' code. Linux 4.12, which came out in July 2017, has 24,170,860 lines of code. In its annual report, released in January 2017, the Linux Foundation reported that more than 13,500 developers from 1,300 companies have contributed since
Linux powers everything from smartphones to submarines. According to the Linux Foundation, the following run on Linux:

95% of the top 1 million domains
More than 80% of smartphones (via Android)
More than 98% of the world's 500 fastest supercomputers
Most global markets, including the New York Stock Exchange, NASDAQ, the London Exchange and the Tokyo Stock Exchange
Most consumer electronics
More than 75% of cloud-enabled enterprises
World e-commerce leaders, including Amazon, Ebay, PayPal and Walmart
Ready to flex your Linux muscles? Test your knowledge by downloading the CompTIA Linux+ sample questions.