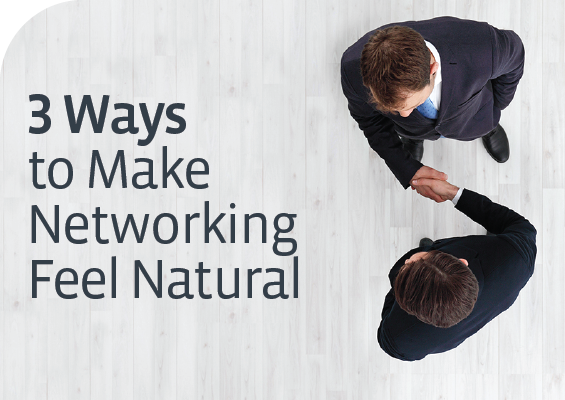 Everyone says networking is important — one study says 85% of all jobs are filled through networking — but what steps do you take when you're actually in the room? If you're shy, feel awkward making small talk or prefer to make a beeline for the bathroom during dedicated networking time, the idea of networking can feel like a lot of pressure.
Even if you find it challenging, it shows grit if you stick it out and feel weird for a minute. Once you start networking successfully, you'll realize it's worth the energy because networking is how you connect, find new opportunities and learn what is going on in the IT industry.
Here are three ways you can make networking feel less forced and make more natural connections.
Show Up and Say Hi

Networking only works if you're actually there, so stick out your hand to the nearest person and introduce yourself. It can feel strange, but if you're at a networking event, it's the most natural thing you can do. Most people will politely say hello back and introduce themselves, too.

Networking is a numbers game, according to Nellie Scott, global channel development manager at SAS. Once a conversation is going, find ways to let people know what you do in tech and where you want to be. Share your specializations and details about interesting projects you're working on, and ask questions about jobs and companies you're interested in.

If you're new to the industry, read this piece on The Easiest Way to Land your First IT Job, which recommends that you start networking on day 1. Getting to the networking event is the hardest part, so once you're there, make the most of it.

Find Common Ground

When you're at a loss for words, ask people about themselves. Start with simple, leading questions: What do you do in tech? Have you been at your job a long time? What do you like about your company?

Once people start talking, keep an ear out for relatable connections. Do you share an interest in IoT or blockchain technology? Do you live in Dallas or have a dog? People connect over personal likes and dislikes, too, so networking doesn't have to be all about technology. There are plenty of ways to let go and let people get to know you.

The stories you hear from other people about their jobs and their companies will give you a better idea of what different careers are like and if they line up with your personal goals. Later, when you're looking for jobs, you can reach out and say "I had a great time talking with you about blockchain at the tech summit networking party," which will help you get your foot in the door for next time, whether it's to find out if their company is hiring or set up interviews based on the recommendations of your professional contacts.

Connect on the Spot

You can hand out business cards and connect with people after the event, or you can pull out your phone and make the connection in an instant. Try the Discover Members Nearby feature on LinkedIn. Instead of exchanging business cards, pull out your phone and pull up the LinkedIn app, which will scan the room — with permission — for other LinkedIn members. Find the person you're talking to, and connect in a snap. It's a fun way to play with technology in real life and adds an instant boost to your networking roster.

When you're already connected, it makes it easier to send follow-up messages and keep your new friendships rolling. Send a direct message that sums up the event and your chat. Try something like, "It was great to meet you at the cloud technology seminar, and I really got a kick out of our chat about gender equality in Norway. Let's keep in touch!"
Practice Your Networking Skills
The more you network, the easier it gets. Pick an event like CompTIA ChannelCon, where you can meet IT industry leaders and people working in the business of technology in a relaxed, informal setting.
According to the people who attended ChannelCon 2017, 70% said they formed at least five new business connections during their stay. Even if you're not actively looking for a job, making networking a habit will help your career down the line.

Get more career advice like this delivered straight to your inbox. Subscribe to CompTIA's IT Careers Newsletter, and as a thank you, get 10% off your next purchase from the CompTIA Store.
Michelle Lange is a writer and editor living in Chicago.