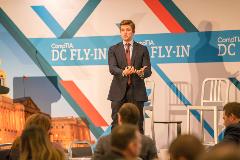 The annual 2018 CompTIA DC Fly-In kicked off with a working lunch on Tuesday, February 13 to bring attendees up to speed on the CHANCE in Tech Act, (H.R. 3174 and S. 1518). The legislation was built from meetings and feedback from last year's DC Fly-In and presents an important opportunity to create a stronger pathway for apprenticeships within the technology sector.
In 2017, we got CHANCE in Tech introduced; in 2018, we would like to get it passed into law!
Elizabeth Hyman, executive vice president of public advocacy at CompTIA said, "According to CompTIA's Cyberstates 2017 report, it's estimated that there will be more than 1 million unfilled U.S. tech jobs by 2024. The deficit is not because of a lack of desire by American workers, but a dearth of workers with the necessary IT skills. CHANCE in Tech will help provide workers from all backgrounds with the skills and knowledge they need to fill good-paying tech jobs. This legislation will better align workforce training in the IT industry to better meet local and regional workforce demands."
Our first speaker, Brent Parton, Deputy Director, Center on Education and Skills, New America, discussed the important role of apprenticeships. "We have an aging workforce and thousands of tech position needing to be filled. We continue to struggle to build a pipeline of tech talent to fill today's tech jobs -- only about half of kids enrolled in college will graduate. Education is lagging—what we teach in the classroom isn't up-to-date with what is going in our companies. We need to blend work and education in a more coherent way, of course that costs money."
Parton referenced new research from Harvard Business School that shows a significant unrealized potential in the apprenticeship field and that by using an apprenticeship approach, businesses struggling with skills gaps can take steps to ensure workers are trained to employer specifications—not to mention getting the value of apprentices' work during training.
What is an apprenticeship vs. a registered apprenticeship?
Parton explained that an apprenticeship is an arrangement that includes a paid-work component and an educational or instructional component, wherein an individual obtains workplace-relevant knowledge and skills.
Parton defined a registered apprenticeship as a high-quality work-based learning and post-secondary earn-and-learn model that meets national standards for registration with the U.S. Department of Labor (or federally recognized State Apprenticeship Agencies).
Registered apprenticeship training is distinguished from other types of workplace training by several factors: (1) participants who are newly hired (or already employed) earn wages from employers during training; (2) programs must meet national standards for registration with the U.S. Department of Labor (or federally-recognized State Apprenticeship Agencies); (3) programs provide on-the-job learning and job-related technical instruction; (4) on-the-job learning is conducted in the work setting under the direction of one or more of the employer's personnel; and (5) training results in an industry-recognized credential.
How do we set up and grow apprenticeships?
Parton said setting up a registered apprenticeship program takes a tremendous amount of time and commitment from employers. "Coming to a consensus on the skills that need to be imparted to an apprentice, documenting them, and dealing with the U.S. registered apprenticeship system requires companies to commit time, money, and man hours. For some small and medium-sized companies, that's simply too much of a drain on resources."
This is where intermediaries come in – a vital component of the CHANCE in Tech Act. "Intermediaries are the connective tissue for the tech industry. They bring together employers, higher education, and workforce development initiatives in local communities to discuss shared needs and goals. Intermediaries can also provide direct support to employers as they craft apprenticeship programs," he explained.
Intermediaries consist of businesses, industry associations, and private workforce organizations that build apprenticeship programs through public-private collaboration; recruit, assess and prepare apprentices; and track apprentices and employer outcomes.
One example of an intermediary he gave is Apprenti, an organization with a registered apprenticeship program accredited by the State of Washington funded through a grant from the U.S. Department of Labor's (DOL) American Apprenticeship Initiative (AAI), with support from the Washington State Department of Labor and Industries (L&I) and JP Morgan Chase.
The federal government has recognized the power of intermediaries. In fact, there have been several federal government initiatives that support and engage industry and workforce intermediaries, employers, and other partners to expand high-quality apprenticeship. Some of these include the American Apprenticeship Initiative; Apprenticeship USA; and the president's budget request in 2017 and 2018.
"Models of apprentices can work if we have the forces on the ground—using the intermediary model is a mainstream talent solution," said Parton. "And that's where the CHANCE in Tech Act comes in."
What does the CHANCE in Tech Act propose and support?
The CHANCE in Tech Act proposes 1) creating registered technology apprenticeship at the Department of Labor and 2) forging public-private partnerships to serve as intermediaries between employers participating in the program. Each intermediary would assess and train potential apprentices in coordination with local and regional workforce demands. The intermediaries would also lessen the regulatory burden on participating employers by tracking success indicators and managing other reporting requirements.
CHANCE in TECH also supports system change so that 1) Department of Education can issue awards to high schools and 2-year colleges based on STEM, CTE and computer technology coursework 2)work-based learning opportunities exist with local and regional tech employers, and 3)individualized counseling is provided to support students progressing towards college and careers.
"Everyone has a stake in the process – the federal government, private employers, higher education, and states – we need to work together and do all we can to make sure every student is 21st century ready," Parton concluded.

To see the slides of this working lunch, please click here.
Lana Sansur is the Senior Marketing Manager for Policy and Public Sector