Building Cloud Skills for the Future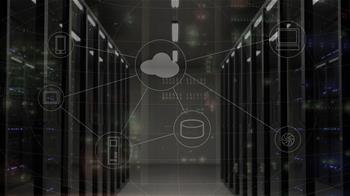 Cloud computing is back (even if it never really left). Although companies have been steadily adopting more cloud components in their IT architectures over the past decade, there has still been some hesitation in fully reconfiguring workflows to reflect a cloud-first mindset. The onset of the COVID-19 pandemic provided the motivation to get over the hump. To enable remote work and maintain operations, organizations were forced into quick action around cloud transitions.
Thanks to this disruption, a market that was already strong is poised for more dynamic growth. In November 2019, Gartner projected worldwide revenue in cloud services to grow by 17% in 2020, moving from $227.8 billion across all cloud offerings to $266.4 billion.
These numbers will almost certainly be revised in the wake of increased cloud activity. A recent survey by O'Reilly Media found that 25% of IT managers were planning to move all their business applications to cloud systems over the next 12 months, and the ripple effects from the COVID-19 crisis are still being calculated.
The obvious implication is that more cloud skills will be needed as organizations transform for the future. Cloud-based IT has many layers to it, from simple migration of existing systems to full reimagining of the technology footprint. Although businesses have been making strides with cloud computing up to this point, there will be a growing demand for cloud skills as adoption becomes more mature. Recent research conducted by CompTIA in collaboration with CompTIA's Business Application Advisory Council sheds some light on how businesses are approaching cloud skills.
Adding Cloud Skills to a Core Foundation
Before looking specifically at new skills for cloud environments, it is important to understand the broad context of job roles that will require cloud skills. In the early days of cloud computing, there was a notion that new roles would be created which focused exclusively on cloud behavior. Job titles like cloud engineer or cloud architect were used as examples of unique positions that might be established.
Today, it is certainly possible to find those titles in job postings, but a close analysis of the overall job market shows that the most common way for organizations to add cloud skills is by evolving their existing infrastructure roles.
Job postings for system engineers and network engineers are far greater than postings with cloud-specific titles. Those two roles are the foundation, and cloud skills are a critical part of adding value to the organization. For more on the key job roles in today's IT market, see CompTIA's whitepaper The Role of Emerging Technology in Digital Transformation.
The data from CompTIA's survey confirms the findings from job posting analysis. Only 17% of companies surveyed said they had created new roles specifically for cloud computing. Overwhelmingly, cloud responsibilities have become part of the job for IT pros with more traditional roles.
The lower numbers for data professionals and software developers are mostly a function of the IT team structure at smaller IT firms that CompTIA surveyed, but other small companies likely follow the same pattern.
Historically the IT effort has centered around infrastructure, with security as an offshoot of that infrastructure function. Software development has recently become more critical as firms move away from standard packaged software, and data specialists are being added as data management becomes a separate function, so these roles will play more prominently in the future.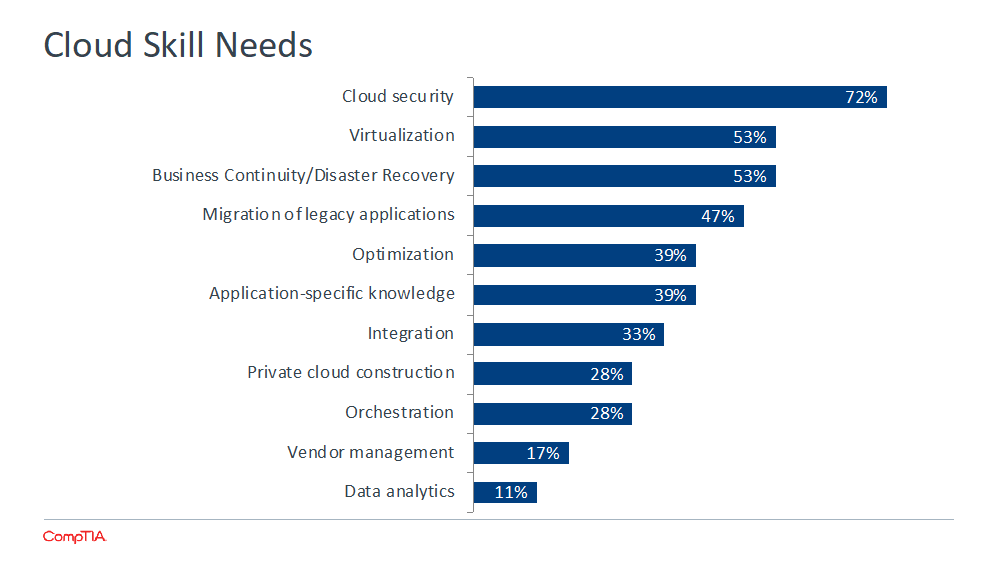 Regardless of role, then, the specific skills are the important pieces to consider as IT pros seek to advance their careers. Several individual skills deserve a closer look.
The Cloud Skills Employers Look For
Cloud security: Security was once the main adoption hurdle for many companies, but most firms today understand that security can be properly handled in a cloud implementation. Actually doing the work of proper security is still a work in progress, though. New tools such as data loss prevention (DLP) and identity access and management (IAM) are part of a cloud security solution, and IT pros should also help build best practices around process such as procurement and integration.
Virtualization: It is somewhat surprising to see virtualization ranked so highly, since virtual machines have been part of the IT landscape for quite some time. The fact that virtualization skills are still in demand speaks to the amount of modernization that many companies still need to perform in moving from a static on-premises mindset to a dynamic as-a-service approach.
Business Continuity/Disaster Recovery (BC/DR): Obviously a top-of-mind topic following the COVID-19 outbreak, BC/DR is a perfect example of a broad process rather than a discrete skill. By understanding the various options available in cloud storage and cloud software, IT pros can build a solid BC/DR plan that helps their organization navigate disruptions.
Optimization: One of the main benefits of cloud computing is the ability to tailor the infrastructure depending on the application. This is something that not many companies have performed in the past—especially if they have not been exploring virtualization—and it requires IT pros to understand the behavior of applications along with the different characteristics of cloud infrastructure options and cloud providers.
Private cloud construction: The label "private cloud" is often applied to a wide variety of situations, including any managed infrastructure or even a company's existing on-prem equipment. As businesses recognize the differences between different models, they may opt to build a true private cloud, requiring the use of software to dynamically allocate resources and self-monitor based on certain parameters.
Orchestration: A natural result of optimization is a multi-cloud environment, where many different providers and models are utilized in order to achieve the best performance. In this situation, there is a need to ensure all the pieces are working together properly. This is similar to standard data center management, but on a much larger scale.
Data analysis: Cloud computing affects data analysis in two ways. First, there is an abundance of information generated from cloud operations that must be analyzed for proper orchestration. Second, cloud components offer a pathway for companies to perform more robust data analysis than they ever have in the past.
Most of these skills can apply to IT pros in multiple disciplines. For example, virtualization is obviously a skill needed for infrastructure management, but it is also important for software developers as they work in DevOps environments. Regardless of the career path, being competent with cloud systems will be a must for the years to come.

How to Build Cloud Skills
There are many options for acquiring cloud skills. While the organizations in CompTIA's survey were focused on training existing IT staff, the use of many different training options highlights the opportunity available for interested candidates at any level, even if the order of preference might be different.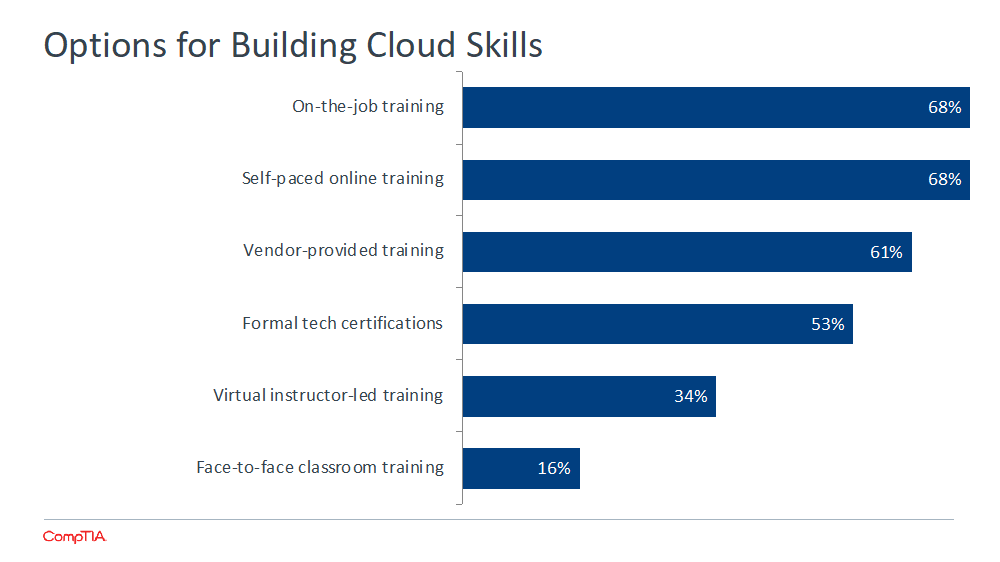 It is no surprise to see on-the-job training as the preferred option from an employer perspective. It is the most cost-effective choice and also ensures that new skills are pertinent to the needs of the business. This option is obviously not available for job seekers, but even for existing employees there are limitations. While the skills might be directly applicable to business problems, they are also constrained by the degree of technology adoption the company is willing to pursue. In an organization that does not want to push the envelope, there will be fewer chances to learn cutting-edge skills.
Online training is another popular option, one that applies equally to current and aspiring IT pros. CompTIA's survey was fielded after the COVID-19 pandemic had begun, which may explain the low incidence of face-to-face classroom training. However, face-to-face training has been fading in favor of online training for some time now, so the pandemic only amplifies a situation that was already taking place.
Online training is certainly becoming more sophisticated, with virtual instructor-led training becoming a viable option for those who prefer that learning style. Whether self-paced or instructor-led, virtual training provides a learning opportunity not only in a time when physical facilities are unavailable, but also long term for individuals who cannot easily access a facility or simply prefer an online experience.
Although IT certifications are a less common option for building cloud skills due to the additional level of investment needed, there is a clear return on that investment for both the individual and the organization. The Impact of Certifications and Training on Career Milestones whitepaper produced by IDC and CompTIA found that certifications have a measurable impact on performance and organizational influence, along with improving promotion possibilities for the individual.
Cloud computing was already well established as a model for IT architecture. After the first half of 2020, businesses are accelerating their approach to cloud computing, exploring deeper adoption of cloud infrastructure and software. With the right cloud skills, IT pros of all disciplines can help their companies move forward and be more resilient.
Read more about Cloud Computing.