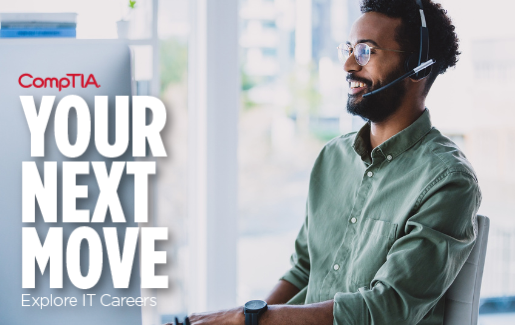 This article is part of an IT Career News series called Your Next Move. These articles take an inside look at the roles related to CompTIA certifications. Each article will include the responsibilities, qualifications, related job titles and salary range for the role. As you consider the next move in your IT career, check back with CompTIA to learn more about your job prospects and how to get there.
In the United States alone, it's estimated that more than 100,000 solution provider and managed service provider (MSP) companies are actively involved in the sale and support of technology to businesses. Each of these organizations offer a tremendous opportunity to begin and advance your tech career – in a multitude of roles.
What Is a Managed Service Provider?
A managed service provider is an IT business that has the skills, expertise and experience to implement and manage the technology solutions that help their clients' businesses achieve peak performance.
Those responsibilities typically include the following roles:
Work closely with businesses and other organizations to develop tech solutions that help solve a customer's specific business need
Manage and monitor networks, systems and devices remotely
Serve as an outsourced IT department for many small firms
Provide remote and on-site service and repairs
Help plan long-term IT projects and strategies
Implement cybersecurity products to protect customer data and infrastructure
Communicate regularly with customers to ensure that user tech needs are met and IT systems are operating properly
It's often said that the IT supply chain begins with the manufacturers of hardware, software products and services and ends with the organizations that consume the technology.
But in between, MSPs provide a critical layer of support, serving both as "feet on the street" for the tech vendors and as trusted tech and business advisors to the end customer. Their primary role is to ensure that a vendor's products and services are being used correctly and efficiently, and to resolve any issues that arise in a timely manner – and that's where IT pros come in.


Working for an MSP? Join CompTIA!
You—and your entire organization—gain access to membership benefits including industry research, exclusive invites, and connections to help grow your business and your career.
Learn more!
How to Get a Job with a Managed Service Provider
MSPs offer an immense range of tech career opportunities, including technical engineers, application developers and tech consultants. While most MSP employers historically have required an associate's or bachelor's degree for consideration, many now recognize that certification programs, apprenticeships and other training programs present a great way to fill much-needed technical positions.
Since businesses of all sizes, in the smallest of towns and the most rural of areas, use technology, MSPs offer enticing job opportunities almost anywhere. In other words, you don't need to relocate to Silicon Valley or Silicon Alley to get a job as an MSP IT pro.
MSPs perform a wide variety of functions, depending on the company's specific expertise and customer need. This creates a number of career pathways to consider, including field service technician, solution architect, help desk technician and systems administrator. Whatever path you choose, an MSP employer will want to see proof of your expertise.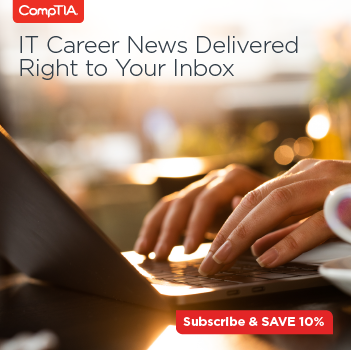 Get Certified to Validate Your IT Skills
CompTIA offers a host of certification opportunities to help you build your skills in these areas:
CompTIA offers everything you need to prepare for your certification exam, including training options that fit various learning styles and timelines and your choice of self-study or classroom preference:
The Details
Managed Service Provider Personnel Salary Range
ZipRecruiter reports that MSP salaries range greatly, from $22,500 to $138,000, with the U.S. national average at $69,167 (ZipRecruiter). On the technical side of the house, salary is fully dependent on the role. According to the CompTIA IT Salary Calculator, IT support specialists make a median annual salary of $52,690 whereas network administrators and engineers make a median annual salary of $84,810. And remember, salary not only varies by job role, but also by geography, company size, experience level and more, so there is a broad salary band for each.
Managed Service Provider Job Outlook
From 2020 to 2030, the U.S. Bureau of Labor Statistics (BLS) projects an increase of 33% for information security analysts and consultants with 47,100 net new jobs expected within a 10-year period.
Job Titles Related to Managed Service Provider
+ Means More
At CompTIA, + means IT careers. That means you can consider us your partner on your journey to becoming certified, finding, interviewing for and winning that new job role.
We help you save money. Getting a CompTIA certification is an investment in your career but getting a discount can help. There are several ways you can save money on your CompTIA purchases.
We help you decide how to take your exam. Scheduling your exam is the easy part. CompTIA exams are offered at testing centers around the world as well as through online testing, which is available 24/7, so you can test in person or at home. Learn more about your testing options.
We help you land your next job. We've teamed up with ZipRecruiter so you can get access to job alerts, digital badging and more. Be sure to sync your credentials on ZipRecruiter as you continue to grow within the tech industry.
Need more job inspiration? Check out CompTIA's Tech Job Report video series now premiering on CompTIA Connect. Learn more about the latest data and trends in tech hiring and the implications for employers and the U.S. workforce with new episodes each month.
Read about more IT jobs featured in Your Next Move.