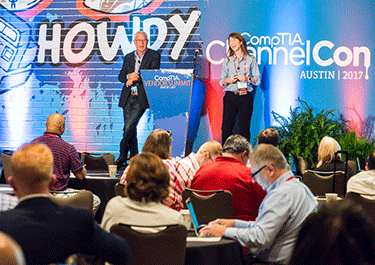 "One of the biggest barriers to reselling cloud is that it's not just about just buying software and shipping it," said Daniel Saks, president and CEO of AppDirect, cloud service commerce platform provoder, to a crowd gathered earlier this month for opening keynote at the CompTIA ChannelCon 2017 Vendor Summit.
"Selling the cloud is different," he added. "It's no longer about a one-time transaction – it's about a recurring sales model." During the one-on-one interview onstage with CompTIA President and CEO Todd Thibodeaux, Saks stated that to be successful, channel partners must be able to "sync the provisioning and access to cloud applications" by using a platform that allows them to access "all of the applications they need." He also suggested channel partners embrace the practice of bundling them or integrating them to add greater value for the end-user.
With more than 70 percent of businesses using cloud services today, there is enormous potential for channel partners to grow their businesses through SaaS; Saks told the audience. One of the main drivers, according to Saks, is the emergence of new vertical markets such as healthcare, manufacturing, churches and religious organizations, to name a few, where an increasing number of businesses are migrating toward cloud services. "Specific industries are lighting up fast," he said.
Yet, despite these opportunities, resellers still face many challenges when it comes to selling cloud services. When asked by Thibodeaux what the biggest challenge is for channel partners making the transition to SaaS sales, Saks replied, "The end-to-end customer lifecycle."
According to Saks, solving this challenge begins with retooling your sales team. "The next challenge," he said, "is finding ways to incentivize recurring revenue business models. This is followed by identifying how to address proactive support in a way that enables the reseller to become a true consultative partner. Finally, there is the technology challenge of reselling, during which resellers really need to think about the end-to-end customer experience. This is where resellers can rely on the platforms and training programs that are available to them and really shift their focus to the value they provide their customers."
Saks added, "It is really that 'last mile' relationship that truly matters and will be a differentiator for resellers of SaaS-based services."
In his closing comments, Saks challenged the audience to empower their customers within the next three years to go from adopting just one to two cloud-based applications to 10 cloud-based applications. "Think about differentiated use cases," he said. "How can we challenge each other as a community to adopt more cloud services?"
Let's Go to the Panel
Saks' one-on-one interview with Thibodeaux was followed by a panel on "The Rise of the SaaS Channel" moderated by Carolyn April, senior director of industry analysis for CompTIA, and featuring Sherrick Murdoff, vice president, partner investments, Salesforce; John Scola, global VP cloud channels and transformation, SAP; Sunir Shah, president, The Small Business Web; and Manuel Valencia, founder and partner, Connective Agency.
April and the CompTIA industry research team are in the process of finalizing a research report on the SaaS market that takes a look at how SaaS-oriented channel partners, including non-technology firms and digital marketing agencies, have disrupted the traditional channel. Some of the preliminary findings of the research highlighted during the CompTIA ChannelCon Vendor Summit panel include that three-quarters of all channel partners surveyed identified themselves as selling some SaaS, and one of the reasons they are breaking into SaaS is to get away from selling horizontal solutions. Furthermore, according to the research, selling SaaS also provides channel partners with an opportunity to break into new vertical markets such as retail and healthcare.
Using these findings as a jumping off point, the panelists discussed how SaaS-oriented channel partners don't fit the typical solution provider mold, often selling or engaging differently with both their vendors and customers. Furthermore, because they don't generally work off of referrals, like traditional channel partners do, what they value in the form of compensation also differs from the traditional menu of volume discounts and sales spiffs.
So, given this, how do traditional channel partners successfully make that transition to a SaaS business model? Murdoff talked about the huge opportunities that are available for solution providers with Salesforce, which has developed a successful direct sales model and is now evolving this model to take advantage of the SaaS channel by investing heavily in training and educational programs, especially online and DIY training, to highlight the vast opportunities that are available to solution providers. Salesforce has also taken it to the next level by certifying their SaaS partners, which Murdoff says creates a higher level of trust in the company.
SAP's Scola also said that training is an important part of building their SaaS channel, and that since 2007 when SAP started selling its first cloud solution, the company has been evolving its engagement model with channel partners in order to find the best way to motivate them to sell cloud solutions. Scola said there has always been a bit of a tug of war between the traditional ERP software solutions offered by SAP and the cloud-based solutions, so they have introduced new models including commission-based models and referral-based models so that partners can join SAP and test the waters in cloud sales before they dive in deeper. SAP has also morphed through acquisition, adding new cloud-based solutions for HR, marketing and other areas. And, like Salesforce, they rely on training to help their partners position themselves as trusted advisors for cloud solutions to their customers.
Shah added that one of the biggest challenges out there is the fact there are so many companies selling cloud solutions directly over the Internet to end-users, creating more competition and market saturation, which can lead to erosion in pricing and margins. As a result, SaaS channel partners often find it difficult to make money selling cloud-based solutions. But, despite the focus on direct, Shah noted there is also a shift happening in the marketplace, where companies who went direct are now moving to expand out into the indirect sales channel to drive more sales, which is creating new opportunities for SaaS channel partners.
Valencia added to the conversation, saying that the SaaS business model is great, but there is another piece of that and it is owning the customer and promoting customer success. According to Valencia, one of the secrets to success in the SaaS model is delivering the technology with the service, not just as a service. Doing so builds greater customer loyalty and service levels, leading to less attrition.
Click here to learn more about CompTIA's Vendor Advisory Council.