Our Story

The Computing Technology Industry Association (CompTIA) is a leading advocate for the $5 trillion global information technology ecosystem; and the 50 million-plus professionals who design, implement, manage and safeguard the technology that powers the world's economy. Through education, training, certifications, advocacy, philanthropy and market research, CompTIA promotes industry growth; the development of a highly skilled workforce; and a commitment to creating an environment where innovation can flourish and the opportunities and benefits made possible by technology are available to all.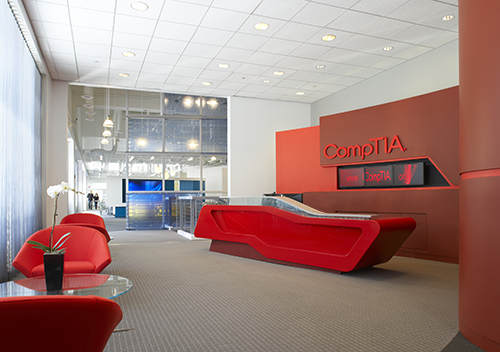 We are a vendor-neutral, independent source of information on a wide range of technology topics, including cybersecurity; education, training and certification of the global tech workforce; new and emerging technologies; legislation and policies affecting the industry; and workforce data, development and trends.
Our membership spans the full range of technology companies: established Fortune 500 leaders – including Microsoft, Apple and Google; small and medium-sized tech business establishments that provide technology expertise to customers across the country and around the world; and emerging tech-service innovators that support the implementation and management of modern technology.
We routinely engage with individual technology professionals through a variety of programs, including our CompTIA IT Pro membership group and our certification program, the largest vendor-neutral credentialing program for technology workers. CompTIA has awarded more than 2.7 million certifications in areas such as cybersecurity, networking, cloud computing and technical support.
CompTIA also maintains a robust partner program around the world with thousands of academic institutions, not-for-profits, job corps centers and other organizations. Together we are educating, training and certifying new generations of technology workers.
Milestones in CompTIA History
1982 – Association established as a not-for-profit organization.
1984 – First member conference held.
1985 – Headquarters office opens in Chicago.
1992 – Certification program launches with the creation of CompTIA A+.
1996 – Public policy office opens in Washington, D.C.
1999 – CompTIA Network+ certification introduced.
2000 – International reach grows with the opening of new offices in Canada, England and South Africa.
2002 – CompTIA Security+ certification added to the portfolio of credentials.
2008 – Todd Thibodeaux named president and CEO.
2009 – CompTIA Authorized Partner Program introduced.
2011 – Partner program expanded to include academic community.
2012 - CompTIA launches Advancing Women in Technology Community.
2014 – CompTIA acquires TechAmerica, increasing tech industry's reach and influence.
2014 – CompTIA A+ reaches new milestone: one million certifications awarded.
2015 – CompTIA launches Future Leaders Community to welcome next generation of innovators.
2015 – CompTIA certification program surpasses two million-certified.
2017 – Association of IT Professionals becomes part of CompTIA.
2017 – New corporate giving program established with Creating IT Futures as main charity.
2017 – CompTIA establishes Advancing Diversity in Technology Community.
2018 – Partners with Technology Student Association to promote tech careers.
2018 – Official CompTIA Content launches with cutting-edge skills training, learning content and resources, assessments, and verification solutions.
2018 – CyberSecurity Analyst (CySA+) and PenTest+ certifications expanded cybersecurity credentials offerings.
2019 – Public Technology Institute becomes part of CompTIA.
2019 – TechGirlz becomes part of Creating IT Futures.