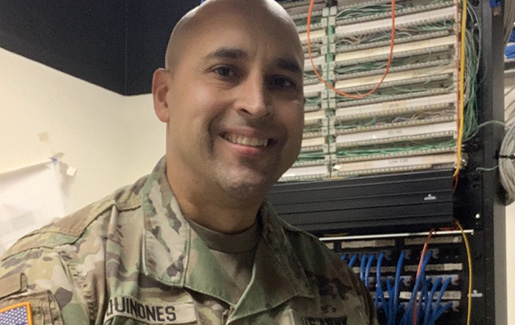 Henry Quinones, information technology system specialist, has been stationed at Fort Knox, just outside of Louisville, Kentucky, for nearly five years. In that time, he has expanded his skillset in ways that just a few years ago, he never would have considered. Sometimes through weekly trainings on the military base, often through hands-on work with technology and always through pursuing CompTIA certification.
These days he handles a range of networking and systems administration tasks:
Creating accounts to facilitate access
Utilizing Active Directory and SharePoint
Troubleshooting any number of tickets that come through for the systems he supports
Before joining the military, he had numerous professional endeavors on his plate – but developing IT expertise was not one of them.
"I was a computer user, but I had basically no knowledge about networking or network security," Quinones said. "I had a basic knowledge of computers, but that's it. I started working with them in the Army, basically, after joining."
In the military, Quinones quickly grew from a casual computer novice to a skilled IT professional.
Earning His First IT Certification
About 10 years ago in Puerto Rico, Quinones was on quite a different career path – or more accurately, multiple paths. He had earned a bachelor's degree in business with a focus on finance and accounting, was working as a bank officer and had joined up as a U.S. Army reservist.
The U.S. Department of Defense requires those who work on military computer networks to hold certain IT certifications, so Quinones set out to get CompTIA Security+. Despite having limited exposure to cybersecurity, he found that he thrived in the test prep boot camp the military sent him to.
He didn't take the certification exam until two months after completing the week-long class, but the targeted test prep stuck with him, bolstered by the hands-on computing skills he was already building. Quinones passed his CompTIA Security+ exam on his first attempt.
In 2014, Quinones was called up to active duty, which meant a relocation and all the significant life changes that come with it. In Puerto Rico he had his civilian jobs, a home and a world of familiar surroundings. When he and his family moved to Kentucky for his assignment, they were leaving everything they knew behind. But active duty was also opening up a new world of opportunity.
Getting IT Certifications Through the Army
Since he already held CompTIA Security+ when he began doing tech full-time in the military, he had confirmed his ability to competently and securely manage the technology he was working on. He realized, though, there was an opportunity to know more.
Focusing on the other skills areas leading up to CompTIA Security+, and earning the applicable certifications, would give him an even more thorough understanding of how enterprise technology functions from top to bottom.And in addition to strengthening his foundational tech skills, he couldn't beat the price.
"The Army has paid for all the certifications," Quinones said. "You get vouchers to take the exams, so they are free."
Save Money on Your IT Certifications
Looking for ways to save money on your CompTIA certifications? Check out our article all about voucher discounts.
Shortly after his relocation to Fort Knox, he earned CompTIA Network+ and CompTIA A+. Each time he tests for a certification, he immediately starts working on the next one. The U.S. Army has provided him a cost-free way to pursue a priceless education, and it's something he's serious about taking advantage of. This method of skill building sets him up to handle a world where things move faster than ever.
"Every day we come across new things, and the technology changes every day," Quinones said.
Looking Ahead to Civilian IT Jobs
With a few years in the service as a reservist and a few more on active duty, Quinones has some time before he can consider retirement from the military. If and when he decides to move into the civilian job market, though, he is going to be ready.
When Quinones looks through civilian job postings, he notices a few themes. One is that businesses in the civilian world are asking for IT certifications to verify the people they hire have the technical skills they need. Quinones is always dedicating effort and energy to assuring he does.
"[I make note of the certifications] that are in demand in the market, and I try to prepare for them," Quinones said. "Basically, I'm studying all the time."
The other thing he finds is that employers want candidates with leadership and management capabilities. Between his degree in business administration and his hands-on experience in the service, he's been building these skills for a long time. Quinones knows that wherever he is – whether in the Army or as a civilian – he's going to be prepared to do the IT jobs employers need done.
"If you have your IT certifications, it's a very good start," Quinones said.
Whether you're a reservist, active-duty military or a civilian, CompTIA certifications can help you meet the needs of tech employers throughout the world. Check out our offerings and see how you can get started.
Not in the military? Here are other ways you can get exam voucher discounts.
Matthew Stern is a freelance writer based in Chicago who covers information technology, retail and various other topics and industries.