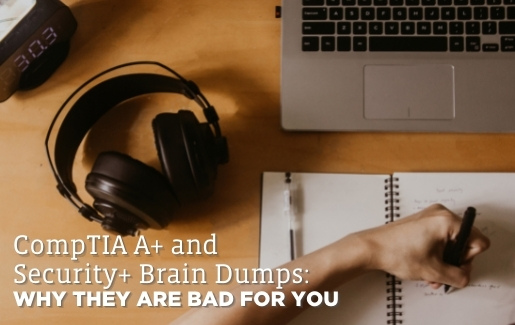 You've made the decision to get your CompTIA A+ or CompTIA Security+ certification – congratulations! Studying for these certification exams and learning the content the right way will open many doors as you advance your technology career. Creating a study guide based on the exam objectives is your first step toward earning your certification. However, using brain dumps or exam dumps shouldn't be part of your strategy.
Is Using Brain Dumps Cheating?
Yes, using brain dumps is considered cheating. You could face serious repercussions such as being banned from taking CompTIA exams for at least 12 months and getting your test scores invalidated, resulting in the loss of your CompTIA certification.
The CompTIA policy on use of unauthorized materials is very clear. It even states that despite a candidate's knowledge of whether content is considered unauthorized training material, if you memorize unauthorized content to pass an exam, you are in violation of the policy.
We are here to tell you that yes, brain dumps are considered unauthorized training material. If you value your certification, you'll stay away from such materials.
Reimagine your post-high school educational experience with CompTIA Tech Career Academy, an affordable, fast alternative to traditional college.
Find out how.
What is the CompTIA A+ Certification?
CompTIA A+ is widely recognized as the industry standard for establishing a career in IT. The CompTIA A+ core series requires candidates to pass two exams: core 1 (220-1001) and core 2 (220-1002). These performance-based exams certify foundational IT skills and technology such as troubleshooting, hardware, operating systems, security, cloud computing concepts and more.
In other words, earning your A+ certification proves to employers you have these skills and are qualified for IT jobs such as help desk technician, technical support specialist, field service technician or associate network engineer.
However, if you memorized content from a CompTIA A+ brain dump/exam dump to pass your certification exam, you may struggle to complete these tasks on the job. As a result, your employer may lose faith in your ability to perform adequately on the job, putting your career and livelihood at risk.
What is CompTIA Security+ Certification?
CompTIA Security+ is a global certification that establishes the core knowledge required of any cybersecurity role and provides a springboard to intermediate-level cybersecurity jobs. When you study for and pass CompTIA Security+, potential employers can be sure you have the skills necessary to identify, analyze and respond to security events and incidents and recommend and implement appropriate security solutions.
Earning a CompTIA Security+ certification proves you are qualified for jobs such as security administrator, systems administrator, network engineer, cloud engineer, security analyst, DevOps or software developer.
Once again, if you memorized content from a CompTIA Security+ brain dump/exam dump to pass your certification exam rather than truly learning the skills, you won't be able to perform these tasks and your employer won't be happy.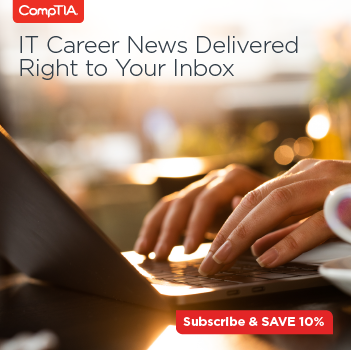 How to Succeed at the CompTIA A+ and Security+ Exams
While there's no single way to ensure you pass your CompTIA exam, there's plenty of common-sense advice that can increase your chances of passing and ultimately achieving a CompTIA certification.
We recommend downloading the exam objectives to start. Naturally, it's easier to meet expectations when you first understand what those expectations are.
It's also good practice to create a study plan. Writing down your short- and long-term goals will go a long way toward achieving them.
Next, identify your knowledge gap. You may already have some knowledge and experience, or you may not. Either way, you need to identify what you don't know.
Then work on closing that gap. CompTIA offers a variety of technical training, self-study or a combination of the two. Find the right tools for you and work on closing that gap.
When it comes to making a study plan for your CompTIA certification, here are some tips that might help:
Allow at least six weeks to prepare for your exam – more if the content is new to you or if you don't have a lot of hands-on experience.
Carve out time each day for studying. Dedicating 2 to 3 hours a day (and more time on the weekends) to studying will make sure you hit that six-week timeline.
Practice. Study your notes and take practice exams for a few weeks until you feel like you are internalizing the concepts and consistently scoring over 85% on the practice exams.
Fix your mistakes. You'll get the most out of the practice exams if you go back and fix your mistakes.
What You Need to Stay Away From
As you can see, there's no shortage of good study materials out there to help you prepare for your exams, so why would you ever resort to inaccurate and unauthorized resources? It seems logical to us, but because companies have made a business out of cheating, it's something we must address.
Here are a few red flags to keep in mind when trying to identify illegitimate training materials:
Brain dumps, braindumps, brain-dumps, dumpsactual
Actual exam questions, real exam questions
Real exam questions, real test questions
Real practice questions, real practice tests
Money back guarantee, passforsure, first try or first attempt
Cheatyourexams, simulator or test engine
Free demo or cheap resources
Furthermore, any site that promotes extensive lists of test questions for an all-inclusive list of certs, everything from CompTIA, Microsoft, Cisco and more, should raise an eyebrow.
Any site or resource that advertises these terms should be highly suspect – and you should report them to CompTIA via the exam security hotline. If you simply have a question about the legitimacy of a resource, please don't hesitate to contact us at [email protected].
While we're focusing on CompTIA A+ and CompTIA Security+ in this article, this information holds true for any CompTIA certification exam, including CompTIA IT Fundamentals (ITF+), CompTIA Project+, CompTIA Network+, CompTIA Cloud+, CompTIA Linux+, CompTIA Server+, CompTIA Cybersecurity Analyst (CySA+), CompTIA PenTest+ and CompTIA Advanced Security Practitioner (CASP+).
IT certifications only hold value when those who earn them can prove their skills on the job. If you've cheated to pass your exam and an employer hires you under false pretenses, it doesn't bode well for your career, and ultimately affects many others who have earned their certifications the right way. If your passion is technology, you'll be more successful by working hard and putting in the time and dedication to a lifelong learning experience, instead of taking shortcuts.
Get the in-demand skills you need with CompTIA certifications and training solutions. Subscribe to CompTIA's IT Career Newsletter and get 10% off your next purchase.