Philanthropy
The IT industry needs more workers — and more workers need more opportunities. CompTIA is combatting this workforce challenge through social innovation. We support our philanthropic efforts along three branches:
Creating IT Futures — A leader in workforce development and STEM education, our main tech charity creates on-ramps for underserved youths and adults to prepare for, secure and succeed in IT careers.
CompTIA Giving — Through our financial and volunteer resources, we give to worthy charities focused on helping young people and adults pursue careers in IT and promoting diversity in the IT workforce.
NextUp — Our newest initiative introduces middle-schoolers to the many possibilities of technology careers through mentors and partners.
Creating IT Futures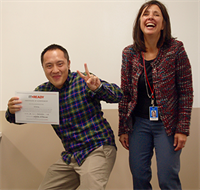 Through research, program development and partnering, Creating IT Futures innovates a suite of programs to diversity and enlarge the tech workforce. We particularly encourage an IT path for populations that traditionally have been under-represented in the IT workforce, such as women and people of color.
Our award-winning IT-Ready program focuses on both the hard technical skills and the soft professional skills required to begin an IT career and connects graduates to employers for on-the-job work experience.
Learn more about Creating IT Futures
CompTIA Giving
Both in time and money, CompTIA gives back to IT-related charities that help youth and adults pursue careers in IT and help to diversify the IT workforce. Our member communities and councils select technology-related charities to make annual donations of $10,000. Since 2012, these communities and councils have donated nearly one million dollars to more than 70 charities. See which charities were selected in 2018. Charities that would like to be considered for these annual gifts should contact Jim Hamilton, director, member communities, CompTIA, at jhamilton@comptia.org.
Beyond our aggressive matching program for CompTIA employee charitable giving, our staff spends countless hours volunteering at a wide range of local and international charities. Staff also get one paid day off to use each year to volunteer at a local charity.
NextUp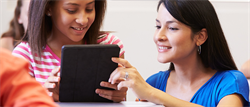 The tech industry is facing a significant shortage of talent. With more than 1 million unfilled job openings a year and millions of tech workers set to retire over the next eight years, that shortage will only grow. Now more than ever, we must attract the next generation of talent into tech occupations — but how?
NextUp is CompTIA's and Creating IT Futures' new initiative to introduce teens to the many possibilities of technology careers and guide them to the tech career of their choosing.
Through curricula, projects, partnerships and mentorship, we aim to spark curiosity and passion for technology. By connecting teens to the promise of technology today, we hope to build a generation of technologists for tomorrow.
NextUp is a series of programs that are built on two main components: partnership and mentorship. Through our partners, we provide the content and structure for engagement. Through a mentor network, we provide support, expertise, and shared passion for technology. Through both, we reach out to students in the context of their interests and foster opportunities to connect those interests with different facets of tech.
If you are interested in working with NextUp, contact Eric Larson, senior director, IT Futures Labs, Creating IT Futures, at elarson@comptia.org. Together, we can inspire the next generation of technologists.