Get CompTIA A+ certified
Prove to employers you can get the job done.
Buy directly from the Official CompTIA store
Get CompTIA A+ certified
Prove to employers you can get the job done.
Buy directly from the Official CompTIA store
Your success story starts here
CompTIA A+ is the industry standard for establishing a career in IT and the preferred qualifying credential for technical support and IT operational roles. It is the only industry-recognized credential with performance-based items to prove pros can think on their feet to perform critical IT support tasks in the moment. It is trusted by employers around the world to identify the go-to person in endpoint management & technical support roles.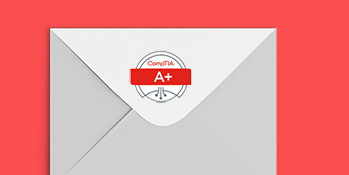 96%
Of managers use certifications as criteria during recruitment
$53K
The median annual wage for computer user support specialists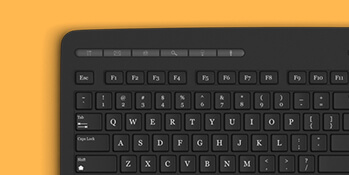 28%
Increase of open IT positions is expected by 2026
What you'll learn
Candidates will be better prepared to troubleshoot, problem-solve and understand a wide variety of issues ranging from networking and operating systems to mobile devices and security. A+ supports the ability to connect users to the data they need to do their jobs regardless of the devices being used.
Possible job opportunities:
Technical Support Specialist
Associate Network Engineer
Desktop Support Administrator
End User Computing Technician
Study at your own pace
Test Preparation tools to help you study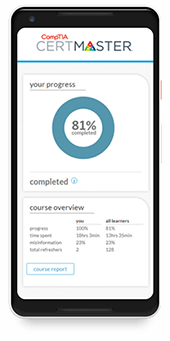 CertMaster Learn is the only comprehensive eLearning solution developed exclusively by CompTIA. This interactive and self-paced tool is designed to build confidence and ensure mastery for success on the exam and support long-term retention of the material.
CompTIA Labs is a remote lab environment that enables hands-on practice and skill development in actual software applications. The virtual lab scenarios are aligned with CompTIA exam objectives and are based on real workplace events.
Study with CompTIA and get
certified
in 20 days
Instructor Led-Training + Prep Bundle $3,999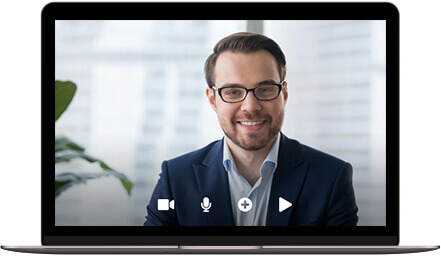 Twenty days of guided learning! You'll log in daily and engage with your instructor and classmates via our online classroom test preparation platform and learn with course materials designed to ensure an exciting and productive learning experience, with the ease of real-time support from an industry-leading instructor all while participating from your own computer.
Why CompTIA?
CompTIA is a global provider of vendor-neutral IT certifications. Earning a CompTIA certification proves you have the right skills, can get the job done and can be the building block of your IT career development.

Powerful and respected credential trusted by employers.

Globally trusted, vendor neutral certifications.

Join 100.000 other CompTIA users and grow your career.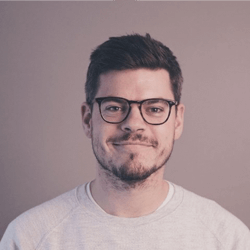 Phil Norton, Systems Analyst III, Sourcebooks
"I am proud of what I have achieved. I could not have done it without A+."
Pricing
Whether you are just starting to study for your exam and need comprehensive test preparation solutions, or if you just need to identify weak areas to focus on, CompTIA has learning options that will fit your ultimate goal – to master the A+ curriculum and feel confident in how you've prepared for the exam!
Looking for an individual product?
FAQ & Partners
How long does the CompTIA A+ certification last?
How can I renew?
How many questions are on the CompTIA A+ exams?
No more than 90 multiple choice and performance-based questions.
How long is the CompTIA A+ exam?
To be certified in CompTIA A+ you must pass two exams, Core 1 (220-1101) and Core 2 (220-1102), which are 90 minutes each.
What job roles should take the exam? OR What jobs can I get?
– Service Desk Analyst
– Help Desk Tech
– Technical Support Specialist
– Field Service Technician
– Associate Network Engineer
– Data Support Technician
– Desktop Support Administrator
What's in this exam?
The new CompTIA A+ Core Series includes expanded content on these growing parts of the IT support role:
A general expansion of baseline security topics core to the IT support role, including
• Physical versus logical security concepts and measures
• Social engineering
• Malware detection and removal
• Device hardening for not just PCs, but devices in general
A dramatically different approach in defining competency in operational procedures:
• Importance of documentation and using best practices
• Change management
• Basic disaster prevention and recovery
• Privacy concerns, including GDPR and handing PII
• Scripting basics
• Use of remote access