CompTIA's State of the Tech Workforce Canada provides an in-depth look at employment, economic impact, technology trends, salaries, hiring activity and more across the provinces and metropolitan areas of Canada.
Net tech employment in Canada reached an estimated 1,235,692 workers in 2021, approximately an 8.9% increase over the previous year. It is projected to grow by 1.5% to reach 1,254,708 workers in 2022. This measure of employment provides the net of the Canadian tech industry workforce and the tech occupation workforce across all sectors.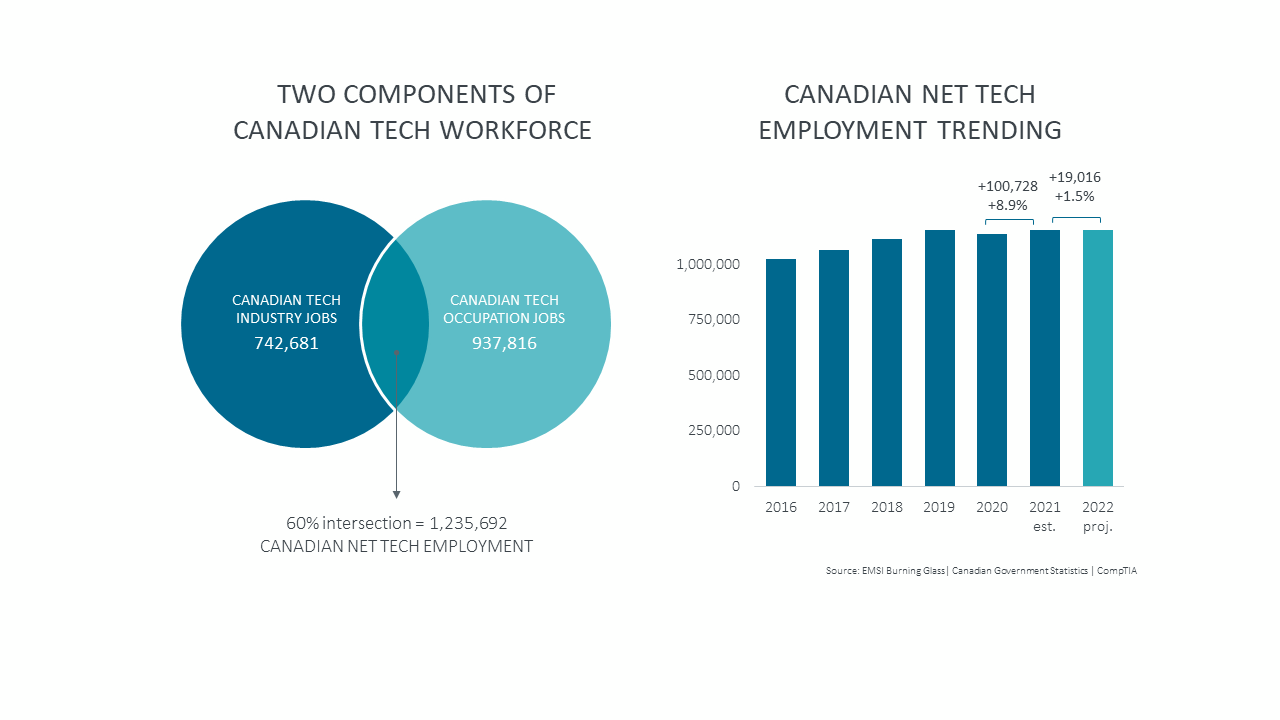 The top provinces when it comes to projected net tech employment are Ontario and Quebec. The greatest number of jobs is projected to be added in Ontario in 2022. Employment concentration provides a measure of tech employment relative to employment across all the other industry sectors in a local economy. At about 8%, Ontario has the highest concentration of net tech employment as a percentage of its overall employment base. Quebec and British Columbia follow in the rankings.
Mirroring the situation with economies across the globe during the height of the pandemic, quarterly tech job postings among Canadian employers fell during much of 2020. Postings then rebounded with many employers resuming hiring activity in conjunction with a recovering Canadian economy. During the Q1-Q4 period of 2021, employer job postings jumped 54,552 year-over-year, the equivalent of a 59% increase.
Employer hiring activity reflects the many interdependencies of digital transformation. Investments in infrastructure, software development, data, cybersecurity, systems and support round out the mix of job roles and skills Canadian employers seek.
Many employers continue to evaluate their recruiting practices to cast a wider net and accept more candidates for consideration, such as those with industry-recognized certification rather than traditional university degrees.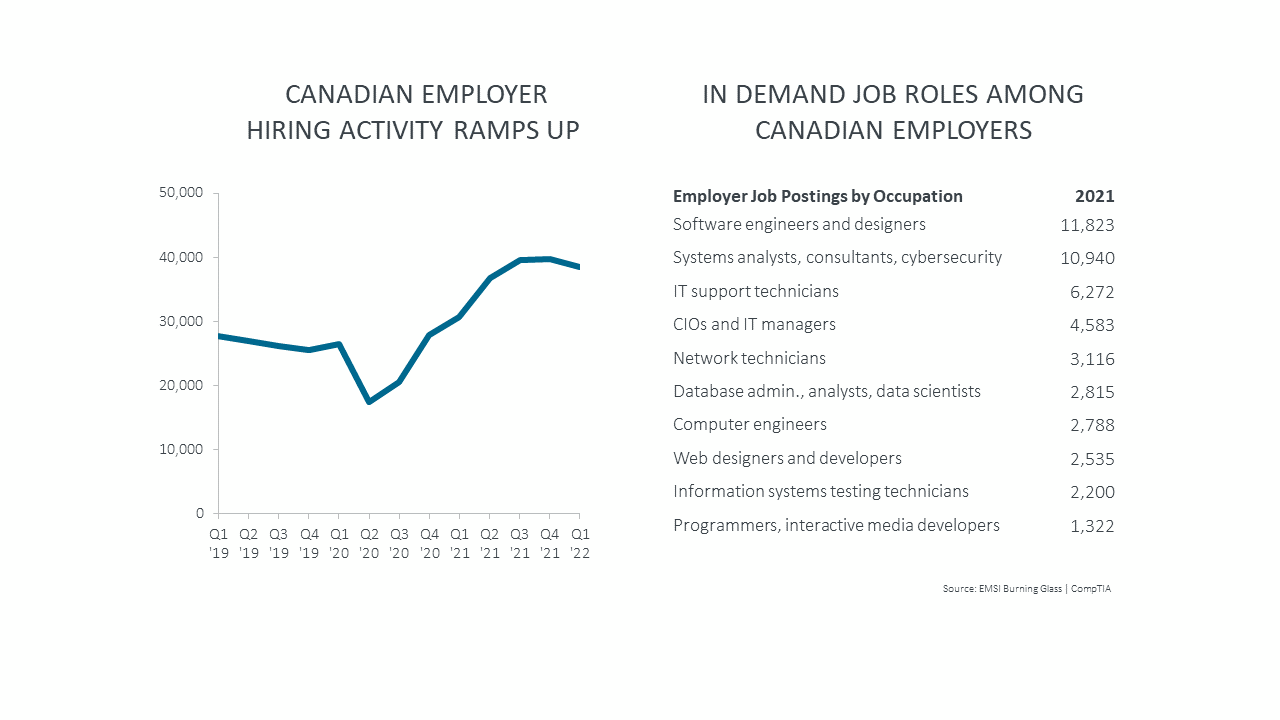 As a percentage of the overall Canadian economy, the tech industry accounts for approximately 5.3 percent of direct economic value, which translates to $104.5 billion CAD. In addition to the direct economic impact, there are downstream indirect benefits of the technology industry, such as the employment multiplier effect of technology ecosystems.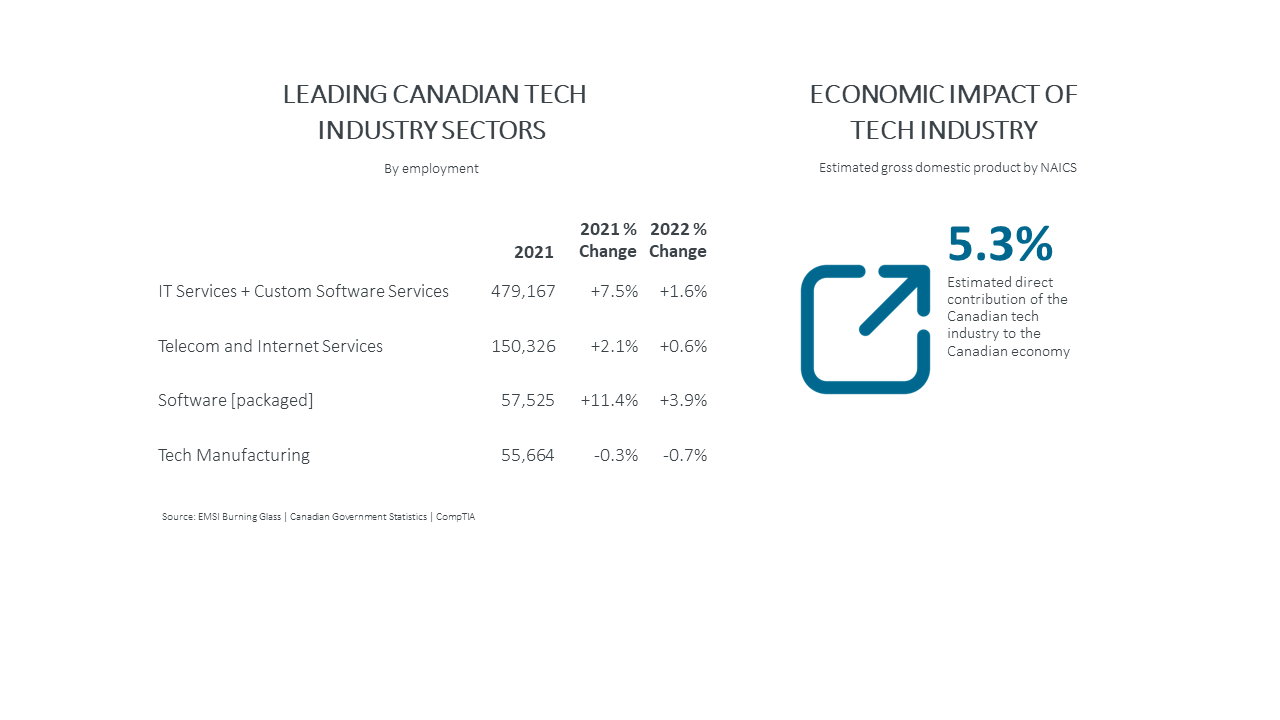 Read more about IT Workforce.