IT Career Paths: How To Move Up in IT Support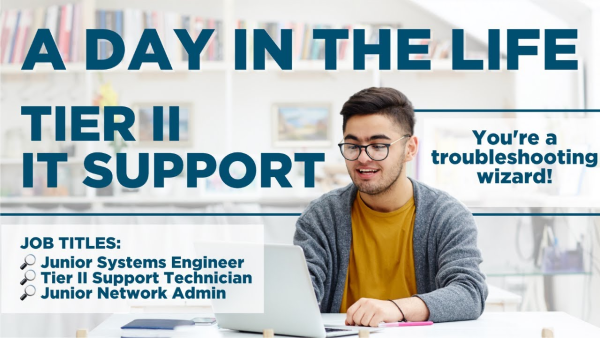 So, you want to know what it's like at mid-level, otherwise known as Tier II IT support. It's time to climb that ladder and see how a person with some experience in IT spends their day. In this video, we'll quickly give you the inside scoop on what an actual day looks like in the life for a Tier II IT support professional.
Don't forget to subscribe to our channel for more great content on all things in the IT career space.
A Day in the Life of a Tier II Support Professional
To kick things off, you might have a job title such as:
Let's talk about what you'll do now that you've gotten promoted to Tier II.
Close your eyes and imagine this. You'll walk into an office, or maybe your living room if you're working remotely, to start your day. You sit down at your desk, open up the programs you'll need for the day and prepare to receive help desk tickets, just like when you used to work in entry level, aka Tier I IT support.
You could have been assigned to help people from inside or outside of your company, depending on your role and where you work. But now the help requests aren't coming directly from end users. They're coming from your own team. Basically, any problems that can't be solved by Tier I support will escalate to your level, Tier II.
Prepare Yourself
Being prepared to move up to Tier II happens with a combination of real-world experience and the appropriate certifications. You'll need to have knowledge from your CompTIA A+ certification to work as a Tier II specialist. CompTIA A+ gives you the practical foundation you need, a combination of hands-on skills and technical knowledge that prepares you for troubleshooting work. If you want to learn more about what kind of IT jobs you can get with CompTIA certifications and the salary you can expect, learn more about IT Career Paths with CompTIA.
Once you have the right training and experience, you'll be able to handle more complex problems such as:
Permissions-level issues or assigning new role permissions
Network connectivity issues that go beyond the host, such as switch configurations and network changes
More advanced troubleshooting of software, such as editing configuration files rather than simply installing applications.
What Will You Do?
Here's an example. Maybe Tier I support is performing a simple password reset, but they run into an issue with the active directory that goes beyond their understanding. That's when they come to you. When you figure out the solution, sometimes you'll just implement it yourself. Other times, you'll walk the Tier I specialist through the solution and teach them what to do because there's another aspect here to your job -- training beginner specialists. You'll help to mentor them clearly by communicating the proper use of technology to your team.
Using your soft skills will be just as important as your technical skills in Tier II support. In fact, as you move up the ladder, soft skills become increasingly important as you can take on a more managerial role or a more advanced technical role and demonstrating those skills could even be your ticket to moving up to Tier III.
What's Next?
All right, that's everything for now. Speaking of Tier III, how does your day in the life change when you're hired in Tier III support? Well, check out our next video in the series to learn more about that role. If you're ready or curious about how to get your IT support career started, you can jump forward to our How to Get Going video and learn more about what you can do to get started today.
Read more about IT Support and Help Desk.