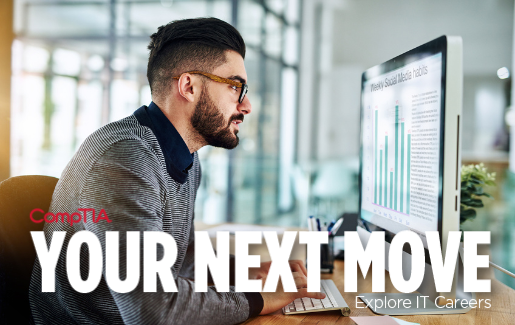 This article is part of an IT Career News series called Your Next Move. These articles take an inside look at the roles related to CompTIA certifications. Each article will include the responsibilities, qualifications, related job titles and salary range for the role. As you consider the next move in your IT career, check back with CompTIA to learn more about your job prospects and how to get there.
Data is all around us, and organizations need analysts who can interpret that data to help them make decisions. In marketing, this data includes metrics such as website visitors, leads generated, cost per click and more. Whether you're currently on a marketing team, on a data team or simply intrigued by trends and results, a role in data analytics could be the right fit for you. If you enjoy working with numbers and using data to inform decisions about customer acquisition, engagement and conversion, marketing analyst could be your next move.
What Is a Marketing Analyst?
Marketing analysts research and accumulate data to help an organization market its products or services in the following ways:
Observe and predict future trends in marketing and sales
Analyze data using statistical software
Assemble reports and present the results to clients and management
Gather overall data on consumers, competitors and market conditions
Evaluate different methods for data collection
Assess the effectiveness of marketing strategies
Marketing analysts work for many different types of organizations and industries. For example, the largest employers were of management, scientific and technical consulting services. Other employers work in finance and insurance, or wholesale trade.
By using statistical techniques and software, marketing analysts help their organizations interpret data based on consumer demographic, needs, preferences, and buying habits to further predict future trends and determine a company's position in a marketplace.
How to Become a Marketing Analyst
Most companies hiring a marketing analyst are looking for someone with a bachelor's degree in market research or a related business, communications or social science field. Many marketing analysts also have a previous background in business administration or social science.
Some positions may require a master's degree. It is also important to note that it is essential to have strong math and analytical skills.
Certifications like CompTIA Data+ can help anyone wanting to gain the skills to becoming a marketing analyst. It covers the knowledge and skills required to transform business requirements in support of data-driven decisions.
CompTIA Data+ focuses on the following skills:
Manipulating data
Applying basic statistical methods
In addition to certifications, CompTIA offers a full suite of training products to help you learn the technical and professional skills necessary to become a marketing analyst. Data analytics training based on CompTIA Data+ is also available now.
Check out the CompTIA Career Roadmap to see what other certifications can help you land a position as a marketing analyst.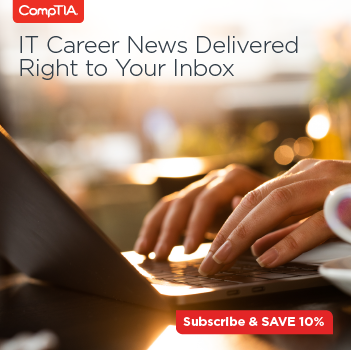 Training Offerings
CertMaster Learn: Learn at your pace with interactive lessons and videos.
CertMaster Labs: Get hands-on practice using real software applications.
CertMaster Practice: Test your knowledge and find out if you're ready for the exam.
The Official CompTIA Study Guide: Learn and review exam objectives with our comprehensive textbook.
CompTIA Live Online Training: Train in real time with experienced instructors online.
Want to see more? Check out the available data analytics training options offered in the CompTIA store.
The Details
Marketing Analyst Salary Range
The median annual salary for a marketing analyst is $63,920 as of May 2021 (U.S. Bureau of Labor Statistics (BLS)).
Marketing Analyst Job Outlook
From 2021 to 2031, the BLS projects an increase of 19% for marketing analysts, with 150,300 net new jobs expected during that 10-year period.
Job Titles Related to Marketing Analyst
Operations analyst
Business data analyst
Clinical analyst
Reporting analyst
+ Means More
Do you need to improve your data skills? At CompTIA, + means careers. CompTIA certifications are well known for providing the credentials you need to show future employers you have the skills to develop and promote data-driven business decision-making.
Here are 5 ways that + means IT careers:
1. Choose a Certification
Not sure which certification is right for you? CompTIA offers certifications across technical areas and at various levels of expertise. The CompTIA Career Pathway can help you pick a certification based on your experience and career goals.
2. Study for Your CompTIA Certification Exam
CompTIA has multiple options to help you study for your CompTIA certification exam. Whether it's eLearning or study guides, we have what you need to prepare. Read more about how to study for CompTIA Data+.
3. Save Money on CompTIA Certifications
Getting a CompTIA certification is an investment in your career, but getting a discount can help. There are a number of ways you can save money on your CompTIA purchases.
4. Take Your CompTIA Certification Exam
Scheduling your exam is the easy part. CompTIA exams are offered at testing centers around the world as well as through online testing, which is available 24/7, so you can either take your test in person or from the comfort of your home or office. Learn more about your testing options.
5. Land Your Next Job
Once you earn your certification, CompTIA can help you find the perfect job. We've teamed up with ZipRecruiter so you can get access to job alerts, digital badging and more. ZipRecruiter is a leading online employment marketplace that leverages artificial intelligence (AI)-powered smart-matching technology to actively connect millions of employers and job seekers. Be sure to sync your credentials on ZipRecruiter and continue to grow within the tech industry.
Need more job inspiration? Check out CompTIA's Tech Job Report video series now premiering on CompTIA Connect. Learn more about the latest data and trends in tech hiring and the implications for employers and the U.S. workforce with new episodes each month.
Will your next move be marketing analyst? If so, check out CompTIA CertMaster Learn + Labs for Data+ - an online eLearning platform covering data analysis skills. Sign up today to start your free trial.