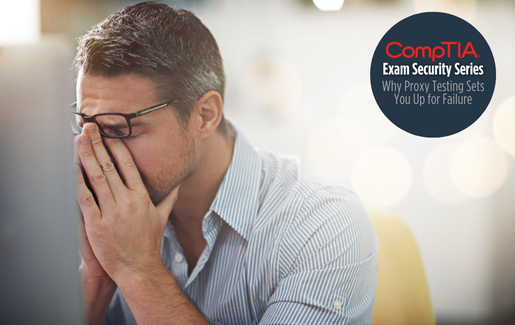 Setting a goal, working toward it and accomplishing it is one of the best feelings in the world. This feeling of achievement breeds confidence, and confidence factors into success. But you only get that feeling if you put in the work. Having someone else take your CompTIA certification exam for you – also known as proxy testing – not only deprives you of that feeling, but it sets you up for failure in your IT career.
When you earn any CompTIA certification, you are showing employers that you have the skills necessary to be successful in a particular job role. If you did not earn that certification yourself, then you are misrepresenting yourself to employers, and you could easily find yourself in a situation where you're in over your head.
Of course, proxy testing is a serious violation against the CompTIA certification exam policies and will result in consequences like losing your certification and being suspended from taking CompTIA exams in the future. Let's dig into what proxy testing looks like and how you can spot an unscrupulous solicitor.
Before you get started, check out our other article on the importance of exam security:
What Is Proxy Testing?
Simply stated, proxy testing is when somebody offers to take your certification exam for you. While proxy testing is not a new phenomenon, solicitors are becoming more brazen. Instead of waiting for candidates to contact them, they are reaching out to people who are studying for an exam.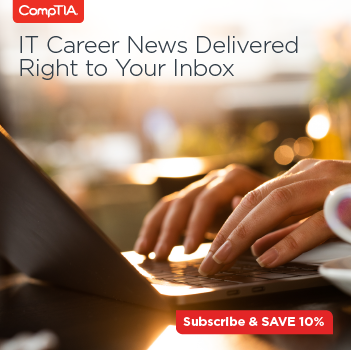 Proxy solicitors are reaching out to unsuspecting candidates via social media – typically on LinkedIn and Facebook. For example, you may post in an IT group that you're looking for reputable training resources and ask for recommendations.
The proxy solicitor is looking for these types of posts and will reach out to you via private message. They will then ask that you move the conversation off the social media platform that you're on to WhatsApp, Skype or another private platform. From there, the solicitor will engage you in their spiel about passing guarantees.
Of course, proxy testing isn't a free service. It can cost as much as $2,000 to $3,000 – significantly more than the cost of a voucher and most self-study training materials. Some of these companies may require candidates to open a new CompTIA profile account. The company will then "hold" the account until after the proxy tester completes the exam and the fees are paid.
Since these are not reputable companies, they may increase the price to release the account – essentially holding the account for ransom. If the candidate does not pay, the company will report the candidate to the certifying organization.
Even after spending all this money, candidates are not in the clear. CompTIA and its delivery partners have investigative methods to identify these proxy solicitors through data forensics and other means. If identified, your certification will be revoked.
CompTIA is not the only organization that takes proxy testing seriously. The Association of Test Publishers (ATP) recently released communication developed by a large group of organizations who share the same concerns and have similar policies and procedures in place to address them.
How Can I Identify a Proxy Solicitor?
Proxy testers use cleverly disguised websites that look like legitimate training resources. Unless you know what to look for, you could be duped. If you encounter any of the following during your exam preparation, this could indicate that exam fraud is happening, and you should disengage.
Keep your eye out for anyone who:
Offers to register you for the exam.
Asks you for your online account username and password.
Offers to take the exam for you.
Direct messages you on social media and wants to take the conversation to a more private/encrypted platform.
Tells you that you are "guaranteed" to pass.
If you encounter any of these situations, the first thing to do is the leave the conversation.
Here is a suggested response you can use:
"Thank you for contacting me. The service you are providing is in violation of CompTIA's policies and could result in my termination from the program. Additionally, what you are doing jeopardizes the lives of those receiving services from professionals who may not be qualified to perform the job. Please refrain from contacting me in the future."
You may also direct them to the following page: https://www.comptia.org/testing/testing-policies-procedures/test-policies.
The next thing to do is report the solicitor.
How Do I Report a Proxy Solicitor?
We recommend reaching out to the CompTIA Exam Security Hotline to report a proxy solicitor. You can do this anonymously if you wish.
When you report a proxy testing incident, we suggest including the following:
Screenshots of the communication between you and the solicitor
A URL to the offending profile account
CompTIA takes these reports seriously and will reach out to the social media platform in question with a request to take down the offending profile. Unfortunately, these solicitors will continue to create new accounts under different aliases. That's why it's so important to be able to identify a proxy solicitor and know exactly what to do when you cross paths with one.
Set Yourself Up for Success (Not Failure)
While most candidates are not seeking a method to cheat the system, there are always people who will look for shortcuts. Unfortunately for them, proxy testing isn't a shortcut at all – it's more like a dead end. When you consider the consequences of violating CompTIA policies and the extra money you could be out if a company holds your account ransom, paired with the fact that you come away without the skills you need to be successful on the job – there's really no upside to proxy testing.
Set yourself up for success. CompTIA offers everything you need to prepare for your certification exam. Explore training developed by CompTIA with options that fit various learning styles and timelines. Whether you prefer self-study or classroom training, CompTIA has you covered.
Learn the skills you need with CompTIA CertMaster Learn. Sign up today for a free trial today!