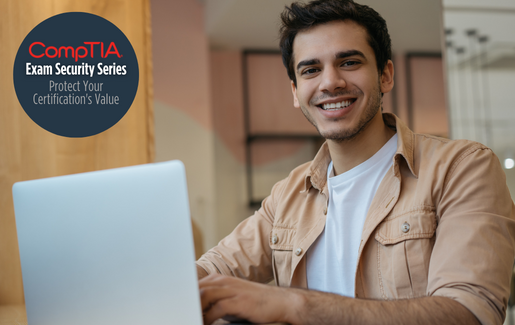 When you think about what you consider to be the most "valuable" in your life, what do you think of? Some might say its their relationships that are the most valuable to them – their significant other, their children, their family – and so on. Some might count their home, their car or their investments as particularly valuable. Whatever you choose, it's usually something that you've put a lot of work into – and your certifications certainly qualify.
CompTIA takes exam security seriously as it is one of the most crucial ways to ensure the integrity of the exam process. Following standards that safeguard global test security is essential to protecting the value of your certifications. You worked hard for them, and the industry recognizes your effort. We've all heard the phrase: If it was easy, everyone would do it.
In an effort to protect the hard work you've put in and the investment you've made in yourself, we want to make all test takers aware of some new guidance set forth by the Association of Test Publishers (ATP). Produced by ATP's Test Infringement and Fraud Coalition, chaired by CompTIA Senior Vice President, Exam Development Carl Bowman, this guidance includes important information for you to keep in mind as you study for and prepare to take your CompTIA certification exams.

Before you get started, check out our other article on the importance of exam security:
Don't Be Catfished: How To Spot Exam Fraud
This should go without saying but having someone else take the exam on your behalf is cheating. Unfortunately, with the popularity of online tests, this is something we must keep tabs on. All too often, test takers are being approached on social media platforms, liked LinkedIn and Facebook, with this proposition. These people are in the business of cheating and will try to hook you into a conversation that they will encourage you to take offline – often to WhatsApp.
If you encounter any of the following during your exam prep, it could indicate that exam fraud is happening, and you should abort the conversation:
Anyone who tells you that you are guaranteed to pass
Anyone who claims to have the latest or actual exam content
Any site or training that only provides questions/answers without any educational content
Any site or training that covers a wide variety of exams in different sectors and industries
Anyone that encourages you to share real questions that you encountered on the exam with them
Any individual (online or at a testing center) who offers to take the exam for you
A community or chat room, including social media, that encourages sharing of exam content in a forum or message board
Any exam prep site that includes content with persistent typos and poor grammar
Walking away from these red flags is in your best interest, but it's not the only thing you should do. In addition, you should report these individuals and/or businesses.
Don't Engage: How To Report Exam Fraud
Although most test takers follow the rules, CompTIA has a range of security measures in place to identify those who do not. The CompTIA Exam Security Hotline is one way you can report fraudulent activities – anonymously if you wish.
Use the hotline if you come across any of the following:
Cheating and/or suspicious behavior observed at a test site during the delivery of a CompTIA exam
Use of unauthorized training materials by candidates taking CompTIA exams
Candidates taking photos or making copies of CompTIA exam questions or exam materials
Individuals posting CompTIA exam content on any public internet site or distributing printed copies at conferences or other public forums
Misconduct by an authorized proctor or test center administrator, such as assisting candidates by providing answers or allowing candidates to engage in prohibited activities
Concerns of impartiality or objectivity in testing
Properly reporting these activities protects the credibility and the value of your CompTIA certification(s).
Don't Do It: The Consequences of Engaging in Exam Fraud
The consequences of engaging in CompTIA exam fraud are severe. If you engage in any of the above listed actions in order to pass an exam, you can be banned from taking CompTIA exams for at least 12 months and lose your CompTIA certification. To make matters worse, your test scores will be invalidated.
These actions will be taken even if you didn't have fraudulent intent.
Read that again.
Even if you didn't know you were engaging in exam fraud, you can (and will) be penalized.
Why? Because CompTIA is in the business of measuring skills and knowledge via very specific examination methods and issuing valid scores as a result. If you achieved your exam score by illegitimate methods, then our measurement process was breached, and the resulting score does not carry the intended meaning. Therefore, we invalidate such scores.
The only way to prevent that from happening is to fully understand what exam fraud looks like and how you can avoid it. It's a good idea to review CompTIA's policy on unauthorized training materials before you begin preparing for your exam. If you have any questions about whether content is considered fraudulent, please contact us at [email protected].
Proud To Be CompTIA Certified
Holding a CompTIA certification is something you should take pride in. Your certification shows that you have the skills, you put in the work and you have the drive to succeed.
"Certification and education organizations invest millions of dollars every year to create and administer testing programs that are equitable, fair and trustworthy," Bowman said. "The public relies on the results of those programs for their well-being and their safety. They trust that our assessments demonstrate competence and achievement, and we owe it to both the public and the test takers to ensure that the playing field is level and the test results are valid."
Learn the skills you need with CompTIA CertMaster Learn. Sign up today for a free trial today!