Among emerging technologies, the internet of things (IoT) has the most adoption and possibly the most potential for disruption. By expanding the technology footprint to include nearly every device imaginable, IoT opens the door for businesses to fully digitize their operations while also creating huge opportunities (and headaches) for IT pros.
As with any new trend, businesses are quickly looking for the skills that will lead to IoT success. A quick review of job postings shows plenty that list internet of things in the title, but the reality is that deep expertise is not necessarily required for early adoption.
As companies are experimenting, building proof of concept projects or implementing simple solutions, they can use many of the skills they have on board. CompTIA's latest research on the internet of things found that many of the skills companies consider critical for IoT are in foundational areas of IT.
6 IT Skills That Support the Internet of Things
IoT and Security
It's no surprise to see IT security at the top of the list of critical skills. The move to cloud computing demonstrated that new technology needs a new approach to security, and IoT is no exception. There are definitely some specific areas of concern with IoT, like reviewing products from non-IT vendors and monitoring for suspicious activity in non-IT environments, but some of the main activities in securing IoT systems are managing devices and securing data across networks. CompTIA Security+ provides the necessary foundation for further IoT security.
IoT and Data
Data management and data analysis are the keys to unlocking the benefits of IoT. All the data collected from sensor networks can provide new insights and opportunities for automation, but it needs to be managed properly. Many companies are building more discipline into their data processes in order to pursue more advanced data practices. Establishing these new processes requires the organization skills featured in CompTIA Project+.
IoT and Computer Networking
All that data needs to make its way from the endpoints to the back office for collection and analysis. One of the most common surprise costs with technical projects these days is network upgrades. Even relatively recent networks may not have the bandwidth or quality of service required to handle the many new streams of data. CompTIA Network+ is as relevant for IoT as it is for traditional IT operations.
IoT and Tech Support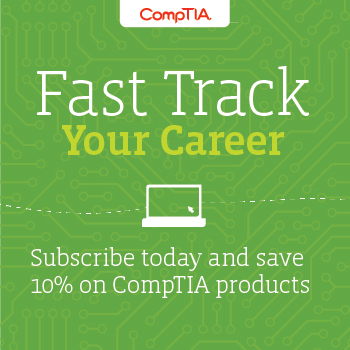 Device support is the area where companies would like to see the most improvement, since new IoT devices often have different power requirements and firmware processes. While the specifics may be unique to each device, there is a base layer of knowledge needed that can be gained through CompTIA A+. From here, IT pros can further specialize in IoT, including understanding the details that come from different vendors.
IoT and Cloud Computing
Especially as IoT systems go beyond the walls of a business, cloud computing will be used to help deal with the data and crunch numbers on the back end. IoT in general will tax the existing resources for many organizations, and they will want to extend their current cloud strategies to help kickstart IoT initiatives. CompTIA Cloud+ takes IT pros beyond the server room to help them understand how to manage cloud systems.
IoT and Linux
Finally, artificial intelligence (AI) is necessary to help automate the many moving pieces of IoT. AI itself is an emerging technology, and many companies are exploring the trend separately as they build out architecture that has AI as part of the stack. Combining IoT and AI might be a little advanced at this point, but CompTIA Linux+ covers scripting, which is the first step toward IT automation.
With a broad ecosystem that includes hardware, software, standards and services, IoT requires new skills in many areas. These new skills, though, are built on top of a solid foundation in IT fundamentals, which means that getting started isn't as challenging as it might appear.

Learn more about getting certified in the skills needed for IoT with the CompTIA Career Pathway.