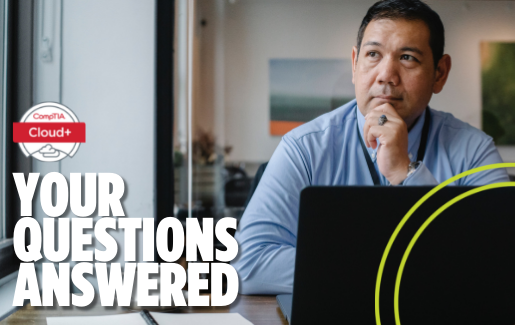 Cloud-based infrastructure services are an increasingly important piece of an organization's tech systems. IT pros who want to work with cloud-based infrastructure services among other IT systems operations need to prove that they have the knowledge and skills to do just that.
Hello, CompTIA Cloud+! CompTIA Cloud+ is an infrastructure-level IT certification that validates the skills needed to implement secure cloud environments that support the high-availability of business systems and data. Read on as we answer your pressing questions about the newest version of CompTIA Cloud+ (CV0-003).
Why Is There a New Version of CompTIA Cloud+?
In order to keep up with an industry that is constantly evolving, CompTIA updates certification exams every few years to ensure they reflect changes in the industry.
The new version of CompTIA Cloud+ (CV0-003) covers in greater depth the skills and abilities needed to operate in the cloud, validating that candidates have the technical experience needed to deploy, secure and automate environments regardless of the vendor solution.
What's on the Latest Version of CompTIA Cloud+?
The latest version of CompTIA Cloud+ (CV0-003) includes both performance-based and multiple-choice exam questions across five domains:
Cloud Architecture & Design (13%)
Security (20%)
Deployment (23%)
Operations & Support (22%)
Troubleshooting (22%)
Here are some of the new additions to this version of the exam:
High-availability is now its own objective and is highlighted as an important factor for disaster recovery and security measures.
Automation and virtualization content, including approaches such as continuous integrations and continuous deployment, ensures candidates have the skills to optimize the cloud to meet business needs.
Cloud architecture has been added as a domain, highlighting the importance of understanding the foundational technologies and concepts of the cloud.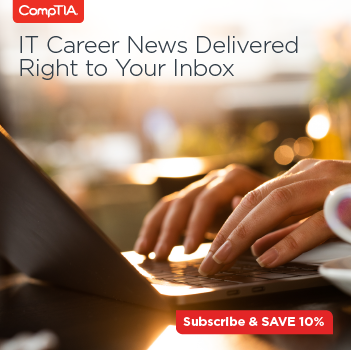 Why Should I Get the New CompTIA Cloud+?
Migrating to the cloud presents both challenges and opportunities to manage and protect critical applications and data storage. CompTIA Cloud+ validates the technical skills needed to secure these valuable assets.
Here are some ways the new CompTIA Cloud+ is unique:
The new CompTIA Cloud+ is the only performance-based IT certification that views cloud-based infrastructure services in the context of broader IT systems operations regardless of the platform.
CompTIA Cloud+ now features flexible training options including self-paced learning, live online training, custom training and labs to advance the career development of IT professionals in cloud administration.
How Does the New CompTIA Cloud+ Support Multicloud Environments?
A multicloud environment is one where an organization uses more than one cloud platform from different cloud providers. The reason organizations do this is to circulate resources and decrease the chance of interruptions to systems that could result in data loss. CompTIA Cloud+ is ideal for cloud engineers who need to have expertise across multiple products and systems and provides the foundation to work across cloud environments.
What Jobs Can I Get with CompTIA Cloud+?
The following job roles directly align with the knowledge you learn from the new CompTIA Cloud+ exam:
Primary Job Roles for CompTIA Cloud+ CV0-003
Senior systems administrator: A cloud systems administrator develops, maintains and troubleshoots the network connections of cloud computing resources
Systems engineer: Systems engineers monitor and manage hardware as well as software and provide guidance when needed to their team to keep everything running smoothly
Cloud engineer: A cloud engineer is responsible for maintaining the cloud so it addresses the business's needs fully and accurately
Secondary Job Roles for CompTIA Cloud+ CV0-003
How Can I Prepare for the CompTIA Cloud+ Exam?
CompTIA offers everything you need to prepare for your certification exam. Explore training developed by CompTIA with options that fit various learning styles and timelines. Whether you prefer self-study or classroom training, CompTIA has you covered.
CompTIA CertMaster Learn
CertMaster Learn is a comprehensive, self-paced eLearning environment that uses videos, assessment and performance-based questions to prepare you for the CompTIA certification exam. If you purchase a bundle that contains both CertMaster Learn and CertMaster Labs, you get an integrated experience where you can practice what you've learned seamlessly within the same platform. Read more about integrated eLearning bundles.
CompTIA Labs
CompTIA Labs helps you gain hands-on experience configuring a wide range of technologies in a self-paced, pre-configured, browser-based environment in order to prepare for practical aspects of CompTIA certification exams.
CompTIA CertMaster Practice
CertMaster Practice is an adaptive knowledge assessment tool that determines what you have already mastered and what you still need to learn to improve confidence and increase retention before a CompTIA certification exam.
Official CompTIA Study Guides
CompTIA study guides are designed from the ground up to help you master the material for your certification exam. Self-paced CompTIA study guides are available as eBooks or in print and are clearly written and structured to be flexible so the you can study at any pace.
How Long Will It Take Me to Earn CompTIA Cloud+?
The amount of time you'll need to spend studying and training for the new CompTIA Cloud+ exam depends on the individual. We recommend candidates have 2-3 years of experience in a system administration or networking role. Earning CompTIA Network+ and CompTIA Server+ are suggested certification prerequisites, as is having familiarity with any major hypervisor technology for server virtualization.
How Much Does the CompTIA Cloud+ Exam Cost?
The retail price for CompTIA Cloud+ (CV0-003) is $338. CompTIA offers several ways to reduce this cost. Check out our article on how to save on exam vouchers as well as information about financing options.
How Do I Choose Between CompTIA Cloud+ and CompTIA Server+?
Both CompTIA Cloud+ and CompTIA Server+ validate the skills needed to support and manage core components of IT infrastructure. While they have similarities, they offer IT pros at different career levels a great choice to advance their careers. Aspiring certification holders should have at least two years of hands-on experience plus other certifications before pursuing CompTIA Server+, and should have the equivalent networking experience for CompTIA Cloud+.
Learn more about the differences between CompTIA Server+ and CompTIA Cloud+.
I've been studying for CompTIA Cloud+ (CV0-002). Should I Switch Gears and Study for CompTIA Cloud+ (CV0-003) instead?
If you've been studying for the CompTIA Cloud+ (CV0-002), we recommend checking out the exam objectives for CV0-003 to cross reference what you've already learned from your studies. If it makes sense with your timeline and level of knowledge, you may want to switch gears and prepare for the new exam (CV0-003). If you've already purchased a CompTIA Cloud+ voucher, you can apply it to any version of the exam.
If you choose to take the CompTIA Cloud+ (CV0-002) exam, make sure to do so before it expires!
What Is the Expiration Date for CompTIA Cloud+ (CV0-002)?
The English version of the CompTIA Cloud+ (CV0-002) exam will retire at the end of 2021. At that point it will be completely replaced by CV0-003.
How Long Is CompTIA Cloud+ Good and Can it Be Renewed?
CompTIA Cloud+ is good for three years. CompTIA offers a number of ways for you to renew your certifications, including earning continuing education (CE) credits or earning a higher-level certification. For example, earning CompTIA Cloud+ would renew any of the core-level CompTIA certifications.
Ready to start studying? Writing out your plan will set you up for success. Download our free training plan worksheet to help get organized and make your dream a reality.