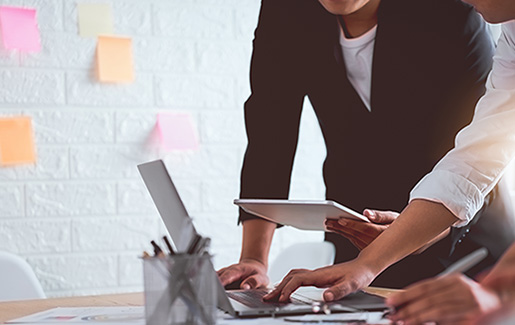 Professionals across the board, in IT and other departments, are managing more projects than ever before, and having project management skills helps them to streamline processes and ensure they're crossing all the T's and dotting all the I's. But for someone whose primary role is not project management, some of the better-known project management certifications may go above and beyond what is needed to do the job. If you work in IT, marketing, finance or another business role and manage small- to medium-sized projects, CompTIA Project+ may be a good way for you to prove to employers that you have the project management skills needed for your job.
Which Project Management Certification Is Right for Me?
It can be hard to decide which project management certification is right for you. The good news is, project management certifications seem to fall into two categories: those designed for full-time project managers and those designed for people in other jobs who also do project management.
PMP, and other project management certifications like Certified Associate in Project Management (CAPM) or PRINCE2 Practitioner, are methodology/framework-specific certifications intended for more advanced project management professionals who oversee large projects. If you are a full-time project manager, PMP might be right for you.
However, if your primary role is something else but you also manage projects, CompTIA Project+ can help you understand project management concepts without investing the time and money that major project management certifications require. It is ideal for professionals who manage smaller, less complex projects as part of their other job duties but still need foundational project management skills.
CompTIA Project+ is more versatile than other certifications because it covers essential project management concepts beyond the scope of just one methodology or framework. However, it does provide a high-level introduction to Agile as part of one of the objectives. Still, if you would like to focus on say Scrum specifically, you would want to take Scrum Alliance's Certified Scrum Master certification.
PMP vs. CompTIA Project+
Let's take a closer look at the fundamental differences of PMP and CompTIA Project+.
CompTIA Project+

PMP

Certification Description

CompTIA Project+ gives business professionals – in IT and other functions – the basic concepts to successfully manage small- to medium-sized projects.

PMP is a globally recognized, professional project management certification offered by PMI and is considered essential for full-time project managers.

Exam Length

1 exam, 90 questions, 90 minutes

1 exam, 200 questions, 240 minutes

Experience Level

Entry-Level

Intermediate

Exam Focus

Small- to medium-sized projects

Medium to large projects that follow PMI methodology

Prerequisites

No prerequisite, but at least 12 months of cumulative project management experience or equivalent education is recommended

Application plus 4,500 hours leading and directing projects, a post-secondary degree and 35 hours of project management education

Price

$338

$405 for PMI members and $555 for non-members

Domains Covered

Project basics (36%)
Project constraints (17%)
Communication and change management (26%)
Project tools and documentation (21%)

Initiating the project (13%)
Planning the project (24%)
Executing the project (31%)
Monitoring and controlling the project (25%)
Closing the project (7%)

Study Materials

CompTIA CertMaster Practice and The Official CompTIA Project+ Study Guide

A Guide to the Project Management Body of Knowledge (PMBOK® Guide), PMP Examination Content Outline, PMP handbook and online or in-person training
Why Get a Project Management Certification?
Getting a project management certification validates your project management skills and adds value to your resume. You will be able to prove to employers that you bring in-demand and valuable skills to the table, opening yourself up to more job opportunities.
According to PMI, 15.7 million new project management roles will be added globally across seven project-intensive industries by 2020. Getting certified can also help you advance your career and earn more money. PMI found that those holding PMP report earning 23% more than those who don't. And according to Global Knowledge, the mean salary for CompTIA Project+ certified professionals in the United States and Canada is $99,430 (overall mean is $84,807).
Earning CompTIA Project+ means that you will have the knowledge and skills required to do the following:
Manage the project life cycle
Ensure appropriate communication
Manage resources and stakeholders
Maintain project documentation
Both CompTIA Project+ and PMP require extensive preparation, and rightly so. Employees who invest in career development and learning are seen as an invested and valued asset for their organization. A project management certification validates your desire and tenacity toward developing and honing your personal and professional skills.
But if you aren't a full-time project manager – or aren't one yet – CompTIA Project+ might be the right project management certification for you. It can even be a stepping stone for moving into a full-time project manager role or getting PMP or a more advanced certification in the future.
How to Study for CompTIA Project+
When you're ready to begin studying, check out CompTIA's line of learning products, developed exclusively for the CompTIA certification candidate. No other content library covers all of the exam objectives for all certifications. The Official CompTIA Project+ Study Guide can help you prepare for your CompTIA certification exam with confidence. And CompTIA CertMaster Practice for Project+ will give you the confidence you need to pass your exam. You now have everything you need to learn the material and ensure you are prepared for your exam and your career.
Ready to get started? Download the exam objectives for CompTIA Project+ for free to see what's on the exam.