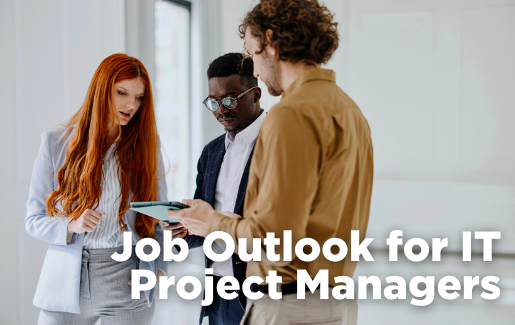 Thinking of becoming an IT project manager? If so, you're on the right track. Never before has there been a better time to pursue a career path in IT project management.
The demand for IT project managers is undeniably on the rise. Lightcast reported that employers posted over 600,000 job openings for project managers and IT project managers in the United States from May 2021 to April 2022. Compare this to the prior 12-month period in which just 399,607 jobs were posted. This shows incredible job growth.
But it isn't just IT project managers that are becoming increasingly in-demand. IT project management skills are, too. Twenty-five percent of all IT job descriptions in 2021 called for IT project management skills. That's why tech professionals from all industries should seek to grow their project management skill sets.
Why is the demand for IT project managers and project management skills skyrocketing? What can you expect to earn in IT project management? How can you help close the project management talent gap? What skills are required for IT project managers? You'll find answers to all your questions below.
IT Project Manager Tasks and Responsibilities
An IT project manager is crucial to the success of IT project outcomes. IT project managers are responsible for setting timelines for group projects, keeping project teams on task and ensuring groups adhere to a set budget.
Other job duties for those working in IT project management include:
Organizing project phases and schedules
Choosing appropriate people for the project team and delegating assignments
Building rapport and communicating with project stakeholders
Organizing project plans
Preparing reports
Tracking project progress and adjusting plans accordingly
Usually, project managers have impressive interpersonal skills as they act as a liaison between individuals who assign a new project and the team members that carry out the initiative. They are experts at communicating to their team what stakeholders want and keeping the IT project team on track to ensure successful outcomes.
Wondering what a day in the life of an IT project manager looks like? Check this out.
Project Management Employment Stats for 2022/2023 Indicate a Rising Demand for Related Skills. Why?
The demand for project managers and project management skills is on the rise. According to the U.S. Bureau of Labor Statistics, new jobs for computer and information systems managers will grow by 11% from 2020 to 2030.
Companies are finding that in the new digital economy, there is a greater need to communicate. Without communication, steps get missed and work gets duplicated. This can cause inefficiencies, errors and financial loss.
"Because so much cloud-based, remote work is happening post-pandemic, IT specialists must be able to communicate regarding projects," explained Patrick Lane, Director of Certification Product Management at CompTIA. "As we move everything to a digital format, project managers and related skills are becoming more important"
Agile methodologies are also becoming more prevalent. In the past, Agile was only used in software development. Now it is used for everything, which explains in part the increased need for IT project managers. IT workers in general must be aware of this and pursue project management skills to remain relevant in their field.
How IT Project Managers Save Companies Money
Another reason why IT project managers are in demand is because they can save companies serious money.
Organizations have come under many new compliance and regulatory statutes over the past couple of years due to the pandemic. As a result, they need personnel who can support the compliance process and manage risks. As ever-changing regulations are being enforced, the need for project managers is increasing. By managing projects and promoting compliance, these professionals can help save companies hundreds of thousands (or even millions) of dollars in fines.
Cybersecurity goes hand-in-hand with risk and compliance management. While IT project managers aren't usually cybersecurity specialists, they help companies keep sensitive data safe by overseeing projects where data is stored on the cloud.
Job Titles and Average Salaries of IT Project Managers
The average IT project manager salary is impressive. Per the U.S. Bureau of Labor Statistics, computer and information systems managers earned an average salary of $159,010 in 2021. That breaks down to $76.45 per hour.
There are several job titles and positions that fall under "IT project management." A couple of examples, along with their median annual U.S. wage, include cybersecurity project manager ($116,886) and data center product director ($159,250).
Here are a few others:
As with all IT roles, pay directly correlates with work experience, education and credentials, such as certifications.
Educational Requirements for IT Project Managers
The educational requirements for IT project managers vary from employer to employer. Many IT project managers are required to hold a bachelor's degree in a related field, such as business administration. They may hold a dedicated project management degree. Some project managers hold a master's degree, although advanced degrees may not be required by an employer.
One thing that many people who work in IT project management have in common is that they hold a project management certification, such as CompTIA Project+. CompTIA Project+ is an entry-level certification that is based on Project Management Institute (PMI) principles of project management. However, CompTIA Project+ delves into more detail about how to manage IT projects in particular.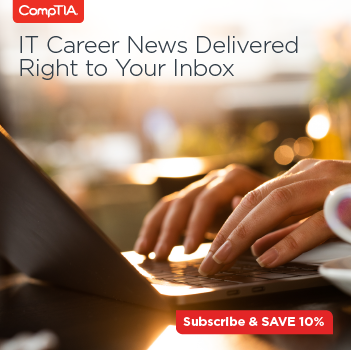 Those who earn CompTIA Project+ can successfully:
Manage the project life cycle
Ensure appropriate communication
Manage resources and stakeholders
Maintain project documentation
CompTIA Project+ is perfect for tech specialists who are required to manage small-to-medium projects that are less complex. However, candidates should still possess foundational project management skills.
Unlike other project management certifications, CompTIA Project+ covers key project management concepts that fall under more than just one methodology or framework. This makes it one of the most versatile project management certifications available.
CompTIA Project+ serves both IT project managers and project managers who do not work in IT. It imparts IT project management skills but is also applicable to general project management roles, such as those in healthcare, finance, manufacturing, etc.
The best candidates for CompTIA Project+ have a minimum of one year of cumulative project management experience or equivalent education.
CompTIA Project+ can help you get the skills you need to land an IT project management job, remain relevant in your current IT role or excel in a non-IT project management position.
Check out the CompTIA Project+ exam objectives to learn more.
Project Management Professional (PMP), a credential by the Project Management Institute, is another project management certification to consider. It is more advanced than CompTIA Project+ and is targeted at individuals with a bachelor's degree in a related field and at least 3 years of experience in project management. The Project Management Body of Knowledge (PMBOK) is one of the most popular resources for preparing for the PMP certification exam.
IT professionals can also consider the Certified Associate in Project Management (CAPM) by PMI. It covers entry-level PMI principles, although not directly tied to IT projects.
Skills You'll Need for an IT Project Management Job
There are several skills needed to secure and perform well in an IT project management job. Organization, communication and problem-solving capabilities are among the most vital.
Some of the other skills needed for an IT project management job include:
Decision-making
Leadership
Negotiation
Goal setting
Adaptability
Budgeting
IT management
In addition, risk management is one of the most crucial project management skills. One of the primary ways IT project managers strengthen their risk management skills is by promoting organizational compliance.
Now Is the Time To Get Into IT Project Management
The job outlook for IT project managers is excellent. According to PMI's Talent Gap: Ten-Year Employment Trends, Costs, and Global Implications 2021, the global economy needs 25 million new project professionals by 2030. Also, IT budgets are experiencing stealth growth. This means companies are primed for more tech spending and hiring.
You can land an IT project management job by:
Gaining relevant skills
Getting work experience in IT project management, even in your current role
Pursuing project management training and certifications
If you're serious about becoming an IT project manager, earning CompTIA Project+ is the best place to start.
Ready to prepare yourself for a career in IT project management by earning CompTIA Project+? Here's everything you need to get ready for your certification exam.