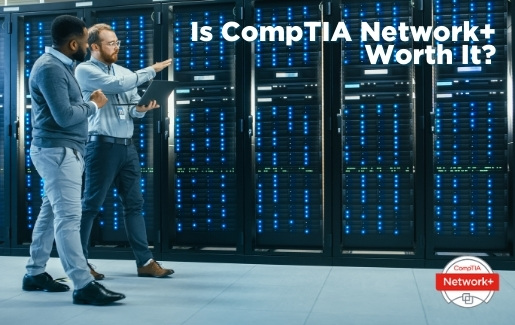 "Is CompTIA Network+ worth it?" If you've found yourself asking this question, you need quick, straightforward answers that will help you determine if this certification is worth your time, money and effort. Read on to find out what the CompTIA Network+ certification is and if it's a worthwhile investment for you.
What is the CompTIA Network+ Certification?
CompTIA Network+ is a vendor-neutral, entry-level certification widely recognized by the IT industry. It prepares technicians to work in IT infrastructure by providing key networking knowledge and skills.
IT pros who earn the CompTIA Network+ certification prove that they possess network troubleshooting, network cabling, configuration, subnetting and network operation skills. They understand emerging technologies, such as those related to virtualization and the cloud.
IT professionals who are CompTIA Network+ certified can also effectively do the following tasks:
Design and implement networks
Support the creation of virtualized networks
Configure, manage and maintain network devices
Use devices, such as switches and routers, to segment network traffic and create resilient networks
Troubleshoot network problems
Identify benefits and drawbacks of existing network configurations
Implement network security, standards and protocols
There are many networking certifications to choose from, such as Cisco CCNA and CCNP, as well as Microsoft MTA Networking Fundamentals. CompTIA Network+ stands out from the crowd for a couple of reasons.
First, CompTIA Network+ is vendor neutral. It prepares IT pros to work with various networks, not just one vendor solution. This is a contrast to vendor-specific networking IT certifications like those from Cisco and Microsoft, which enable technicians to support specific systems and types of equipment. Second, CompTIA Network+ is the sole IT certification on the market that addresses both wired and wireless networks.
CompTIA Network+ has no prerequisites. However, it is recommended for IT professionals to possess the CompTIA A+ certification or equivalent knowledge and experience before pursuing CompTIA Network+. Ideal candidates should also have at least nine months of experience with networking.
Get a job in IT infrastructure by following the CompTIA IT Networking Specialist Career Path.
7 CompTIA Network+ Exam Details You Should Know
Now that you understand what CompTIA Network+ is, you are probably curious about the certification exam.
Here are seven things you should know:
It is comprised of no more than 90 questions.
It features drag-and-drop, performance-based and multiple-choice questions.
It is 90 minutes long.
It requires a passing score of 720, on a scale of 100-900.
It is offered in English, German, Japanese, Spanish and Portuguese.
You can take the exam from a Pearson VUE testing center or online.
It costs $338 USD (see all pricing).
Using official CompTIA study materials will help ensure you pass your exam. Choose from study guides, interactive labs, integrated learn and lab bundles, instructor-led training and exam prep. Learn how you can study for CompTIA certification exams and find more information about training solutions for CompTIA Network+.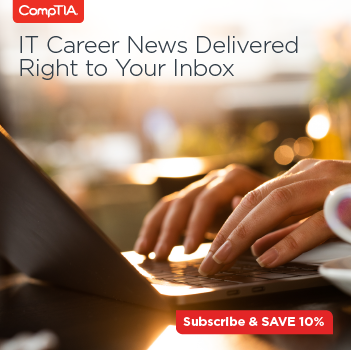 The skills obtained from studying for and passing the CompTIA Network+ exam will help you understand networking concepts like network protocols, passive optical networks, network attenuation, network address translation and ad hoc networks.
Having this knowledge will appeal to hiring managers. What's more, CompTIA Network+ will immediately elevate your resume and LinkedIn profile. Best of all, passing the CompTIA Network+ exam will help you build a career in the IT industry and earn a competitive wage.
You may know more than you think! Take our CompTIA Network+ practice test now to gauge your knowledge.
CompTIA Network+ Certification Salaries: What You Can Expect to Earn
The salary you'll earn with CompTIA Network+ depends on what job role you acquire as a result of earning the certification. So, before you ask what you can make with the certification, ask what jobs can you get with CompTIA Network+?
Here are a few examples (with median annual salaries):
According to CIO.com, network administrator is among the top 10 IT jobs for 2021. The Indeed.com Career Guide lists network systems administrator, network engineer and senior IT consultant as in-demand job roles right now. Puja Das, contributor to Analytics Insight, added network administrator as one of the top 10 in-demand tech jobs this year.

Is CompTIA Network+ worth it? Based on the jobs it can help you get, the answer is "yes."

FAQs About CompTIA Network+
If you still have burning questions about CompTIA Network+, we've got you covered. Below are some FAQs, along with answers, about this certification.

Is CCNA Better Than CompTIA Network+?
Some technicians find CCNA to be more challenging than CompTIA Network+, but that doesn't mean CCNA is a better certification. This is because CCNA is a vendor-specific certification that enables technicians to only work with Cisco Systems.
Conversely, CompTIA Network+ is vendor neutral, and it helps candidates work across a variety of systems. For this reason, CompTIA Network+ is a much more versatile certification. Whether it is better to have the knowledge to support one type of system or many different systems is your call.

Read more about CompTIA Network+ vs. CCNA
Is CompTIA Network+ Hard? Is It Harder Than CompTIA Security+?
CompTIA Network+ is intellectually challenging for most candidates. That doesn't mean it is out of reach for the average person, though. Nearly anyone with an interest in information technology who is willing to study for the exam can master its networking concepts.
CompTIA Security+ primarily covers concepts in cybersecurity and also requires significant study. Some IT pros may find it more difficult than CompTIA Network+, but others may find CompTIA Network+ to be harder. It all depends on an IT professional's strengths, weaknesses and experience.

The exam objectives for the two certifications have quite a bit of overlap, so it can be beneficial to get both. This will increase your skill set and earning potential.

Is CompTIA Network+ Better Than CompTIA A+?
Neither certification is better as they serve two very different purposes.
CompTIA A+ provides thorough foundational knowledge of IT concepts and prepares individuals for an entry-level job in IT, such as help desk technician. It addresses basic networking concepts. CompTIA Network+ is designed for technicians who want to work in networking specifically and covers networking concepts at a more advanced level.

These certifications aren't in competition with one another. In fact, they can go hand-in-hand and were designed to build upon each other.
"[CompTIA Network+] is a nice complement to the CompTIA A+ certification since it covers well beyond basic networking skills that are only touched on in the CompTIA A+ certification," explained Eshna Verma, contributor to SimpliLearn.
Start Building Your IT Career in Networking Today
Is CompTIA Network+ worth it to you personally? If you want to land one of the most in-demand networking jobs and earn what you are worth, it is.
Download the CompTIA Network+ exam objectives to get started.

*Salary figures from the CompTIA IT Employment Snapshot (U.S. Version, Q1 2021).