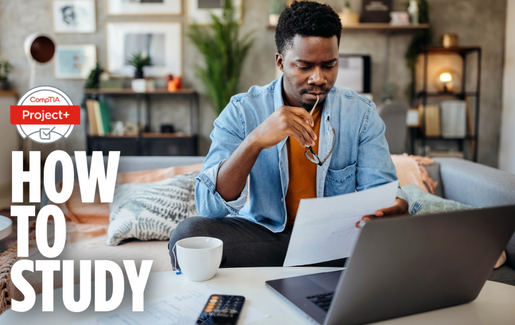 If you're looking for a job as a project coordinator, quality assurance/project manager, tier 2 support technician, systems administrator or business analyst, CompTIA Project+ may be for you. CompTIA Project+ gives IT professionals hands-on project management skills to coordinate small- to medium-sized projects using waterfall and agile methodologies. To get started, here are some general certification study tips followed by a look at the new CompTIA Project+ (PK0-005) certification exam and training options being released November 8th, 2022.
Step 1: Create a Plan
Once you've made the decision to earn CompTIA Project+, it's important to first make a plan before you jump into your CompTIA training solutions. Take a few moments to consider the following:
Do you meet the prerequisites? Although there are no hard prerequisites, CompTIA recommends 6-12 months of hands-on experience managing projects in an IT environment.
Do you have a plan? It pays to be organized and diligent upfront when it comes to successfully passing certification exams. Download your customizable study plan.
How do you learn best? Consider whether to self-study or attend a course from an authorized training provider. See all your options.
How will you test yourself? Use practice exams correctly to discover how quickly you take exams and identify areas of weakness for additional study. Check out CertMaster Practice.
Once you've answered these questions, you can begin figuring out what you know and what you are unfamiliar with. You can also get started using the training solutions that are right for you. To know what to study, you need to download the exam objectives.
Step 2: Download the CompTIA Project+ (PK0-005) Exam Objectives
How will you know what to study? There's no better place to start preparing for a CompTIA exam than with the exam objectives. You can download the exam objectives for the new CompTIA Project+ exam for free.
Identifying areas of strength and weakness helps organize your studying. Read through all the objectives and mark topics that you are comfortable with as well as those you are unfamiliar with. This could help you prioritize topics to study so you can focus more on areas of improvement.
Remember that the exam objectives are divided into domains. The domains are weighted, which also helps to organize exam preparation.
Here are the new CompTIA Project+ domains and their relative weights:
| | | | |
| --- | --- | --- | --- |
| PK0-005 | Description | How It Applies to the Job | Weight |
| Project Management Concepts | Includes the basics, including Agile vs. waterfall, change control process and frameworks. | Understand and perform basic activities, including change control, risk and issue management, scheduling, meetings, quality and communication management. | 33% |
| Project Life Cycle Phases | Includes various hands-on scenarios to implement each phase. | Perform project management activities during each phase of initiation, planning, execution and closing. | 30% |
| Tools and Documentation | Includes project management tools that support Agile methodologies. | Use project management tools with Agile integration such as Smartsheet, PowerBI, Jira, Confluence, etc. | 19% |
| Basics of IT and Governance | Includes applying appropriate IT risk strategies and compliance frameworks to projects. | Project managers must ensure IT projects are well documented to help comply to regulations such as PCI-DSS, NIST and CCMC. | 18% |
The new CompTIA Project+ (PK0-005) includes more exam objectives – 24 exam objectives versus the 18 in the PK-004 exam. Additional exam objectives were added to focus on an IT project environment, technical terms, Agile and risk management.
The exam objectives are not exhaustive of everything you may be tested on, but CompTIA is constantly reviewing exam content and updating questions to ensure relevance and exam integrity. Consider the exam objective stem (the heading) as your item to study, and the bulleted lists as examples of some of the things that might be covered.
Step 3: Learn the Material
Now that you've reviewed the exam objectives and have an idea of what you already know and what you need to prioritize, it's time to study. CompTIA offers both self-study and classroom-based training options so you can choose the method that best meets your needs.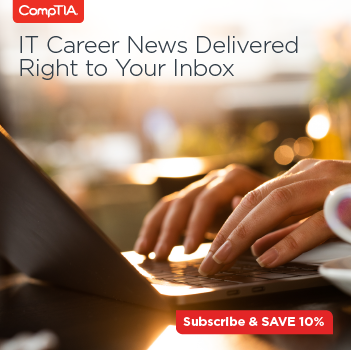 CompTIA CertMaster Learn
New to this version of CompTIA Project+, CompTIA CertMaster Learn is a comprehensive eLearning solution designed around CompTIA Project+ exam objectives. CertMaster Learn is packed with content and features that are designed to help you learn in an engaging and flexible way. It is also organized into a personalized learning plan to help you manage your study time.
CertMaster Learn includes:
Interactive learning with flashcards and performance-based questions
Videos that demonstrate key concepts and processes
Customizable learning plan
Easy self-assessments
Learning progress analytics and reporting
The Official CompTIA Project+ Study Guide
Alternatively, The Official CompTIA Project+ Study Guide also covers all of the exam objectives so you know you're focusing on the right topics.
But learning is just the beginning. Once you've learned what you need to, it's critical to put what you've learned into action. The CompTIA Project+ exam includes performance-based questions, which evaluate your ability to complete hands-on tasks related to the exam objectives. In order to pass your certification exam, you'll need to get some hands-on experience.

CompTIA Live Online Training
CompTIA Live Online Training brings the classroom experience to you. Receive guided learning, hands-on training and real-time support from one of CompTIA's industry-leading instructors from the comfort of your home.
All CompTIA Live Online Training bundles include CertMaster Learn, CertMaster Labs and CertMaster Practice so you can reinforce what you learn in the classroom on your own time and ensure that you have ALL the tools needed to prepare for your exam.
Step 4: Work on Getting Hands-On Experience
While CompTIA recommends at least 6-12 months or equivalent hands-on experience managing projects in an IT environment, we acknowledge that many IT pros seek out CompTIA Project+ as a steppingstone for their career. CompTIA CertMaster Labs –­­­­­­­­­ now available for CompTIA Project+ – provides you with the platform to gain critical hands-on experience.
When integrated with CertMaster Learn, CertMaster Labs are displayed as Study Tasks within the CertMaster Learn Learning Plan. As a result, students experience both knowledge acquisition and hands-on skills development through a single login and seamless workflow.

When you purchase a CompTIA Project+ bundle that includes both CertMaster Learn and CertMaster Labs, you'll get a seamless integrated experience where you can practice what you've learned within the same platform.
Step 5: Get Exam Ready
Now that you've learned the material, now it's time to prepare for your exam. It doesn't matter if CompTIA Project+ is your first CompTIA certification exam or your tenth. If you haven't taken a high-stakes exam before (or in a long time), you'll want to become familiar with how questions are presented and get used to the pressure of a timed exam.
CompTIA CertMaster Practice
CompTIA CertMaster Practice is a knowledge assessment and certification training companion tool. It offers a full, timed practice test experience, including scenario-based multiple-choice and performance-based questions that you'll encounter when taking the CompTIA Project+ exam.
Featuring question-first design, real-time learning analytics and content refreshers, CertMaster Practice helps reinforce and test what you know and close knowledge gaps.
Here are a couple of specific recommendations for CertMaster Practice:
Discover if you tend to be quick or slow when taking exams
Learn the average time each question takes to complete
Get comfortable with the interface
Reinforce knowledge by using study mode (correct answers are displayed immediately)
CertMaster Practice for CompTIA Project+ covers topics across all objectives including:
Project basics: Understanding the basic properties of projects, roles, members, resources and more
Project constraints: Understanding project limitations and risk strategies and activities
Communication and change management: Using effective communication, including methods, triggers, target audiences and more
Project tools and documentation: Using common tools like charts, reports, SWOT and proper project documents
Let CertMaster Practice help give you confidence as you go into your exam.
Ready To Get CompTIA Project+ Certified?
Now you can get started! Take your career to the next level by committing yourself to earning the new CompTIA Project+ (PK0-005) certification exam. Begin by creating a study plan and understanding the exam objectives and domains before you devote your time to studying the topics in preparation for your exam.
Follow these steps and we're sure you will succeed. Plus, note that these skills will serve you well on nearly any CompTIA exam you decide to pursue.

Looking for more about CompTIA Project+? Check out these articles:
Learn the skills you need with CompTIA CertMaster Practice. Sign up for a free trial today!