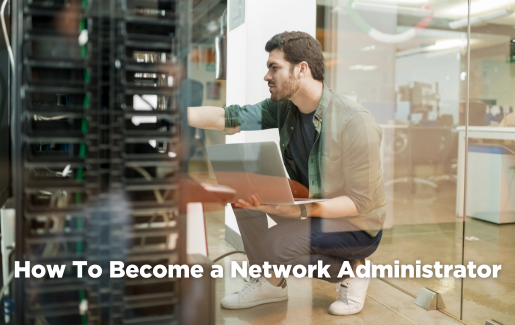 Are you interested in establishing an IT career but aren't sure what role is best for you? If so, consider becoming a network administrator. In general there are low barriers to entry-level network administrator jobs, and network administrators are paid more than double what other professionals across all occupations earn. They are also in high demand. In fact, CIO Online included "network administrator" in its list of the 10 most in-demand technology jobs. Interested in learning more?
What Does a Network Administrator Do?
What is a network administrator? What does a network administrator do? These are just a couple of FAQs about starting a career in network administration. Network administrators are responsible for the daily management and maintenance of an existing computer network. They ensure network performance, availability and security.
Network administrators monitor network performance, manage user access and troubleshoot connectivity problems. They also supervise backup systems for networks and create and implement network policies and procedures.
Here are some additional responsibilities of a network administrator:
Ordering and installing computer network hardware and software, as well as equipment like servers and firewalls
Improving the network's connection speed
Using computer diagnostics and antivirus software to protect and optimize the network
Occasionally providing support for desktop computers in addition to networked devices
The network administrator role shouldn't be confused with computer systems administrator.
Whereas network administrators manage networks, computer systems administrators oversee computer systems.
A career as a network administrator could be right for you if you have the desire to promote a secure, streamlined network operation within any type of organization.
Essential Skills and Qualifications Required for Network Administrators
Network administrators must have a variety of skills to do their job. They must possess thorough knowledge of various types of servers, telecommunications systems networks, such as local area networks (LANs) and wide area networks (WANs), coding languages, computer systems, operating systems and diagnostic software.
Other network administrator skills are related to:
Routing protocol setup
Cybersecurity enforcement
Server maintenance
Configuration management
Online software provisioning
Installing network firewalls and security devices
Storage management
Network maintenance and repairs
Business continuity
Performing upgrades
Network performance enhancement
End-user support
Knowledge of switches, routers and networked communications
To qualify for a network administrator job role, most IT professionals need a network administration degree, or a similar degree. For some junior network administrators, a high school diploma, good communication skills and a foundational computer networking certification like CompTIA Network+ can help get them the job.
Steps to Becoming a Network Administrator
Wondering how to become a network administrator? It starts with getting the education network administrator job descriptions call for.
Earn a Degree (If Needed)
Most employers require network administrators beyond entry level to have a bachelor's degree in network administration, computer science, information systems, systems engineering or a related field. Some may require a master's degree. Other employers require only an associate degree in a similar discipline. Job descriptions for junior network administrator roles do not always call for a degree.
If you want to work in a senior network administrator role and do not have a relevant degree, consider earning one. Sometimes, employers waive degree requirements when job candidates have sufficient experience, certifications and computer networking skills.
Gain Technical Skills
As a network administrator, you'll need robust knowledge of coding languages, networks and servers, diagnostic software, computer systems and more. You can get these skills from degree programs, certification programs and computer networking certifications. Common certifications for network professionals include CompTIA Network+ and CompTIA Linux+.
CompTIA Network+ is the industry standard for establishing an IT career. It is the only certification that covers the unique skills network professionals need. This vendor-neutral certification imparts knowledge that enables technicians to create and implement functional networks on the job.
The CompTIA Network+ certification exam covers networking fundamentals, network security, network implementations, network troubleshooting and network operations.
By earning CompTIA Network+, you'll prove to employers that you have the practical skills to do the job right. The ideal candidate for CompTIA Network+ has at least 9 to 12 months of experience as a junior network administrator or network support technician.

CompTIA Linux+ can give IT pros an advantage as they establish a career in network administration and open up additional job opportunities. This certification covers the most recent foundational skills hiring managers are seeking.
By earning CompTIA Linux+, you'll learn all major distributions of Linux. The CompTIA Linux+ certification exam covers system management, scripting, containers and automation, security and troubleshooting.
It's recommended that CompTIA Linux+ candidates have at least a year of experience working with Linux servers. CompTIA A+, CompTIA Network+ and CompTIA Server+ are also recommended.
Vendor-specific certifications like Cisco Certified Network Associate (CCNA) can add weight to an IT professional's resume. This credential covers fundamental Cisco networking concepts and proves to hiring managers that certification holders are skilled in working with Cisco products and equipment.
Get Hands-On Experience
Experience looks great on a resume. As you get hands-on experience, you'll gain technical skills. You'll also learn soft skills, like problem-solving abilities, that are necessary to excel in your role.
Experience can be gained directly through working as a network professional. Those who are just starting out can get experience through internships in computer networking or in a junior network administrator role.
Often, network administrators begin at the help desk. This can be the best place for beginners to get work experience and build essential IT skills.
Build Your Professional Network
Professional networking is key to getting a job in IT. Through online networking, you'll make new contacts and learn new skills. LinkedIn is the go-to virtual networking platform for IT professionals. Finding in-person networking events for IT pros, specifically computer network professionals, can also be beneficial.
Actively building a professional network puts mentorship opportunities directly in your path. A mentor can help you identify your strengths and weaknesses, provide career direction and advice and recommend you to employers. As you build your professional network, don't be afraid to ask to be mentored by those whose footsteps you want to follow in.
Salary and Job Outlook for Network Administrators
According to the U.S. Bureau of Labor Statistics (BLS), the job outlook for network administrators is excellent. The need for network administrators will continue to grow, reaching about 360,000 by 2033. At nearly double the national estimated growth rate, information technology jobs are projected to be among the fastest-growing occupations from 2023-2033.
Per the BLS, the median annual salary for network administrators is $90,520. This means the average network administrator salary is 95% higher than the median national wage for all occupations.
Career Path for a Network Administrator
Although the network administrator career path can vary, it usually starts at either the help desk or with an entry-level network administrator job. From there it often advances to network engineer or network architect. The career path destination could be information technology manager or director, chief information security officer (CISO), senior IT manager, vice president of IT or director of IT services.
How Long Does It Take To Become a Network Administrator?
How long it takes an individual to become a network administrator depends on several factors. For example, how much education and experience do they already have, and what certifications do they need?
For someone without any IT experience or a computer-related degree, it could take a couple of years to become a junior network administrator. They may need to earn an associate degree and/or certifications like CompTIA Network+, as well as get hands-on experience.
It will take several years for an individual who needs a bachelor's degree to get into network administration. Some IT pros might secure an entry-level role as a network administrator and earn their degree as they work part- or full-time.
Becoming a Network Administrator: Is it Easy?
Although it isn't necessarily an easy journey, becoming a network administrator doesn't have to be overwhelming. If IT pros take it step-by-step, getting the education, skills, certifications and experience they need to do the job well, becoming a network administrator can be a fulfilling experience.
Ready to get started? Learn the skills you need with CompTIA CertMaster Learn + Labs. Sign up for a free 30-day trial today!