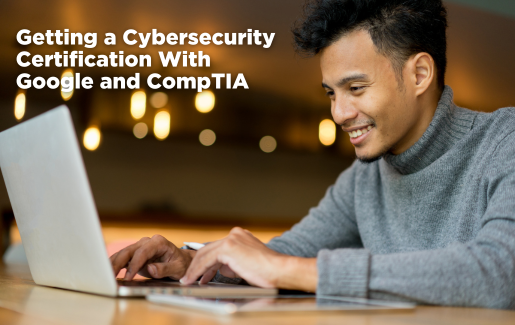 This isn't the first article you've read that talks about how in demand cybersecurity jobs are. But if you're a beginner, getting an early career IT job in cybersecurity can be challenging. While you don't necessarily need a degree in computer science to get your IT career started, you do need foundational training and a way to prove to employers that you have the skills they need to get the job done. And if you can earn two forms of that validation – all the better.
Google and CompTIA are teaming up – again – to help more people get into cybersecurity by offering a dual credential when you complete both the new Google Cybersecurity Certificate and CompTIA Security+ certification.
Overview of Google and CompTIA Partnership
In 2019, Google and CompTIA teamed up to provide a dual badge of completion for learners who complete the Google IT Support Professional Certificate and pass the CompTIA A+ certification exams. The dual credential results in a badge that can be posted on LinkedIn to catch the attention of potential employers and recruiters. The goal of this partnership was to get more people into entry-level IT support and help desk roles by aligning skills and better positioning them to get a job.
Now, we're teaming up again to offer the same opportunity to those who want to enter the field of cybersecurity. The Google Cybersecurity Certificate program helps prepare you for the CompTIA Security+ exam, the IT industry-leading certification for cybersecurity roles. You'll earn a dual credential when you complete both.
What Is the CompTIA Security+ Certification?
CompTIA Security+ is an early career certification that validates the baseline skills necessary to perform core security functions and pursue an information security career. CompTIA Security+ is recommended as the first cybersecurity certification a candidate should earn. It establishes the fundamental knowledge required in the field and provides a springboard to intermediate-level cybersecurity jobs.
CompTIA Security+ incorporates best practices in hands-on troubleshooting, ensuring you have the practical security problem-solving skills required to:
Assess the security of an organization and recommend and implement appropriate solutions
Monitor and secure hybrid environments, including cloud, mobile and IoT
Operate with an awareness of applicable laws and policies, including principles of governance, risk and compliance
Identify, analyze and respond to security events and incidents
With this skill set, you qualify for jobs like security administrator, security specialist, systems administrator and security consultant. But one of the best things about information technology jobs is that there isn't one specific pathway to any job role. Combining your IT skills, certification(s) and years of experience can set up you for both vertical and lateral moves.
For example, if you want to become a cybersecurity engineer, adding skills like Linux and learning how to test for vulnerabilities on top of your core security knowledge base would be helpful. If you are interested in network security, learning how to configure network devices and support virtualization can help you become a network security specialist. Or, if you want to specialize in data security, adding data analytics skills, like data modeling, to your resume can go a long way.
Benefits of the CompTIA Security+ Certification
Understanding the basic building blocks of cybersecurity is one of the primary benefits of getting certified with CompTIA Security+. You must know how to navigate through different operating systems, environments and security controls before you can master anything. CompTIA Security+ is a good bet because it is vendor neutral, available to beginners, recognized by employers, has a proven track record and is one of the top-paying certifications.
CompTIA Security+ is vendor neutral: A vendor-neutral certification means that the skills you learn are applicable across any platform or product. On the other hand, a vendor-specific certification only validates your skills on a specific product, like AWS, Cisco or Microsoft, for example.
CompTIA Security+ is available to anyone: There aren't any prerequisites for candidates that want to pursue CompTIA Security+. Anybody can choose to study for the exam. However, it is recommended that candidates have CompTIA Network+ and two years of work experience in IT administration with a security focus.
CompTIA Security+ has a proven track record: CompTIA Security+ is chosen by more corporations and defense organizations than any other certification on the market to validate baseline security skills and for fulfilling the DoD 8570 compliance requirements.
CompTIA Security+ is one of the top-paying certifications. Because CompTIA Security+ is a foundational IT certification, IT pros who earn the cert gain the skills they need now and to succeed throughout their IT careers. That's why core certifications like CompTIA A+, CompTIA Network+ and CompTIA Security+ consistently rank on top-paying certification lists.
Exam Details and Preparation for the Certification Exam
The latest version of CompTIA Security+ (SY0-601) includes both performance-based and multiple-choice exam questions across five domains:
Attacks, Threats and Vulnerabilities (24%)
Architecture and Design (21%)
Implementation (25%)
Operations and Incident Response (16%)
Governance, Risk and Compliance (14%)
While there are a range of exam prep tools, instructional videos, training boot camps, certification courses and the like out there, CompTIA offers a full suite of training solutions for CompTIA Security+, including study guides, eLearning and online courses.
Here's a quick overview of everything CompTIA offers to help you prepare for your certification exam:
CertMaster Learn: Interactive and self-paced, CertMaster Learn includes a customizable learning plan and performance-based questions that take you on a path of consistent learning toward your certification exam.
CertMaster Labs: Acquire the necessary hands-on skills by developing a deeper understanding of the subject matter and reinforcing the practical aspects of the exam objectives.
CertMaster Practice: An adaptive online companion tool that assesses your knowledge and exam readiness by confirming strong areas and filling knowledge gaps in weak areas.
Study Guides: If you prefer traditional textbook-style learning, the fully illustrated CompTIA books are packed with informative and accessible content that covers all exam objectives.
Instructor-Led Training: Whether you're looking for in-classroom or live online training, CompTIA offers best-in-class instructor-led training for both individuals and teams.
Regardless of how you prepare for your certification exam, the best place to start is with the CompTIA Security+ exam objectives – you can download them for free.
Google Cybersecurity Certificate Program
Google is expanding its Career Certificates program with a course in cybersecurity designed to teach newcomers the basic skills necessary to work as an analyst. The Google Cybersecurity Certificate program is a fully online program that provides the skills you need for an early career job in cybersecurity, even if you don't have prior experience. You'll use industry standard tools like Python, Linux, SQL, Security Information and Event Management (SIEM) tools and intrusion detection systems (IDS).
Google Helps You Get CompTIA Security+
As previously mentioned, the Google Cybersecurity Certificate will also help prepare learners for the CompTIA Security+ exam. Some of the content you will learn when studying for the Google Cybersecurity Certificate will also help you on the Security+ exam. Learners will earn a dual credential when they complete both, improving employability. But you must pass both exams to earn this dual credential.
Learn the skills you need with CompTIA CertMaster Learn. Sign up for a free trial today!