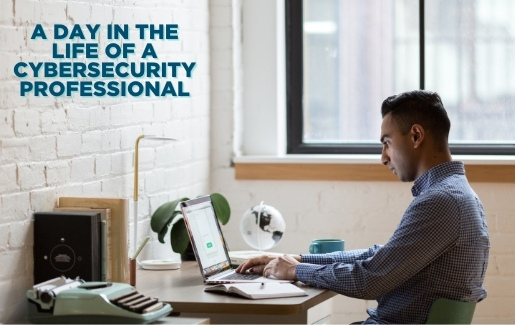 The cybersecurity space attracts many IT pros – and that's a good thing! Cybersecurity jobs are in demand, and we will always need qualified IT pros due to the never-ending development of technology. One thing's for certain – cybersecurity IT pros will never be bored! As new cyberattacks appear, IT pros must be ready and willing to learn and develop their skills.
But what are those skills exactly? Few people can envision what cybersecurity professionals deal with every day. Let's take a look at the daily responsibilities of a variety of cybersecurity roles to learn what opportunities and challenges are on the horizon.
A Day in the Life of a Cybersecurity Specialist
Cybersecurity specialist is a broad role that encompasses tools, processes and methodologies to utilize, optimize and gain strategic advantages from computer networks. The job title may be advanced systems analyst, or in the military or Department of Defense (DoD) side it may be computer network operator (CNO).
A typical day for a cybersecurity specialist might include the following:
Creating, maintaining and controlling user accounts and access, including public key infrastructure (PKI)
Installing and maintaining software and equipment lists
Addressing system issues like disk space, memory and CPU
Addressing compliance requirements and weekly updates and maintain all required logs
Running weekly vulnerability scans and providing reports on health and status of the system security plans (SSPs)
Maintaining vulnerability patching
CompTIA Security+ validates the skills used by cybersecurity specialists.
A Day in the Life of a Threat Hunter
The field of cybersecurity attacks is always evolving as hackers come up with new ways to attack systems. That means a threat hunter's day is never the same. Some days it's about researching new threats, and other days it's consumed with figuring out what happened and how to prevent it from happening again.
"We face around 50 new malware threats every day, and we need a person who can navigate through this chaos and provide knowledge to the rest of the team," said Jacob Brown, head of cybersecurity at Ivory Research.
A typical day for a threat hunter might include the following:
Delivering controlled threat simulation services against company assets
Partnering with business security teams to drive change
Conducting threat and vulnerability research and structured attack development
Exploiting development, testing and scripting
Delivering controlled exploitation of configuration weaknesses, software vulnerabilities and evasion of detection mechanisms
CompTIA Cybersecurity Analyst (CySA+) validates the skills used by threat hunters.
A Day in the Life of a Vulnerability Analyst
A vulnerability analyst is charged with analyzing gathered information to detect what vulnerabilities a system has and what can be potentially exploited by malware. A good vulnerability analyst can think like a hacker to protect against them.
While some of the vulnerability analyst's responsibilities include penetration testing, a vulnerability analyst is not the same as a penetration tester. A penetration tester identifies risks in a network or system. While a vulnerability analyst does that too, they also uncover vulnerabilities in a network and provide solutions to manage the situation.
A typical day for a vulnerability analyst might include the following:
Developing risk-based mitigation strategies for networks, operating systems and applications
Compiling and tracking vulnerabilities and mitigation results to quantify program effectiveness
Creating and maintaining vulnerability management policies, procedures and training
Reviewing and defining requirements for information security solutions
Organizing network-based scans to identify possible network security attacks and host-based scans to identify vulnerabilities in workstations, servers and other network hosts
Communicating achievements and solutions with other teams and departments.
CompTIA PenTest+ validates the skills used by vulnerability analysts.
A Day in the Life of a Cryptanalyst
A cryptanalyst is generally employed by law enforcement and intelligence agencies to decipher encryption codes being used by law breakers and nefarious government actors. Whereas cryptographers encrypt sensitive data – often in industries like finance, e-commerce and government – to protect it from unauthorized access, cryptanalysts unscramble data through decryption or code cracking.
Cryptanalysts typically have advanced command of mathematics, broad knowledge of computer sciences and competency in multiple programming languages. Of course, there's the opportunity to be more engaged in research, but if you want something more applied, your average day could be pretty stimulating.
A typical day for a cryptanalyst might include the following:
Study data and programming code to uncover cipher keys and return data to its intended format
Decrypting cipher text into plain text to transmit messages over insecure channels
Developing security libraries
Providing PKI guidance
Reviewing and writing specifications
CompTIA Advanced Security Practitioner (CASP+) validates the cybersecurity skills used by cryptanalysts.
Polishing the Right Professional Skills
Every cybersecurity job requires specific technical knowledge, but don't overlook the essential professional skills. Professional skills are necessary when it comes to collaboration with others, training staff and brainstorming ideas. What's more, we can all improve these skills in some way, shape or form. A dedication to continually improving your soft skills will only help you succeed in your cybersecurity career., shape or form. A dedication to continually improving your soft skills will only help you succeed in your cybersecurity career.
ECPI University calls out three important professional skills:
Collaboration: Cybersecurity experts are expected to have broader collaborative and people skills, which involve working well with colleagues throughout the organization in achieving set goals and objectives.
Adaptability: Cybersecurity experts generally have a passion for learning and expect to be a lifelong student as much as a teacher.
Networking: Cybersecurity experts can use networking to tap into the experience of the professionals you connect with to cultivate your critical thinking skills and improve the organization's performance.
Obtaining the Right Technical Skills
You can get into cybersecurity with a certification, a degree or both. It really depends on what you want to do and what kind of experience you already have. If you already have some technical skills under your belt, the first step is discovering how your knowledge transfers to the cybersecurity field.
The right combination of education, cybersecurity certifications and hands-on experience will prepare you for a job in cybersecurity.
Education: Colleges and universities offer both undergraduate and graduate degrees in cybersecurity, typically as a sub-discipline of computer science. While many cybersecurity jobs require a degree, that doesn't necessarily mean they require a cybersecurity degree. Many cybersecurity professionals hold bachelor's degrees in other fields – some technical and some not. Some roles may not require a degree at all.
Certifications: Cybersecurity certifications assess the knowledge, skills and abilities that IT professionals have already mastered and reflect what's going on in the field today. Some of the most popular cybersecurity certifications come from organizations like CompTIA, (ISC)2, ISACA and GIAC. The CompTIA Cybersecurity Career Pathway includes performance certifications for all levels of cybersecurity professionals.
Hands-on Experience: Getting hands-on experience can be as simple as tinkering around with hardware and software at home or fixing and updating devices for friends and family. Or it can be actual training like CompTIA Labs for Security+ – which teaches you how to solve real-world cybersecurity problems in a virtual environment.
It's important to remember that while there are plenty of available cybersecurity jobs, employers want to see that you not only have the technical skills to get the job done, but you know how to effectively use them. A balance of formal education, certification and hands-on experience will validate that knowledge.
Making Your Cybersecurity Job a Reality
If any of the above "day in the life" scenarios sound interesting and exciting to you, a career in cybersecurity may be a good fit. The jobs are there. It's up to you take initiative and get the skills you need to get your foot in the door. When you leverage your unique soft skills and technical know-how with a combination of training and certifications, you'll have what it takes to show employers that you're ready to get to work.
Ready to get started? Download the exam objectives for any CompTIA certification for free to see what's covered and begin studying.