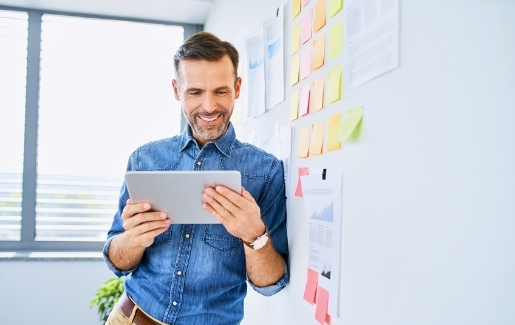 With the new Data+ certification, CompTIA now has a foothold in the area of data management and analytics. Maybe I'm a big nerd, but I find this kind of exciting. The field of data has quickly become a critical part of the IT framework, and organizations everywhere are starting to focus on data-driven decision making.
What does this mean from a career perspective? Well, I think that's kind of exciting, too. The role of the data analyst opens new pathways for technical careers, but the nature of those pathways plays to different strengths for IT pros.
To explain what I mean by the nature of the pathways, I'll start with the IT framework. The field of data is a separate pillar within the framework because the quality of the work is unique. Like software development, an organization may choose to have data analysts outside the core IT department.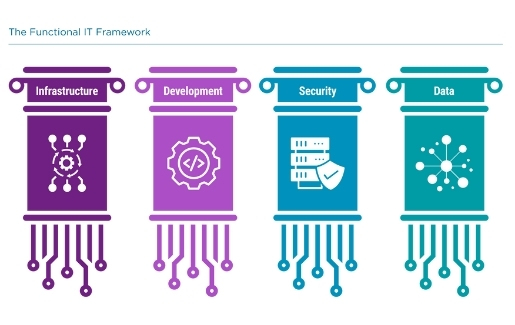 Figure 1: The Functional IT Framework

The overall data strategy still has some serious technical components, but the ultimate goal is to answer business questions using the insights that come from the data. Regardless of where data analysts sit in the org chart, the relationship with the stakeholders is different than other parts of IT.

Getting down to the individual level, this strategic mindset drives the requirements of the job role. Some of those requirements are similar to the requirements of a traditional IT role. But some of them are different, and that leads to opportunity for a wider variety of job seekers.
How Data Analyst Jobs Are Similar to Traditional IT
When I say "traditional IT role," I'm mostly talking about a role in IT infrastructure. Since the dawn of enterprise computing, this has been the foundational role in IT, and it's the role that comes to mind for the average person.
There are three main areas where a traditional IT role overlaps the role of data analyst:
Understanding Systems: As IT grows more complex and job roles become more specialized, it's even more important to have a basic understanding of how everything works together. CompTIA IT Fundamentals was built around the idea of building system understanding before a candidate chooses a specific career path.
Navigating Cloud: Cloud computing has impacted every IT role, whether it's leveraging infrastructure as a service (IaaS) or building multiple environments for software development. Data analysts also have to understand the pros and cons of cloud systems, whether that means defining a storage architecture or using cloud-based analytics tools.
Basic Scripting: Software has taken over the IT space. There are a lot more organizations with internal software developers today compared to 10 years ago. This trickles into all the other areas. That doesn't mean everyone has to be a master programmer, but some basic scripting skills go a long way in tweaking the software to do what you need.
How Data Analyst Jobs Are Different from Traditional IT
The field of data management and analytics is young, so there isn't a one-size-fits-all approach across different industries and different organization sizes. Still, there are three characteristics that we see across data roles that aren't commonly found on a more traditional pathway:
Strategic Focus: Every IT role is serving the needs of the organization. But data analysts must have a deep understanding of where the business wants to go. An infrastructure professional might get a basic description of a problem, then they go spec out a system that will fit the bill. A data analyst has to go beyond the basics to understand all the factors that feed into a strategic decision.
Probable Outcomes: Success on the infrastructure side tends to be fairly clear—when a server or network isn't working right, people notice. Data analysts work in probabilities. The data can point to a likely outcome, but it's not a guarantee. Analysts need to be good at defining the odds for the people making decisions.
Storytelling: When you put together the previous two points, you end up with the job of telling a story. Or maybe painting a picture is a better metaphor, since visualization is such a key part of data analytics. Ultimately, a data analyst is trying to figure out where an organization wants to go, how they might get there and what could happen along the way.
Depending on the organization, your mileage may vary. Some data analyst roles may skew more toward a database administrator (DBA), so there will be a heavier infrastructure focus. On the other hand, some analyst roles may lean toward data science, so using statistics is even more important. Either way, the core requirements for an analyst include some familiar parts and some new components. With the demand for analysts continuing to grow, candidate with the right mix of skills should have lots of options for career growth.
Get more tech insights like this right in your inbox with CompTIA's IT Career Newsletter. Subscribe today, and you can save 10% off your next CompTIA purchase.