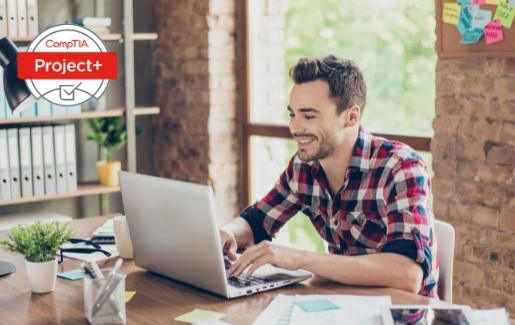 Certifications show employers that candidates have the knowledge and skills they need to do the job, and they help IT pros advance their careers. As IT project management has become a critical function, these certifications have become popular to IT pros globally.
The CompTIA Project+ certification is a vendor-neutral credential that's widely recognized by employers all over the world as validation of entry-level IT project management skills.
The IT project coordinator and junior IT project manager job skills covered by CompTIA Project+ help companies run their IT projects efficiently with Agile or waterfall methodologies. They also help them comply with regulations such as PCI-DSS, NIST and CMMC that require day-to-day management and communication.
Why CompTIA Project+ Is Changing
The next version of CompTIA Project+ (PK0-005) is slated to launch in early November 2022. CompTIA updates certifications to ensure skills are relevant and up to date on the latest technologies.
When CompTIA updates exams, subject matter experts (SMEs) from the industry participate in workshops to write and review the content, ensuring the exam domains, objectives and questions validate the skills needed on the job today.
IT project management experts from the following companies contributed to the update of the CompTIA Project+ exam:

| | | |
| --- | --- | --- |
| CrowdStrike, Inc. | KirkpatrickPrice | Microsoft |
| Interamerican Development Bank | Western Governors University | U.S. Department of the Interior |
| KloudReadiness, LLC | PCAOB | Smith Business Services, LLC |
| Wisconsin Lutheran College | Catalyte | NTT DATA |
| U.S. Navy | Organon | Contentful |
| GDIT | Johns Hopkins Applied Physics Lab | Fayetteville College |
| Five9 | Zoom | Accenture |
| Advantage Health | Canon | Dell |
| Ernst & Young | Fuji Xerox | HP |
| U.S. Army | U.S. Navy | |

Read more about the CompTIA exam development process

CompTIA Project+ 004 vs. 005
CompTIA is constantly reviewing the content of its certifications to ensure they address the latest technologies and meet the needs of the industry. The previous CompTIA Project+ exam objectives have been updated to be more reflective of IT environments, Agile and risk management skills.
CompTIA Project+ Exam Domains
The exam domains covered in CompTIA Project+ (PK0-005) reflect the IT emphasis, as IT project management skills have become very important. The exam domains have been modified and rearranged, as shown in the following table.

2.0 Project Constraints 17%
| PK0-005 Exam Domains | PK0-004 Domain Equivalency |
| --- | --- |
| 1.0 Project Management Concepts 33% | 1.0 Project Basics 36% |
| 2.0 Project Life Cycle Phases 30% | 2.0 Project Constraints 17% |
| 3.0 Tools and Documentation 19% | 4.0 Project Tools and Documentation 21% |
| 4.0 Basics of IT and Governance 18% | 3.0 Communication and Change Management 26% |
The reorganization of the exam domains results in approximately 70% of the topics being similar to the previous version and 30% of them updated to include the following:
IT Focus: Hiring managers are looking for IT pros who can manage an IT project and communicate with IT project teams. In fact, 25% of hiring managers request project management skills in their IT job openings. To put that statistic into perspective, that means 100,000 of the 400,000 IT job openings in the United States in Fall 2021 listed IT project management skills.
Agile Focus: Hiring managers shared with CompTIA that Agile methodologies are used for a wider variety of IT projects. Previously, Agile was used almost exclusively for software development projects, but the job task analysis (JTA) expressed the need for all IT pros to have Agile knowledge and hands-on skills.
Risk Management Focus: Governance, risk and compliance (GRC) is heavily influencing the IT industry, with PCI-DSS, NIST, GDPR, HIPAA, CMMC and others requiring IT departments to comply and prove that they implement cybersecurity and privacy rules to protect customer data. These tasks require project management skills. It is the second-most required skill for risk management.
CompTIA Project+ Exam Objectives
The new CompTIA Project+ (PK0-005) includes more exam objectives – 24 exam objectives versus the 18 in the 004 exam. Additional exam objectives were added to focus on an IT project environment, technical terms, Agile and risk management.
The beta exam objectives were made available to those taking the beta exam, and the final exam objectives will be available for free from the CompTIA website two months prior to the new CompTIA Project+ launch - approximately mid-Aug 2022.
Earning CompTIA Project+ gives you an equivalent of at least 6 to 12 months of hands-on experience managing projects in an IT environment. CompTIA Project+ is a core certification recommended for all IT job roles. Other core certifications include CompTIA A+, CompTIA Network+ and CompTIA Security+.
Once the exam objectives are available, use them to prepare for your test, but note that they are not exhaustive of everything you may be tested on. Consider the exam objective stem (the heading) as your item to study, and the bulleted lists as examples of some of the things that might be covered. CompTIA is constantly reviewing exam content and updating questions to ensure relevance and exam integrity.
How CompTIA Project+ Evolves with the Industry
In a field like IT project management, where the job is continually evolving, CompTIA exam domains need to reflect what's happening in the industry right now. The following table explains why we updated the CompTIA Project+ exam domains and how they relate to current job requirements.
| | | |
| --- | --- | --- |
| Exam Domain | Description | How It Applies to the Job |
| 1.0 Project Management Concepts | Includes the basics, including Agile vs. waterfall, change control process and frameworks. | Understand and perform basic activities, including change control, risk and issue management, scheduling, meetings, quality and communication management. |
| 2.0 Project Life Cycle Phases | Includes various hands-on scenarios to implement each phase. | Perform project management activities during each phase of initiation, planning, execution and closing. |
| 3.0 Tools and Documentation | Includes project management tools that support Agile methodologies. | Use project management tools with Agile integration such as Smartsheet, PowerBI, Jira, Confluence, etc. |
| 4.0 Basics of IT and Governance | Includes applying appropriate IT risk strategies and compliance frameworks to projects. | Project managers must ensure IT projects are well documented to help comply to regulations such as PCI-DSS, NIST and CCMC. |
IT Jobs Related to CompTIA Project+
Individuals who hold CompTIA Project+ have proven they have the knowledge and skills required to:
Manage the project lifecycle
Coordinate small- to medium-sized projects
Establish a communication plan
Manage resources and stakeholders
Maintain project documentation and artifacts
Support the completion of larger projects within an information technology (IT) environment
Implement waterfall and Agile methodologies
The primary job roles for CompTIA Project+ (PK0-005) are similar to those for the PK0-004 exam, but are focused on IT environments. For example, project coordinator has become IT project coordinator to emphasize the IT focus. The main job roles are:
Nearly all IT job roles are impacted by project management tasks and can benefit from a CompTIA Project+ certification.
How to Study for CompTIA Project+
It may seem like CompTIA Project+ covers a lot of ground, but don't worry, we've got your back. One major difference between the 004 exam and the 005 exam is the official CompTIA training solutions available. For the first time, CompTIA Project+ (PK0-005) will have a full suite of training solutions available when the new exam launches – including multiple online options.
Here are all the ways CompTIA helps you learn the material and get certified:
CompTIA training solutions are designed to cover what you need to know for your CompTIA exam. No other content library covers all the exam objectives for all certifications. CompTIA training solutions help you prepare for your CompTIA certification exam with confidence.
Ready to get started? You can take the current CompTIA Project+ (PK0-004) exam now or the new exam in October 2022.
Download the exam objectives for CompTIA Project+ (PK0-004) now.