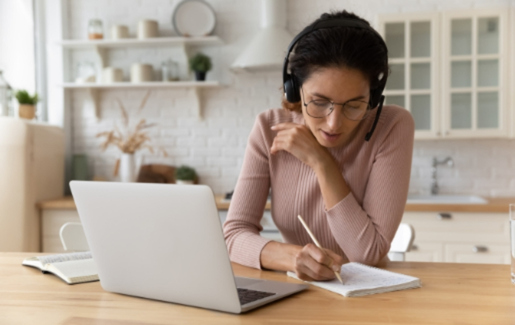 Online training existed for years, but the popularity of virtual lab environments skyrocketed during the pandemic – and now, virtual labs are here to stay. Virtual environments are especially helpful for IT training. Hands-on labs are an essential part of the IT training experience as learners have the opportunity to practice their newfound knowledge on real-world job tasks in a safe, virtual environment.
With so many virtual IT labs around, it can be hard to find the right one. Read on to learn why virtual training labs are effective and how to select the one for you.
What Is a Virtual Training Lab?
A virtual training lab environment provides learners with a set of exploratory, hands-on interactive options designed to teach new products and technologies. Lab experiences are usually competency-based, guiding a learner through real-world tasks based on previously completed tasks. Virtual training labs are a great way to apply newly acquired concepts into skills without the fear of breaking anything.
Virtual machine labs have become a staple in IT training because of the sheer number of features they offer that align with both individual and IT workforce professional development, including:
Simulation of real network environments using virtualization technology

Sandboxed, secure environments – especially helpful for cybersecurity training

Lab management, progression tracking and dashboards

User configuration controls

Custom learning labs
Competency testing and certifications

Classroom management

Virtual reality

Machine learning and Artificial Intelligence (AI)

Performance analytics
Proof of concept (POC) demo projects

Integration with learning management systems

Integration with vendor management systems (VMS)
The Use of Virtual Training Labs: Pros and Cons
There are plenty of ways to learn technology concepts these days, either on your own or with the guidance of an instructor. Self-study options include study guides, books and eLearning platforms. Instructor-led training includes traditional in-person courses and live online classes.
Virtual training labs are available as both a self-directed option in self-study or with an instructor that will offer a more mentored learning approach. The basic functionality of a virtual training lab is always a bonus – It is self-service in both self-study and VILT - the difference is you're on-your-own or have an instructor to help when needed. While there are other ways to get hands-on practice, virtual training labs allow learners to practice the concepts they've learned in a safe space, and it's typically more cost-effective. But it isn't for everyone – there are some drawbacks to consider as well. Let's take a look.
The Pros
Virtual training lab environments offer many advantages, including flexibility and convenience, cost and a risk-free environment to practice critical IT skills.
Flexibility: The basic functionality of a virtual training lab is usually a bonus – it's self-service, meaning that you control the pace, your workload and ultimately information retention. As long as a high-speed internet connection is available, students can log in and practice as their schedule dictates.

Safe space: A hands-on lab offers users the opportunity to practice their skills in a risk-free environment – meaning they can make mistakes without the stress of corrupting live data, leaking sensitive information or damaging expensive hardware.

Cost: From an organizational perspective, virtual training cuts travel, venue and lodging costs that are factors in traditional instructor-led training. From an individual perspective, virtual labs may be more cost-effective than enrolling in a course or purchasing your own equipment and platform licenses.
The Cons
Of course, there isn't one perfect way to learn. There are a few drawbacks to virtual learning labs to consider as well, including tech issues and differing learning styles.
Technology issues: Having access to a high-speed internet connection is a necessity to take advantage of virtual learning. Without the right tech setup, virtual learning labs won't work.

Learning style: We all learn best in different ways. Not everybody will thrive in a virtual environment. Some people need more in-person or personal guidance and instruction before they are ready to practice on their own – even in a safe space.
How Much Do Virtual IT Labs Cost?
Pricing for virtual IT labs can vary. Some are part of larger learning management systems, and some are standalone labs. The cost depends on the provider, the type of lab and the material.
Pay-as-you-go, subscriptions and licenses are the most common pricing models for virtual IT labs:
Pay-as-you-go pricing is based on the number of user hours

Subscription pricing ranges from $35 to $60 a month per user
License pricing charges a flat fee for a specified period, like 12 months
For example, some Microsoft and Cisco virtual labs range from $30 to $150 based on the length of the lab. CompTIA CertMaster Labs range from $89 to $229 depending on the certification you are pursuing, but you get a 12-month license for this flat fee.
Of course, there are plenty of opportunities for discounts. Providers may offer sales demos or tutorials that lead to a free trial period of the lab – this is a great option to test drive the lab before you commit to a purchase.
Providers may also offer discounts for virtual labs if you are a student, in the military or part of a larger certification program. The bottom line is the learning and training costs that differ – you'll have to do your homework to find out which choice is right for you.
Here Are the Best Virtual IT Labs of 2022
To get the most out of your virtual lab learning experience, you'll need to find the right fit. A simple Google search can turn up tens of millions of results. Narrow your focus by starting with the list below.

Keep your end goal in mind by asking yourself these questions:

1. What skill(s) do I want to acquire?
2. Will I combine labs with other training solutions, like study guides or ebooks?
3. Does it fit my budget? Or can I get a discount?
4. Do I know the subject but just need some practical hands-on experience?
CompTIA
If you're pursuing a vendor-neutral CompTIA certification, you'll want to check out CompTIA CertMaster Labs. CompTIA CertMaster Labs allow you to apply your knowledge in actual IT environments accessed with only an internet browser. Complete tasks and immediately see the impact of your actions.
CertMasterLabs are easy to use and include:
Pre-configured exercises that require no setup

Applied labs with scored activities that provide an opportunity to assess how much you've learned and retained

Ability to go through the hands-on activities as many times as needed
CertMaster Labs are available for the following CompTIA certifications:
Prices vary depending on the certification you are studying for, but purchasing a bundle offers a combination of CompTIA training options to match your learning style – plus, it's more cost-effective.
Microsoft Virtual Labs (Formerly Microsoft Hands-On Labs)
If you want to learn Azure cloud services, take a look at Microsoft Virtual Labs. Straight from one of the top software companies in the world, these labs offer an easy way to evaluate and test Microsoft products and technologies to complete your IT professional path. You can try these virtual labs from a browser or windows client without having to worry about downloading the entire virtual machine.
Microsoft Virtual Labs include:
Data Engineering on Microsoft Azure

Microsoft Azure Fundamentals Series

Developing Solutions for Microsoft Azure

Microsoft Azure Administrator Series
Microsoft 365 Identity and Services Series

Microsoft Azure Security Technologies Series
Cisco
If you're working toward a Cisco certification, explore Cisco's modeling labs. Cisco Modeling Labs (CML) is an on-premises network simulation tool that runs on workstations and servers. With Cisco Modeling Labs, you can quickly and easily simulate Cisco and non-Cisco networks, using real Cisco images. Cisco Modeling Labs for individual learning are offered in Personal and Personal Plus editions.
With Personal and Personal Plus editions, you can practice your networking skills on your own virtual lab with authorized Cisco software:
CML-Personal offers entry-level network engineers 20 network nodes of simulation – enough capacity to design basic networks that support certifications such as Cisco Certified Network Associate (CCNA®) and DevNet Associate.

CML-Personal Plus offers the more advanced engineer up to 40 nodes of simulation to model more advanced networks, supporting the practice needs of Cisco Certified Internetwork Expert (CCIE®) students.
Other Virtual IT Lab Options
There is a plethora of options out there. Consider the above-listed questions and explore these platforms if CompTIA, Microsoft and Cisco training solutions aren't the right fit for you.

CBT Nuggets
Virtual labs provided by CBT Nuggets offer sandbox environments that are perfect for honing your skills without needing to purchase expensive equipment or risk disrupting live production environments. CBT Nuggets offers virtual labs on CompTIA, Microsoft, Cisco, Amazon Web Services (AWS), Linux and VMware – just to name a few.

Pluralsight
Pluralsight provides assessments, learning paths and courses authored by industry experts on a wide range of IT skills including software training, networking, cloud computing and more.

Practice Labs
Practice Labs are a digital competency hub where users can practice their digital and IT skills, prove their proficiency to assessors and employers, and progress their IT careers. The solution consists of live (not simulated) IT practice labs and exam preps aligned with certifications from leading vendors such as CompTIA, Microsoft, Cisco and VMware.

ReadyTech
ReadyTech's cloud-based apps make it easy for users to administrate, deliver and attend training courses. ReadyTech solutions are used by some of the largest technology companies in the world including BMC Software, Esri, Google, KPMG, Mathworks, Okta, OpenText and SoftwareAG.

Skillable
Formerly known as Learn on Demand Systems, Skillable is a virtual lab platform designed to upskill their customers, partners and employees. Industry leaders such as Microsoft, Amazon, IBM, Veritas, Global Knowledge and New Horizons trust Skillable's full stack lab development and hosting platform.

Whether you are considering using a virtual IT lab to self-study, upskill or you are pursuing an IT certification, there are plenty of options. The best way to choose what's best for you is to examine your goals and do a little research.