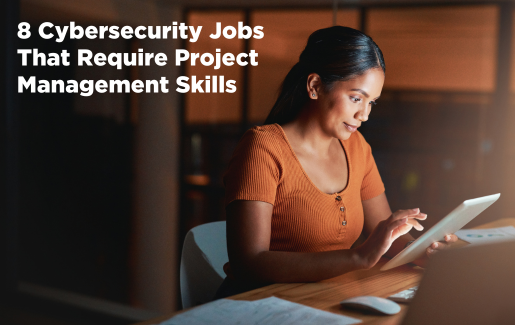 Juggling a number of tasks and making sure the end results occur on time and on budget are just a few of the tasks an effective project manager takes on. Project management is an important part of IT; without plans, goals and problem-solving strategies, initiatives and new programs would be virtually impossible to complete. Effective project management is even more important in the cybersecurity field, where lack of organization or planning could mean a compromise of secure systems.
More and more cybersecurity jobs are looking for candidates with strong project management skills. In fact, in a 2019 survey, Burning Glass Technologies found that project management was ranked fourth in a list of top skills desired by companies hiring cybersecurity professionals. The demand for cybersecurity professionals has doubled since 2013, and with that sort of demand, candidates with project management will stand out from the rest.
If you want to work in cybersecurity, you will likely need to be able to manage projects. In fact, here are eight cybersecurity jobs that require project management skills.
8 Cybersecurity Jobs That Require Project Management Skills
1. Cybersecurity Specialist
When it comes to adapting and staying ahead of cybercriminals, having a cybersecurity specialist on the team is practically a no brainer. A cybersecurity specialist must keep meticulous details of the methods in place to prevent security breaches, and if one happens, they must analyze the information to ensure it doesn't happen again. Effective project management skills make a cybersecurity specialist's job easier, since keeping track of information and details are half the battle in this position.
2. Incident Analyst
If and when a security breach happens, it's the job of an incident analyst to do the deep dive to find out why, and to figure out how to prevent it from happening again. Incident analysts are experts in a given piece of software or application and are tasked with getting everything up and running again as soon as possible. With that, it's imperative that an incident analyst have channels of problem-solving strategies for every contingency; that sort of organization comes from stellar project management training.
3. Cybersecurity Analyst
A cybersecurity analyst develops, plans and executes security measures to protect an organization's software or network. You often find cybersecurity analysts at larger organizations rather than smaller ones. With the number of things cybersecurity analysts have to watch, report on and keep track of— such as security breaches, software, encryption and penetration testing, to name a few — a project management background or certification becomes beneficial when trying to perform the numerous duties of this demanding job.
4. Cybersecurity Consultant
If there had to be one jack-of-all-trades in the cybersecurity field, the cybersecurity consultant may be it. This person has to be ready at a moment's notice to do any number of tasks to keep systems safe, including penetration testing, firewall management, encryption technology and advanced persistent threat management, to name a few. A cybersecurity consultant has his or her fingers in many different departments all at once. Having the ability to handle it all well, organized and consistently means that a cybersecurity consultant should have project management experience. Many organizations are listing project management skills as a must-have qualification for cybersecurity consultant applicants.
5. Penetration Tester/Vulnerability Analyst
Penetration testers and vulnerability analysts do bad things for good reasons. These positions require thinking like a cybercriminal in terms of hacking and violating security breaches so organizations can learn where their network weaknesses are and take measures to protect themselves against that exposure. Because of the various tasks and reporting that pen testers do — such as collecting data, deploying testing methodology, locating and managing vulnerabilities, and reviewing physical security — project management knowledge is a desirable qualification.
6. Cybersecurity Manager
If there's a cybersecurity department at an organization, odds are there's a cybersecurity manager. The cybersecurity manager is in charge of the overall cyber safety of an organization and managing a staff of cybersecurity professionals. When it comes to project management, the cybersecurity manager determines the overall goals and plans of a cybersecurity department, and they must have impeccable project management skills. Project management training is essential if you want to become a cybersecurity manager.
7. Cybersecurity Engineer
Every time a cyberattack doesn't happen, you can thank a cybersecurity engineer. They create and maintain networks that can't be compromised by cybercriminals. A cybersecurity engineer not only develops the impenetrable systems, but also stays up to date on new technology to keep their system secure. Working closely with an organization's IT team, cybersecurity engineers build emergency plans for when the unthinkable happens. Having a solid project management background when searching for a job as a cybersecurity engineer shows future employers you can balance all the duties of the position, such as responding to security issues, recommending modifications, and evaluating and enhancing security capabilities.
8. Cybersecurity Architect
When it comes to designing a cybersecurity network and leading a team of experts, a cybersecurity architect is the person in demand. A cybersecurity architect is much like a regular architect, but instead of designing skyscrapers and mini-malls, they design the technological infrastructure of an organization's security network. Collaborating with and leading business leaders and developers alike are important parts of this position. Because a cybersecurity architect is a designer and visionary, as well as someone who has to communicate with many different people, a project management background or training would be ideal.
How To Get Project Management Skills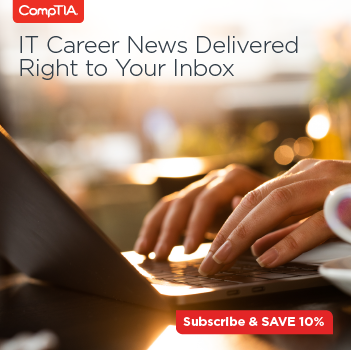 When looking at a cybersecurity career, you need both technical skills and project management skills. A great way to get a leg up after all of your necessary cybersecurity training would be to earn a project management certification, and CompTIA Project+ is designed for IT pros who manage projects as part of their job.
Start by downloading the exam objectives for CompTIA Project+ to understand what topics will be covered and gauge what you know and what you need to work on.
Then, use The Official CompTIA Project+ Study Guide for CompTIA Project+.

Once you've mastered the material, CompTIA CertMaster Practice for Project+ will get you exam ready and give you the confidence you need to earn your certification.
Project management is a versatile skill that can enhance your resume no matter what field you go into. CompTIA Project+ shows employers that you have the skills they need run a tight cybersecurity operation.

Download the exam objectives for CompTIA Project+ to see what project management skills you need in cybersecurity.