Get CompTIA CySA+ certified
Set yourself apart and unlock your cyber defense skills.
Buy directly from the Official CompTIA store
Get CompTIA CySA+ certified
Set yourself apart and unlock your cyber defense skills.
Buy directly from the Official CompTIA store
Your success story starts here
CompTIA Cybersecurity Analyst (CySA+) is a certification for cyber professionals tasked with incident detection, prevention and response through continuous security monitoring. It is the only intermediate-level high-stakes cybersecurity analyst certification with both hands-on, performance-based questions and multiple-choice to prove you have the most up-to-date security analyst skills.
96%
Of managers use certifications as criteria during recruitment
$103K
The median annual wage for information security analysts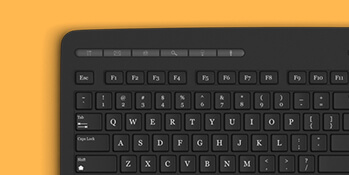 Over 30k
Open cybersecurity analyst job roles
What you'll learn
Today's landscape requires teams to work together on building a solid incident response and vulnerability management process while adhering to compliance regulations. CompTIA CySA+ has evolved to help you build on your foundational skills to help organizations address, monitor and respond to threats and manage risk.
Possible job opportunities:
Security Operations Center (SOC) Analyst
Incident Response Analyst
Vulnerability Management Analyst
Study at your own pace
Test Preparation tools to help you study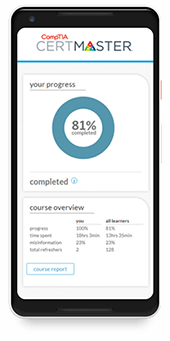 CertMaster Learn is the only comprehensive eLearning solution developed exclusively by CompTIA. This interactive and self-paced tool is designed to build confidence and ensure mastery for success on the exam and support long-term retention of the material.
CompTIA Labs is a remote lab environment that enables hands-on practice and skill development in actual software applications. The virtual lab scenarios are aligned with CompTIA exam objectives and are based on real workplace events.
CertMaster Practice is an adaptive online companion tool that assesses your knowledge and exam readiness. It confirms strong areas and fills knowledge gaps in weak areas, helping you feel more prepared and confident when you go into your certification exam.
Study with CompTIA and get
certified in 10 days
Instructor Led-Training + Complete Bundle $2,499
Ten days of guided learning! You'll log in daily and engage with your instructor and classmates via our online classroom test preparation platform and learn with course materials designed to ensure an exciting and productive learning experience, with the ease of real-time support from an industry-leading instructor all while participating from your own computer.
Why CompTIA?
CompTIA is a global provider of vendor-neutral IT and cybersecurity certifications. Earning a CompTIA CySA+ certification proves you have the right skills, can get the job done and can unlock your potential to climb the cybersecurity ladder.

Powerful and respected credential trusted by employers.

Globally trusted, vendor neutral certifications.

Join the other 3 million certified globally by CompTIA and grow your career.
David Foote, Co-founder of IT employment research firm Foote Partners
"We're coming up on catastrophic conditions – if we're not already there – in the labor market in terms of the gap between companies unable to find or breed (internally) or have sufficient talent available to them to do what they want to do."
Pricing
Whether you are just starting to prepare for your exam and need comprehensive training solutions to help you prepare, or if you just need to identify weak areas to focus on, CompTIA has learning options that will fit your ultimate goal – to conquer the CompTIA CySA+ curriculum and test with confidence!
Looking for an individual product?
FAQ & Partners
How long does the CompTIA CySA+ certification last?
How can I renew?
How many questions are on the CompTIA CySA+ exam?
No more than 85 multiple choice and performance-based questions.
How long is the CompTIA CySA+ exam?
What job roles should take the exam? OR What jobs can I get?
– Security analyst
– Security operations center (SOC) analyst
– Security engineer
– Threat hunter
– Incident response analyst
What's in this exam?
Information security threats are rising around the world, leaving organizations in search of well-trained security analysts. Updates to CompTIA CySA+ reflect current trends in security analyst tools like enterprise Security Information and Event Management (SIEM) systems and EDR/XDR, which have matured to include more automated features. In addition, the CompTIA CySA+ exam includes expanded coverage of cloud, mobile, and zero trust indicators of compromise and more emphasis on threat hunting topics, automation of intel, and prioritizing alerts for better incident response. Software and systems security, previously its own exam domain, has been integrated into sections on security operations and monitoring and threat and vulnerability management.
The new exam has been updated to address industry changes, as well as the need for security analysts to focus on software security and be more proactive with their defense and threat intelligence. Security Analysts must also ensure their tasks comply to IT regulatory standards that affect their daily work. The CompTIA CySA+ exam ensures the candidate has the knowledge and skills required to:
• Detect and analyze indicators of malicious activity.
• Understand threat hunting and threat intelligence concepts.
• Use appropriate tools and methods to manage, prioritize, and respond to attacks and vulnerabilities.
• Perform incident response processes.
• Understand reporting and communication concepts related to vulnerability management and incident response activities.