Chair
CEO/CTO,
Concordus Applications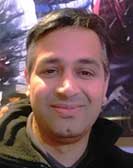 Neeraj Satija
CEO/CTO, Concordus Applications

Neeraj has over 21 years' experience in setting up telecommunications companies in places like USA, New Zealand, Australia and Saudi Arabia. Neeraj is currently the CEO/CTO at Concordus Applications Inc. (www.concordusapps.com) where he is leading projects to automate the channel business processes and to get Concordus recognized as a disruptive innovator. This focus has led to the creation of Concordus Apps' Digital Marketplace for Channel companies. Their next deliverable is a channel-focused, blockchain-based platform for Commissions, Loyalty and Payments.
Before joining Concordus Applications in 2016, Neeraj was founding member of 2degrees New Zealand (www.2degreesmobile.co.nz) and played a pivotal part in taking it from zero subscribers to serving nearly 25 percent of New Zealand mobile customers and a billion-dollar valuation in eight years.
Neeraj is a well-known speaker on the Technology events circuit and has given speeches at prestigious events like Channel Partners, Oracle Open World, WSO2Con etc. In recognizing Neeraj's contributions as a Thought Leader in Distributed computing and Blockchain.
On the personal front, Neeraj lives with his wife and two kids aged 10 and 9 in Austin, Texas. In his spare time, Neeraj likes to travel and explore new places with his family.