Chair
Partner Strategy, US SLG,
Amazon Web Services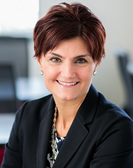 Cristina Greysman
Partner Strategy, US SLG, Amazon Web Services

Cristina Martin Greysman is a proven channel sales and partner programs leader with extensive experience creating new revenue opportunities for technology companies. Cristina's 20-year career spans both startups and Corporate America in the Philadelphia region, specializing in business development, strategic alliances, and partner program development. After 18 years as an Amazon customer, she finally became an employee! She currently serves as a partner strategist on the Public Sector team at Amazon Web Services, recruiting partners to build AWS practices to serve the needs of State and Local Governments in the East region of the United States.
Prior to Amazon, Cristina served as VP, Ecosystem Expansion at SAP where she recruited and activated new SAP cloud software resellers as well as Senior Director, Partner Experience at Sungard Availability Services where she helped partners build recurring revenue streams based on cloud services. She has also held channel leadership roles at SaaS software startups, systems integrators, such as Answerthink and CoreTech Consulting Group, and built the partner program for SunGard Higher Education (now Ellucian). Cristina began her career as co-founder of a website design firm and value-added reseller (VAR).
Cristina is an advocate for women pursuing careers in the technology industry. Cristina speaks on the topic of "Dream I.T." and serves as Chairwoman of the Advancing Women in Technology community at CompTIA, the IT industry association. Cristina has a BA in Communications from Douglass College, the woman's college at Rutgers University, a Business Certificate from the Wharton School, and holds cloud certifications from both CompTIA and Amazon Web Services. Cristina has been named to CRN's Women of the Channel list and is an alumna of IPED Channel Masters. She lives in King of Prussia, PA with her husband, Lev, and two children, Ian (8) and Nadia (6).