About CompTIA Partner Summit 2019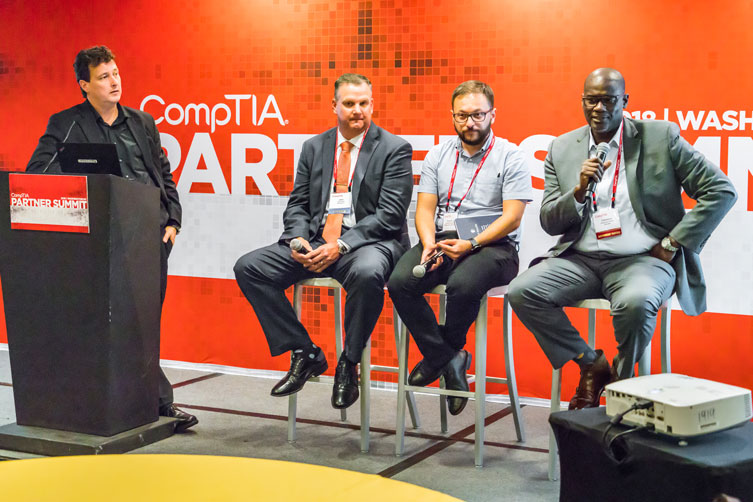 Are you ready to learn how CompTIA is preparing the IT Industry for transforming tech talent to fill the IT pipeline?
The CompTIA Partner Summit is the premier event for our CompTIA Authorized Partner Program community to engage in face-to-face communications, build new contacts, learn new skills and drive their businesses forward.
We celebrate the achievements of our partners and recognize their success.
The event is customized for academic educators, commercial trainers, government agencies, corporate learning and development leaders, and instructors. Our programming inspires partners to improve training solutions and measurably enhance the skillset of the IT workforce.
What to Expect:
Demos of NEW Official CompTIA Content
Robust sessions
Classroom tips and tricks
Industry experts sharing best practices
Thought leadership
Networking opportunities
2019 Areas of Focus
Transforming Tech Talent: The need for IT talent touches every industry in every community. We need to transform existing talent to meet the demands of today and tomorrow. Many workers need to upskill or reskill to meet today's emerging technology demands. There is a need to fill 1.7 million open jobs by 2026.
Official CompTIA Content: Learn about the NEW Official CompTIA Content. We will have evaluation copies for review, demos and training on CompTIA's new offerings and the CertMaster Suite. You will learn how your students will benefit from our best-in-class content offerings which include the NEW A+ Core Series and the NEW Linux+! You won't be disappointed.
The CompTIA Career Pathways: With our emphasis on the Cybersecurity and Infrastructure Pathways, you will learn about the latest industry and cyber trends from leading experts and thought leaders to help guide your students to success.
Gain new Skills and Knowledge: Participate in CompTIA Instructor Network Training with leading industry trainers on Tuesday, August 6th. Choose from six CompTIA hands-on training sessions to enhance your skills and develop classroom and program set up. Receive CEUs towards CompTIA certification renewal when you attend these sessions.
Back by Popular Demand: It's the famous CySA+ and PenTest+ Capture the Flag Hackathon session! Check the website in the next two weeks to view the full agenda and to secure your seat at this session!
Hurry! There is limited space and these Instructor Network sessions sell out every year.
Get registered and choose your sessions.