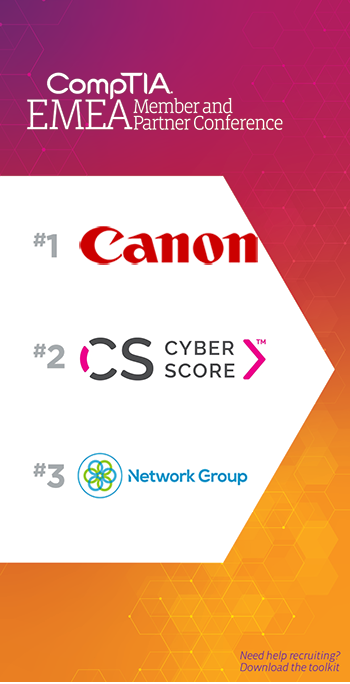 EXHIBITORS
The CompTIA EMEA Member and Partner Conference offers valuable benefits for exhibitors and participants that extend well beyond the trade show floor. CompTIA provides great opportunities for direct marketing, networking and customer retention, as well as generating new business leads.
CompTIA vendor and distributor premier members receive a complimentary stand at the EMEA Member and Partner Conference – valued at £3,750. Secure your exhibit space and VIP package invitation by contacting Kris Nagamootoo at knagamootoo@comptia.org or Leanne Johnson at ljohnson@comptia.org.
CompTIA training partners can visit the CompTIA booth to learn more about Official CompTIA Content and receive demos of the latest additions of Network+ and Security+ to the CertMaster Learning suite.
Exhibitor List
Download the EMEA 2019 Exhibitor List
Exhibitor Kit
Download the EMEA 2019 Exhibitor Kit
Take the Recruitment Challenge and Win Big
The EMEA Member and Partner Conference is a powerful place for networking and partnering. It's your opportunity to make new connections and elevate yourself and your partners.
That's why you should encourage your technology solution provider partners to attend the EMEA Conference, where they'll gain access to high quality education and training and leave with information and tools to help them sell more of your products and services. The best part is there's no cost to you or them!
The winner(s) will be determined at 4:00 PM 7 October. Results will be based on the number of recruited solution providers onsite.
Companies that bring the most solution providers will receive incredible branding and recognition opportunities, including:
First Place:
An exclusive spot onstage to present a fun and fast-paced three-minute pitch to hundreds of attendees with your company logo featured on large venue screens.
TOP 2:
Branding and recognition via the EMEA Member and Partner Conference website, post-event email blast and social media plus a 35-word placement and link in the CompTIA Advisor newsletter reaching our full database.
TOP 3:
First dibs on stand placement at the EMEA Conference in 2020. Even if you don't come in first, there's still plenty of benefit to participating. Leading recruiters gain exposure every week in the form of a leaderboard update on our the EMEA Member and Partner Conference website!
"At industry conferences there is always a fight for time. No matter whether you're the top vendor of the decade or a new company starting out with enticing technology, getting on stage for three minutes to talk to attendants about your offering, I see this as most valuable and the rewards make recruitment to the event unbelievably worthwhile!" – James Mason, Datto
Use Our Toolkit: It's Recruitment Made Easy!
CompTIA makes recruiting easy with a toolkit to help you register your partners. Here's what it includes:
A unique promo code and registration page (available after you register for your stand).
HTML email Template and customisation instructions, making it easy for you to e-blast your partner database.
Don't forget to promote your event presence to all attendees via the CompTIA MyEMEACon app and other social channels.