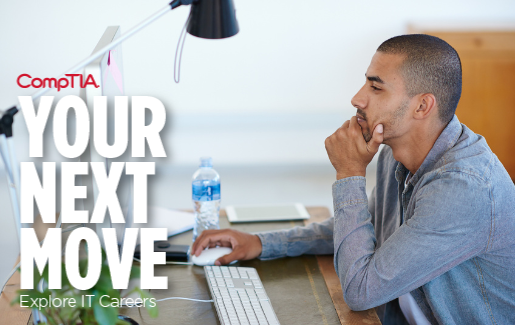 This article is part of an IT Career News series called Your Next Move. These articles take an inside look at the roles related to CompTIA certifications. Each article will include the responsibilities, qualifications, related job titles and salary range for the role. As you consider the next move in your IT career, check back with CompTIA to learn more about your job prospects and how to get there.
Database administrators are the gatekeepers of information. With the rise of big data, a career in database administration can be very lucrative for someone who is organized and security focused.
What Is a Database Administrator?
A database administrator manages all aspects of an organized database environment including:
Configuring and maintaining the database management system
Creating policies for the maintenance, security and use of the database management system
Training employees in how to use the database management system
Updating the database code as new technologies emerge
Recovering and backing up data as needed
How To Become a Database Administrator
Most database administrators have earned their bachelor's degree in computer science, information systems or a related field. Some larger companies require a master's degree. A database administrator must be fluent in the coding language of the database they use – the most common is SQL. Many database administrators also have a strong understanding of Linux.

Most database administrators have a couple years of experience working in IT, and common entry-level jobs that lead to database administration include database developer and data analyst. Earning IT certifications like CompTIA Data+ can help prove that you have the knowledge employers are looking for.
CompTIA Data+ will teach you how to manipulate data, apply statistical methods and analyze complex datasets throughout the entire data lifecycle.
The Details
Salary Range
The median salary and wage for a database administrator is $96,710 per year as of May 2021, according to the U.S. Bureau of Labor Statistics (BLS). This is 111% higher than the median national wage for all occupations.

Check out CompTIA's IT Salary Calculator for more details.
| | | | | |
| --- | --- | --- | --- | --- |
| 10th Percentile | 25th Percentile | 50th Percentile | 75th Percentile | 90th Percentile |
| $48,880 | $63,160 | $96,710 | $124,550 | $151,400 |
Job Outlook
From 2023 to 2033, tech jobs are projected to be among the fastest-growing occupations at nearly double the national estimated growth rate. The need for database administrators will continue to grow, reaching about 163,000 by 2033. The 10-year projected growth rate for database administrators is 35% above the national rate.

Source: CompTIA State of the Tech Workforce 2023 | BLS | Lightcast

Job Titles Related to Database Administrators
Data processing specialist
Data miner analyst
+ Means More
At CompTIA, + means IT careers. That means you can consider us your partner on your journey to becoming certified, as well as finding, interviewing for and winning that new job role.
We help you save money. Getting a CompTIA certification is an investment in your career but getting a discount can help. There are several ways you can save money on your CompTIA purchases.
We help you decide how to take your exam. Scheduling your exam is the easy part. CompTIA exams are offered at testing centers around the world as well as through online testing, which is available 24/7, so you can test in person or at home. Learn more about your testing options.
We help you land your next job. We've teamed up with ZipRecruiter so you can get access to job alerts, digital badging and more. Be sure to sync your credentials on ZipRecruiter as you continue to grow within the tech industry.
Need more job inspiration? Check out CompTIA's Tech Job Report video series now premiering on CompTIA Connect. Learn more about the latest data and trends in tech hiring and the implications for employers and the U.S. workforce with new episodes each month.
Read about more IT jobs featured in Your Next Move.
Will your next move be database administrator? If so, download the exam objectives for CompTIA Data+ to learn more.