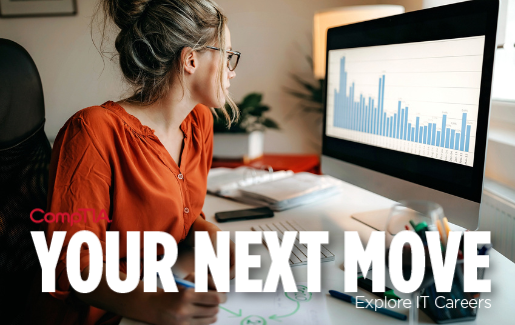 This article is part of an IT Career News series called Your Next Move. These articles take an inside look at the IT careers related to CompTIA certifications. Each article will include the responsibilities, qualifications, related job titles and salary range for the role. As you consider the next move in your IT career, check back with CompTIA to learn more about your job prospects and how to get there.
The most technically advanced system is useless without capable users. And even with them, technology is not always used to its full potential. Organizations are constantly looking for ways to improve how they leverage technology. Luckily, business analysts help companies align IT resources with business goals. If you crave big-picture problem solving, consider a career as a business analyst.
What Is a Business Analyst?
Business analysts observe companies and look for improvement opportunities. A business analyst conducts interviews, observes meetings and analyzes data. After gathering information, a business analyst will present their proposed solution.
Business analysts help organizations identify problems, discuss solutions and implement change. Business analysts might work on some of the following types of projects:
Analyzing a business process and making sure company technology is suited for the task
Understanding stakeholder goals and implementing progress tracking methods
Interpreting data analytics to inform business decisions
Skills Needed by Business Analysts
Employers may require the following skills for business analysts:
Communication skills to guide conversations with management and clients
Analytical skills to find issues from varying information sources
Creativity with project planning and problem-solving
Persuasion skills when explaining proposed solutions
Self-management skills to complete tasks without frequent intervention
How To Become a Business Analyst
Most business analyst positions require a bachelor's degree, but there are very few college or university programs tailored to business consulting.
Business analysts need to understand technology before they can guide organizations. Therefore, business analysts must have a solid IT foundation and a technical vocabulary to be successful. Preparing for and getting core IT certifications like CompTIA A+, CompTIA Network+ and CompTIA Security+ can build your technical knowledge.
Because interpreting data is a key part of being a business analyst, consider CompTIA Data+ as well. CompTIA Data+ is an early-career data analytics certification for professionals tasked with developing and promoting data-driven business decision-making.
You'll find that formal business analyst training is rare, but certifications in areas like project management can also help business analysts stand out. CompTIA Project+ empowers business analysts with the skills to navigate the project lifecycle, communication and resource allocation. With CompTIA Project+, business analysts prove to employers that they have the skills to plan, execute and document their business solutions.
The Details
Business Analyst Salary Range
The median salary for a business analyst is $93,000 as of May 2021 (U.S. Bureau of Labor Statistics (BLS)).
Business Analyst Job Outlook
Business analyst employment is projected to grow 11% from 2021 to 2031, with more than 108,400 new job openings (BLS).
Job Titles Related to Business Analyst
Management consultant
Management analyst
Technology consultant
+ Means More
At CompTIA, + means IT careers. That means you can consider us your partner on your journey to becoming certified, as well as finding, interviewing for and winning that new job role.
We help you save money. Getting a CompTIA certification is an investment in your career but getting a discount can help. There are several ways you can save money on your CompTIA purchases.
We help you decide how to take your exam. Scheduling your exam is the easy part. CompTIA exams are offered at testing centers around the world as well as through online testing, which is available 24/7, so you can test in person or at home. Learn more about your testing options.
Need more job inspiration? Check out CompTIA's Tech Job Report video series now premiering on CompTIA Connect. Learn more about the latest data and trends in tech hiring and the implications for employers and the U.S. workforce with new episodes each month.
Read about more IT jobs featured in Your Next Move.
Will your next move be business analyst? If so, download the exam objectives for CompTIA Data+ to learn more.