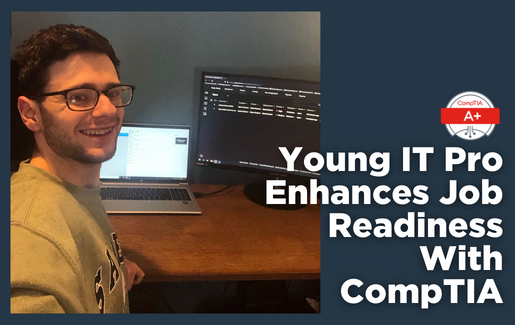 In Whitehall, New York, in the northernmost portion of New York State, Noah Balch spends a lot of time out in nature, often walking to the stream a half-hour from his house to sit by the small waterfall. From this small rural town where he grew up, it is a shorter trip to the Adirondacks Mountains than it is to the nearest urban center.
Rural regions these days, though, are as wired as any. Balch is 21 years old, and grew up with a desktop computer, a laptop and a smartphone. Technology has been a part of his life for as long as he can remember, and he is working hard to make it a career. The tech job market of a town of around 2,500 people can pose some challenges one might not find in a more populous location. But as he works on making his full-time entry into the field, Balch has been rising to meet those challenges, including getting CompTIA A+ certified before he graduated high school.
Getting an Early Start
In the mid-2010s, Balch was a tech-savvy high schooler already interested in taking his love of computers in a professional direction. At that time, the enterprise world was facing an unprecedented wave of high-profile cyberattacks. Major retailers, insurance companies, health care providers and more were frequently making headlines for experiencing costly, destructive data breaches. When Balch had a chance to pursue a course of tech education in an accelerated learning program in school, cybersecurity jumped out as the right path to choose.
"It really interested me," Balch said. "I wanted to see how we could stop [cyberattacks] from happening."
Since cybersecurity builds on the basics, he began learning about hardware, the flow of data through networks and other foundational principles of the technology he used every day. For the last two years of high school, the program let him take college courses at SUNY Adirondack, so that he could earn his degree more quickly. It also set him up to get CompTIA A+-certified.
Earning a serious, professional certification is no easy feat at any age; Balch, as a high schooler, was hitting walls. He took the exam a few times and did not pass. But as the end of the final semester neared, it all clicked. Not only did he earn his CompTIA A+, but he passed the newly released 1000 level exams, which he had not taken before.
"It was very satisfying to be able to understand the concepts even on the new series that had come out," Balch said.
A Foot in the Door
It was the 2021 Christmas season and Balch was on the way to wrapping up school. His cybersecurity professor mentioned an opening at Hudson Falls School District for a part-time, entry-level IT position. With a glowing recommendation from his professor, a solid resume of tech-related extracurriculars and a professional credential coming out of school, he went into the interview confident.
"I'd say the CompTIA A+ was one of the many factors that helped me get the job along with an internship and projects I had recently completed at the time before getting the job," Balch said.
Setting up, repairing and troubleshooting Chromebooks and desktop computers for the school year, Balch was getting his first experience of handling IT in the field, and it was providing the sense of fulfillment he was looking for.
"[I enjoy] being able to help all the students be able to keep learning because when their laptops are broken, they can't really learn," Balch said. "If a teacher's computer is not working, they can't really teach the class. So, I liked keeping all their technologies up and running where I could."
The role ended with the 2021 school year, and since then Balch has been regularly sending out resumes and interviewing for full-time roles. But those are hardly the only steps he is taking to secure full-time employment in the industry, and make sure he is the person for the job when he gets there.
Building Expertise (and a Career) With CompTIA
One of the computers Balch has in his room is an AMD Ryzen 7. It has a one terabyte SSD, a Radeon graphics card and 16 gigabytes of RAM. This is the first computer that he built from scratch, back in high school. Since then, he has used it, had it break down, repaired it and continues to tinker with it to keep it going.
That computer is only one of the ongoing technological works in progress that Balch is juggling as he continues to build his skills and make himself a more attractive candidate. To improve his understanding of networks, Balch is taking an online course. To get a hands-on feel for server administration, he plans to set up a small-scale home lab Active Directory environment using VirtualBox. And he has been visiting networking events online and in-person, to make connections in the local and global IT communities.
Building experience, building expertise and securing full-time employment in the field are Balch's immediate goals. Absolutely immersing himself in the technology is his strategy to get there. He may work in the field for a while, save up some money, and move near a larger city for more opportunities. Or he may find the tech job of his dreams right in his hometown. Wherever it happens, he knows what kind of career he wants. With CompTIA validating his skills as he builds them, he is set up to make it happen.
"[Ideally] I'd want to work on more the defensive side of [cybersecurity]," Balch said. "[And] most likely [earn] CompTIA Security+, maybe even CompTIA Cybersecurity Analyst (CySA+) down the line."

Learn the skills you need with CompTIA CertMaster Learn. Sign up today for a free trial today!

Matthew Stern is a freelance writer based in Chicago who covers information technology, retail and various other topics and industries.