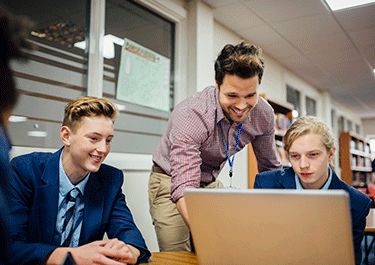 We constantly hear about an IT skills shortage – even though today's teenagers are seemingly constantly glued to screens and appear to know more about technology than the adults around them. The perception is that teenagers are more interested in becoming famous YouTubers than solving IT security conundrums. However, only six percent of adults are in the careers they chose for themselves when they were children. Careers these days are so varied and flexible – today's children could have as many as five different careers before they've finished working. So, the future of the Australian IT industry isn't as bleak as it might seem.
By 2022, IT will be the second-fastest growing industry, presenting new, inspiring and often, lucrative career opportunities for teenagers of today. Governments and industry bodies across the globe face the key issue of needing to ensure children are adequately equipped by the education system to meet the requirements of tomorrow's workforce.
Emerging technologies present new opportunities for individuals with different skills to have a successful career in IT. From working with robots to artificial intelligence and virtual reality, new alternatives allow for the traditional perspective of a career in IT to shift. With the opening of a multitude of technology-related positions, the IT industry must continue to attract and recruit talented individuals and advocate for organisations to develop programs that expose teenagers to the opportunities available.
Teenagers of today are perfectly positioned to take advantage of the newly created opportunities within the IT industry. Faced with a new generation of potential employees, Australian schools, organisations, industries bodies and governments must work together to support and develop the future of the IT industry.
CompTIA is passionate about the need to attract more young people to technology-related careers, addressing the growing skills-gap in the IT industry and inspiring young people to explore technology. Our Dream IT initiative, a program by CompTIA's Advancing Women in Technology Community, has reached more than 10,000 people with the message that technology is a great place for women and girls. Click here for more information about Dream IT!
Karen Drewitt is general manager of The Missing Link and chair of the CompTIA ANZ Channel Community.